Kia India sells 112,050 units in January-July, now just 2,219 units shy of 300,000
The Korean carmaker is all set to cross the 300,000 sales milestone, barely 25 months after it entered the Indian market.
Kia, which entered India's passenger vehicle market in August 2019, is on a roll. The Korean carmaker, sister brand to Hyundai, has sold a total of 112,050 units across the two SUV models Seltos and Sonet and the Carnival MPV in the first seven months of 2021.
The Seltos with 56,626 units is just 3,283 units ahead of the Sonet (53,343 units), while the Carnival has gone home to 2,081 buyers. The Sonet, which is seeing growing demand, has beaten the Seltos on two occasions in the year to date – in May and July (see sales data below).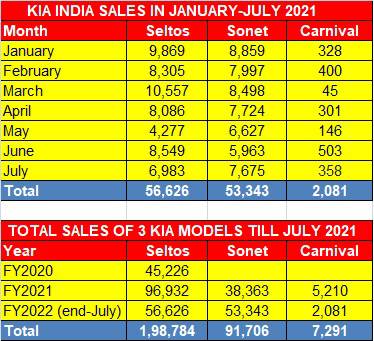 What is laudable for Kia is that in FY2021, most of which was impacted by the pandemic, the company saw strong demand for both the Seltos and the Sonet. In fact, the Seltos was the fourth best-sellin UV in India with 89,173 units, moving up one rank from FY2020 when it sold 81,717 units. Sibling Sonet too has pulled in the numbers with 63,717 units sold in its first year in India.
Number-crunching takeaways
However, some number-crunching on Kia India's sales till now reveals some interesting data-facts. The Seltos, Kia's first product in India and launched in August 2019, has till end-July sold a total of 198,784 units and as end-July 2021 is just 1,216 units short of the 200,000-unit sales milestone – which it will attain in the first few days of August 2021.
Then, another interesting nugget of information is that 24 months since its India entry, cumulative sales for Kia India are 291,781 units – just 2,219 units short of the 300,000-unit milestone. Considering the carmaker is currently averaging daily sales of 500 units across the three models, crossing the 300,000 mark will happen around August 5 or so.
Commenting on the sales performance this year, Tae-Jin Park, Chief Sales and Business Strategy Officer, Kia India said, "In these tough times, the relentless efforts of our teams and partners have enabled Kia India to achieve a healthy sales momentum in 2021. We are optimistic that the future will witness an uptick in demand for personal mobility with the ease in Covid-19 curbs and heightened vaccination drive across the country. We are also hopeful that the supply chain of the auto industry will be further streamlined in the upcoming weeks and we will be able to make mobility more accessible to our customers."
The company introduced the refreshed Seltos and Sonet in India on May 1 with more features while also sporting the brand-new Kia logo, and Q4 of FY2022 is slated to see Kia introduce an India-specific midsize MPV (codename KY) but that's an altogether different story.
Kia: a big-numbers player
That Kia would be a big-numbers player was apparent in a few months after launch. The strategy of launching its first product in multiple variants, at multiple price-points clicked majorly in a competitive SUV market, and has since been duplicated by some rival OEMs too. While the 25,000-unit sales mark was crossed in 3 months, the 75,000-units sales landmark came up in just 7 months. The 100,000-mark was crossed in 11 months, the 250,000 milestone in 22 months, indicating the marked acceleration in sales. Expect the cumulative 300,000-unit sales milestone to be crossed in a few days from now.
What should give the carmaker more momentum in the marketplace is its No. 1 ranking in dealer satsifaction. A few days ago, Kia India topped FADA India's Dealer Satisfaction Study 2021, notching 879 points, exceeding the nearest OEM by 101 points.
RELATED ARTICLES