India Auto Inc's downhill drive continues in May, PVs register weakest sales in 18 years
The situation is rather grim and the current sales slowdown resembles what India Auto Inc faced last in September 2001 and subsequently during the 2008-09 global economic fallout.
The monthly pattern of the Indian automobile industry reporting falling sales and poor numbers would seem a trend in the recent past, but the situation is rather grim where there has been an unprecedented slowdown in the automotive sector which resembles to what it faced last in September 2001 and subsequently during the 2008-09 global economic fallout.
Overall sales in the auto industry in May 2019 fell 8.62 percent with cumulative wholesale numbers of 2,086,358 units (May 2018: 2,283,262). Production numbers too were in conjunction with a 7.97 percent drop to 2,515,999 units (May 2018: 2,733,762), with reports of many OEMs observing scheduled and unscheduled NPDs (no production days) in order to moderate inventories and not push stocks to dealers. Production in the passenger car segment has been negative since November 2018 and two-wheeler OEMs started taking corrective action since January this year.
What's worrisome though is the fact that all individual segments have reported a slump, with PVs going down a significant 20.55 percent with wholesales of 239,347 units (May 2018: 301,238), CVs declining 10 percent to 68,847 units (May 2018: 76,517) and two-wheelers dropping 6.73 percent with 1,726,206 units (May 2018: 1,850,698).
The two-month April-May 2019 period of this ongoing fiscal hasn't been very good for the industry either with PVs declining 20 percent, CVs 8.05 and two-wheelers a good 12 percent.
The negative numbers are comparatively lesser in terms of retail wherein the data available in the Vahan national vehicle register shows an overall de-growth of 7.71 percent across segments in May and that of negative 1.46 percent for PVs in the month. This, experts say, is the outcome of the production moderation being undertaken by OEMs since November 2018, which is a long going process.
While the slowdown was being considered a resultant of the general elections the country just got over with, apex automobile industry body SIAM believes that this is an 'unprecedented' situation and some serious intervention is required to be put in by the government to bring the demand back in the market.
"The government needs to recognise the slowdown and take remedial actions immediately. Improving productivity in this kind of an atmosphere will be key for companies to cut costs and remain competitive in the industry," said Vishnu Mathur, director general, SIAM.
History repeating itself
Within PVs, passenger cars posted a decline of 26.03 percent with 147,546 units going home to buyers (May 2018: 199,479). This is the second highest slump in a long 18-year period when passenger cars had declined a substantial 31.37 percent in September 2001, and had consequently made overall PVs decline by a substantial 22 percent.
A 19.72 percent drop in M&HCV sales at 24,221 units (May 2018: 30,169) combined with a 4 percent decrease in LCV numbers which closed at 44,626 units in the month (May 2018: 46,348), also indicate to the fact that there is an underlying slowdown in the economy and the situation might worsen further. "With regards to CVs, a combination of the axle load norms and lowered market sentiments added to the weak performance. SCVs were hit too as the rural market is under distress," added Mathur.
Within two-wheelers, scooters declined 8 percent to 511,724 units (May 2018: 555,467) and motorcycles slumped 5 percent with 1,162,373 units (May 2018: 1,222,164).
Budgetary requests
While the industry had received an excise duty stimulus of roughly four percentage points in both the previous critical situations, SIAM has now appealed to the government to consider lowering the GST from 28 percent to 18 percent for all categories of vehicles. "This will bring customers back into the showrooms and they will start spending," said Sugato Sen, deputy director general, SIAM.
More so, the apex body has also proposed two more measures to the Revenue Secretary including creating demand by bringing in the 'Scrappage Policy' and by aiding OEMs as they increasingly invest in R&D towards BS VI, safety upgradation and electric vehicle technology.
"Currently, there is a 150 percent weighted average reduction on R&D spends for all automotive companies, which will go away from April 2020. Considering that OEMs haven't really been compensated with the reduced corporate tax which limits annual turnover to Rs 250 crore to be eligible, it needs to be reinstated to the 200 percent R&D investment level that it was there until April 2017," said Sen.
With the Indian auto industry contributing a significant (10%) Rs 110,000 crore in GST in FY2019 out of a total tax collection of around Rs 12,00,000 crore, it would be tragic if the government allowed the situation to worsen and not pay heed to concerns of a major economy driving force. While experts suggest that this was in the making right after the demonetisation drive of 2016, the need of the hour is a booster shot to prevent the epidemic from spreading any further.
"As we go along we are hopeful of seeing some revival in H2 as the pre-buying starts in lieu of the BS VI. But, pre-buying also means that there will again be a slump in actual sales of BS VI vehicles," concluded Mathur.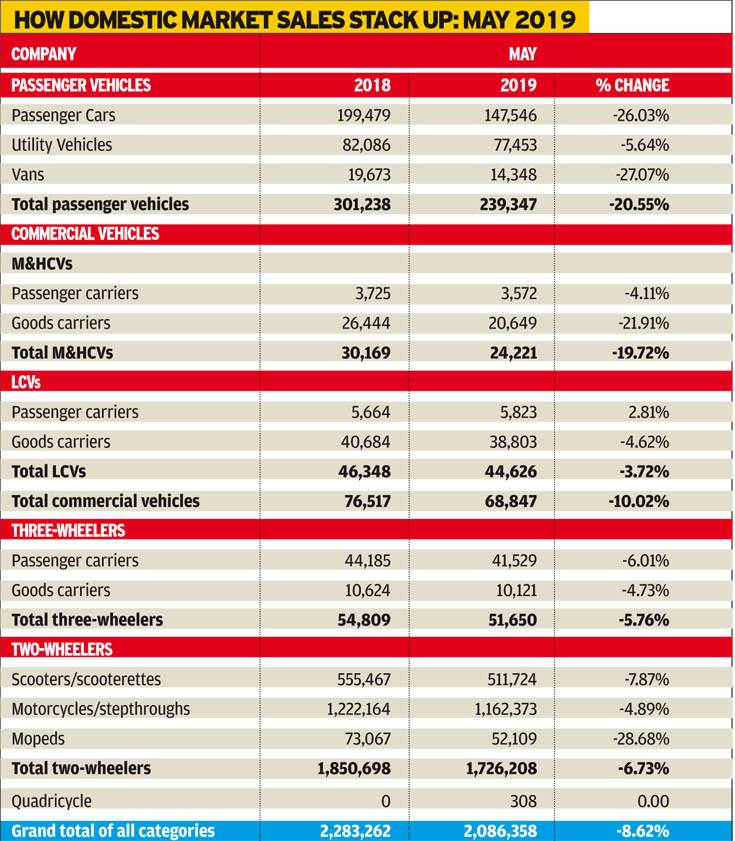 Also read: India Auto Inc gives a thumbs up to the new government
Industry experts say lightweighting remains among top priorities for India Auto Inc
RELATED ARTICLES