Industry experts say lightweighting remains among top priorities for India Auto Inc
Industry experts at ACMA conclave say lightweighting among top priorities for India Auto Inc, reveal latest successes and advances.
Of the global automotive megatrends having an immediate impact on the automotive value chain and on vehicle weight is lightweighting. As OEMs the world over look to shed weight by slashing kilos and shaving grams to develop lighter but stronger vehicles, there is an increasingly need for sharing of technology and best practices. That's just what apex component industry body ACMA did on April 30 with its day-long Automotive Lightweighting Conference which drew industry leaders and specialists in the automotive manufacturing and engineering space.
The conclave saw industry experts acknowledge the need for innovative solutions at the engineering level to be able to meet the stringent regulatory norms in the near future. A good amount of precedents, said experts, could be imbibed from aerospace, where lightweighting and offering strength are concentrated at the core of the flying industry.
Dr Torben Seemann, MD of Fraunhofer Institute, Germany explained that the concept of implementing multi-material technology and know-how transfer from aerospace to use composites can deliver amazing results in making automobile platforms lightweight to meet industry requirements.
The use of polymers in the automotive industry has been a long time coming, and carbon composites now see around 22 percent contribution by weight and over 13 percent by value, thus taking the average vehicle weight on a declining trend. While a composite is a mixture of two different elements, the automotive industry is seeing examples wherein carbon and glass fibres are being bonded together with bonding chemicals to offer the mechanical strength from the fibres and structural integrity from the binding material, which can sustain high loads over considerable amounts of time.
Fraunhofer LBF developed a CFRP wheel for an EV. With a wheel size of 6.5 x 15 inches, it weighs 3.5kg. Compared to a steel wheel, it reduces weight by up to 60% and up to 56% compared to an aluminium-cast wheel, depending on the design.
"Composites have higher durability and higher resistance than metal in all conditions. Typically, composites allow to make sub-assemblies in one go and thus, help reduce assembly cost and time," said Luca Mezzo, global lightweighting expert – BEN (Business Expert Network). "On the other hand, while metals have temperature resistance in the range of 250 degrees, composites can only sustain around 150-170 degrees," he added.
Advantages of composites include:
-Lightweight
- Higher strength
- Lower assembly cost, thus, lower cost of part manufacturing. Composites are cheaper than metal to assemble as the tooling cost is much lower up to 75,000 parts per year
- Composites offer continuous fibres in the part and thus provide better strength
The application of such resin-fusion composites are found in bus and truck body structures, and also in gas tanks and pressure vessels of hybrid vehicles.
Some key insights into innovation in lightweighting came from KV Suresh, president, India Region, ZF. He spoke about ZF's innovation in being able to make 25 percent lighter dampers, 10 percent lighter calipers and a remarkable 23 percent reduction in sheet metal weight for passenger car dampers.The company says that it is doing all of this by using alternate materials without affecting the structural integrity of the vehicle chassis.
ZF's mSTARS: The basic axle can be combined with ZF's AKC (Active Kinematics Control) rear axle steering as well as with electric axle drive systems or conventional rear axle drives, depending on customer requirements.
As an example, ZF showcased its Modular Semi-Trailing Active Rear Suspension (mSTARS) for UV application, wherein the upper and lower control arms have been made of aluminium. The company claims a 12 percent weight reduction in the overall vehicle weight by the usage of the technology.
ZF's new upcoming range of AMTs for CV application also boasts a 20-25 percent weight reduction as compared to competition because of using plastics and aluminum in the holders and actuators. This helps in improving fuel efficiency and can be implemented in long-distance trucks as well, the company says. The company has also come up with lightweight tie-rods, drag links and ball joints for commercial vehicle application.
MS Shankar, president, Technology and Innovation, Anand Group, said that "the industry imminently needs to focus upon the intent of reducing emissions, whether we do it through electrification or BS VI is a different case."
The company, Shankar said is working in multi-material concepts with its JV partner Henkel and using adhesives to bind materials together to eliminate weld joints. Shankar said that "we are looking if we can do a product that is 80 percent lighter than steel assembly."
Anand Group and Mahle have succeeded in reducing weight of HVAC system by 15 percent while also getting 20 percent higher heat rejection.
Within the Anand Group, he spoke of other examples for instance, making the spring seats in a MacPherson strut suspension system out of plastic for Gabriel, and working with Mahle to bring a 15 percent reduction in weight of HVAC system even while getting a 20 percent higher heat rejection.
G Raju, CEO and director, BAPL Rototech Plastics, said plastics are set to see huge penetration and growth till 2030. "BS VI and CAFE are posing huge challenges for vehicle manufacturers in India to be able to comply to these stricter norms and plastics and 3D printing are areas which are picking up pace in the automotive domain."
He pointed out that plastic fuel tanks can cut down on the component weight from as high as 50kg to 30kg in a truck. The company is working with vehicle manufacturers to develop new materials to reduce vehicle weight. Volvo Japan is BAPL's first customer and today it largely exports to major OEMs abroad and also supplies to Mahindra Trucks, Cummins and Eicher Trucks in the CV space.
Being a manufacturer of fuel tanks and urea tanks, BAPL has a plant in Pithampur, in Indore.
Ravi Shankar, who heads the Rs 150 crore Myoung Shin India Automotive (MSI) located in Coimbatore, and a key vendor to Hyundai Motor India, supplies body shell components – skin, top panels and the body frame – which contribute to around 40 percent of the overall vehicle weight.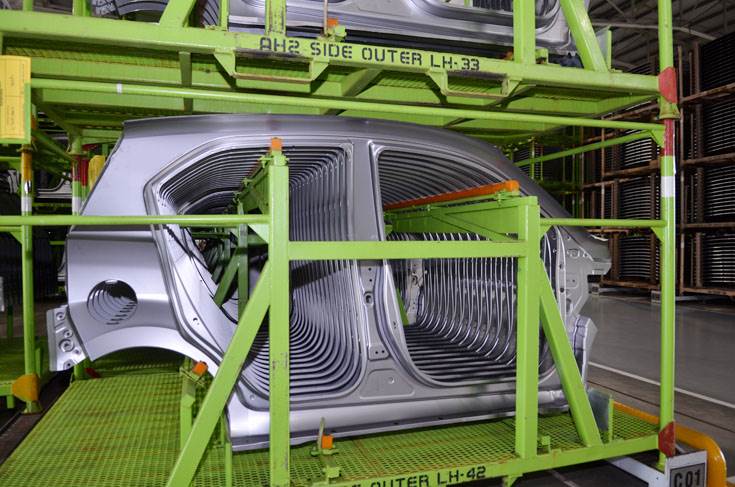 Shankar says that "the demand for innovative materials such as aluminium, magnesium and carbon fibre composite plastics is dependent upon market economics as well as ease of manufacturing."
For instance, while aluminium has better strength and rust prevention than steel, the oxide layer on the surface curtails joining in the weld process. Also, it impacts painting of the component as well. "Aluminum is still very nascent in India but is being used by Volkswagen, Ford and Jaguar Land Rover abroad," he added.
"While the front and rear of a car body are crumple zones, hence Ultra-strength suited than aluminium, but faces manufacturing issues."
The company has an integrated line at its plant in Coimbatore and, on a larger level, is supplying to Tesla in the US and Byton in China. With its acquisition of the GM line in Korea, is set to contractually assemble electric cars in Korea by 2021, which it also expects seeing getting launched in India by 2024-2025.
Insights from OEMs
Dr Akella Sarma, senior general manager, Product Development, Mahindra & Mahindra, said: "Product development today requires right-weighting in order to build products which comply to crash and emission regulatory norms."
The engineering veteran at the Mahindra Research Valley in Chennai says that "the regular design and development process needs to evolve and be changed as technology is making it possible to simulate all scenarios in-situ and thus, from the conventional Concept-Design-Optimise development flow, it is needed to increase the time spent in conceptualisation and then do concept optimisation and then move to design, and then finally doing the design optimisation. This will also help in controlling costs."
Sarma explained, "In case of modular platforms, the entire load path should not be taken to the chassis itself as it would then need the chassis for a lot of reinforcement."
"There are many simulation tools and technologies for lightweighting in terms of 1D, 2D applications on design calculations and that designers today are also aided by designer level CAE automation, for instance, morphing, wherein a designer takes the upper body and is able to validate the lower body of the vehicle. Also, multi-domain optimisation is key in the present day," he added.
Dassault and Altair provide various parametric finite element modelling software for the same, which M&M is using for its design work.
Maruti Suzuki India's Alok Jaitley: "By using advanced high strength steel (AHSS) and ultra HSS, the cost increment is 15 percent but the weight reduction achievable is to the tune of 35 percent."
Alok Jaitley, vice-president, Technical Administration and Engineering, Maruti Suzuki India, said: "With the use of Advanced HSS and Ultra HSS, while the cost increment is 15 percent the weight reduction achievable is to the tune of 35 percent. On the other hand, aluminium becomes very expensive as a solution to be employed in a cost effective vehicle segment."
Jaitley explained that these materials have challenges in the sense that once they become stiff, they show a spring back action and thus, don't return to their shape.
"Thus, if there is a design change during development, the tool and die modification becomes very difficult. Thus, designers need to factor this very early on in the design process, and work in collaboration with the tool designers and even the raw material suppliers," he added.
Suzuki's Heartect platform, which underpins a number of cars from Maruti Suzuki India such as the Swift, Ignis, Ertiga and Baleno, enables 15 percent reduction in the body in white.
With Maruti increasingly shifting its model line-up to the new Heartect platform, Jaitley explained that it allows 15 percent weight reduction in BIW and also the energy flow path has been modified wherein the load is transferred to the rear end of the vehicle through the side long members, which in turn helps in keeping the cabin shell remain intact in event of crash.
He said that while the company could look at 780-980 strength steel, as well as hot-stamped parts, but both cost and manufacturability are a concern.
Maruti Suzuki, according to Jaitley, is also using composites, wherein the company has been able to achieve a notable 33 percent reduction in the weight of the fuel tank in its popular Vitara Brezza SUV and by also switching over to plastics with some components in the engine bay.
MSIL's approach for lightweighting also includes an accelerated durability performance with NVH testing so as to bring the component level noises into resonance with the overall vehicle vibration and noise while running on the road.
Material substitution, Jaitley says, is possible with engineering plastics, which can be done in the evening compartment, chassis as well as body parts, and that the future also looks at carbon composites coming in, only that the cost needs to be offset.
Electric vehicle development is also another area that would need lightweighting and the country's largest carmaker is automatically looking at the possibility of using Advanced HSS to build these charge-sipping vehicles. A reduction in the battery box weight which today hovers around 200-300kg is something it is innovating on to aid EV range in its future models.
Also read:
Autocar Professional's October 1 Lightweighting Special is a heavyweight

Current trends in lightweighting technologies
RELATED ARTICLES