Hyundai and Kia target sales of 873,000 units in India in CY2023
A bullish-on-India Hyundai Motor Group targets an 8% year-on-year increase in combined passenger vehicle sales of Hyundai Motor India and Kia India.
Hyundai Motor India and Kia India are targeting growth on the back of new SUVs.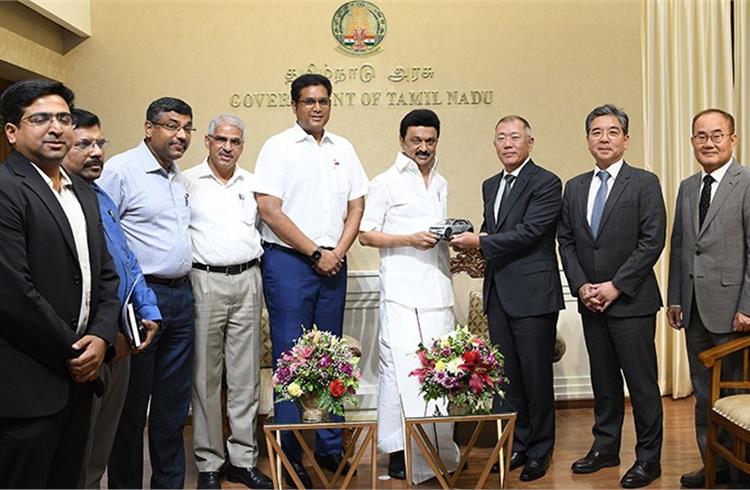 On August 8, Hyundai Motor Group's Euisun Chung met Chief Minister of Tamil Nadu M K Stalin and T.R.B. Rajaa, Minister of Industries, Investment Promotions and Commerce, Tamil Nadu, along with key figures from Hyundai Motor Group
In what is a reflection of India's growing stature in the global scheme of things for the Hyundai Motor Group, Hyundai Motor Group Executive Chairman Euisun Chung visited India on August 7-8 to review the Korean automaker's strategy which lays the foundation for its future growth in the Indian market.
India, which is one of the world's most promising automotive markets with the world's largest population, recorded sales of 4.76 million new vehicles last year, ranking third behind China and the U.S. The passenger car market, which accounted for a record 3.79 million units (up 23%) in CY2022 and 3.89 million units (up 27%) in FY2023, is expected to exceed 5 million units by 2030. And the Hyundai Motor Group is pressing the accelerator to achieve speedier growth through its two vehicle manufacturing arms in India.
Today, in an official communication, the Hyundai Motor Group said that following last year's record sales (for both Hyundai and Kia) in India, "this year's (CY2023) sales target is 873,000 units, 8.2 percent more than last year." It also detailed that the combined sales of the two carmakers in the first seven months of this year, at 502,821 units (see data table below) are up 8.8% year on year.
In tandem with sales production at the Indian plants has also increased. Cumulative production through July this year was 630,230 units, up 8.7% from 580,049 units in January-July 2022. Hyundai Motor India has expanded its production capacity – a new paint shop and additional capital investments have enabled it to produce 824,000 units annually, an increase of 54,000 units from 770,000 units.
India market's growing stature
Strong domestic market sales over the past few years have seen Hyundai Motor India and Kia India increase their market share both in the Indian passenger vehicle market as well as their contribution to overall Hyundai Group sales.
Hyundai Motor India, which recorded its best-ever annual sales of 552,511 units in CY2022, contributed 14% to Hyundai Group's global sales (3,944,579 units), last year, up from 13% in CY2021. Likewise, Kia India with best-ever annual sales of 336,619 units contributed 8.53% to Hyundai Group global sales in CY2022.
While Hyundai Motor India is the longstanding No. 2 PV player in India after Maruti Suzuki, the Hyundai-Kia operation in India now accounts for a combined market share of 21 percent in the April-June 2023 period. In Q1 FY2024, Hyundai Motor India (148,303 units) accounts for 14.89% and Kia India (61,373 units) for 6.16% of the overall 995,974 PVs sold.
Both OEMs have benefited from the sustained and surging demand for SUVs in the country and are banking on fresh demand coming their way from recently launched products. On July 11, Hyundai launched the Exter mini-SUV at an aggressive price of Rs 599,900. Targeted at Gen-Z buyers, Hyundai Motor India is looking to outpunch the high-selling Tata Punch in the entry-level SUV market with the Exter. Meanwhile, Kia India, on July 21, launched the face-lifted Seltos with prices starting at Rs 10.90 lakh. The new Sweltos received 13,424 bookings on the very first day bookings opened.
ALSO READ: SUVs power July sales to a record high, tepid small car demand drags growth to low single digit
RELATED ARTICLES