Diesel UV sales dive 50% in February as do diesel cars in first 11 months of FY2020
The writing was on the wall for some time but now the surge in the consumer shift to petrol power is crystal clear and OEMs will have to strategise to fuel their future in a difficult time.
Narrowing gap between diesel-petrol prices, government restrictions in some cities and more expensive BS VI technology is putting diesel on the backburner.
In February 2020, sales of diesel-engined utility vehicles dropped 52% compared to February 2019.
Between April '19 February '20, petrol UVs doubled their share in total UV sales, with petrol cars gaining 7 percentage points.
Shift to petrol will get more pronounced from April 1 as stricter BS VI norms demand a significant 82% cut in PM2.5 emitted from diesel vehicles.
Under BS VI, NOx levels will go down by 25% for petrols and a drastic 68% for diesel engines, which also have to meet a severe 82% reduction in particulate matter levels.
April 1 and stringent BS VI are just two days away. The upgraded emission norm marks the end of a transition that can be termed as the biggest technological leap the country's auto industry has taken towards clean air. Internal combustion engines (ICEs) are primarily notorious for the production of carbon dioxide (CO2), carbon monoxide (CO), hydrocarbons (HC) and oxides of nitrogen (NOx). Particulate matter (PM), or carbon soot, is another by-product of diesel as well as direct-injection petrol engines.
Under BS VI, NOx levels will go down by 25% for petrols and a drastic 68% for diesel engines. The latter will also be met with the requirement of a severe 82% reduction in PM levels. And for the first time, petrol engines (with direct injection) will attract regulation for their particulate-matter production.
Diesel, which has been demonised since Dieselgate, may have fallen out of favour recently but they will always be more frugal than petrol engines. That fact notwithstanding, demand for diesel-engined passenger vehicles has been on the downswing for some time now in India, which was not too long ago a hugely diesel-friendly market.
A mix of government directives, growing consumer awareness about driving greener cars and also a cheaper sticker price have combined to give diesel's cousin, petrol, a sizeable advantage. However, not all is doom and gloom because some OEMs like Hyundai Motor India, Kia Motors India and Honda Cars India are not giving up on diesel as has Maruti Suzuki India.
February facts: Diesel down to 14% from 35%, petrol up from 65% to 86%
Proof of the marked shift from diesel to petrol-engined vehicles can be seen from industry sales statistics. In February 2020, of the total 251,516 PVs sold, 14% comprised diesel (down from 35% in February 2019) and 86% petrol (up 19% from 65% in February 2019).
Of the 155,983 passenger cars sold last month, 3,816 were diesel and 152,167 petrol, making for a 2:98 percent diesel:petrol variant ratio. Now compare this to the 15:85 ratio of February 2019 and you get an idea of how much consumer preferences have changed in the course of 12 months.
It gets worse in the utility vehicle space. In February 2020, a total of 83,048 UVs were sold comprising 31,765 diesel and 51,283 petrol which constitutes a 38:62 percent ratio. Go back a year ago and the consumer shift towards petrol in UVs is an eye-opener: 80:20 percent diesel (66,497) to petrol (16,772). That's a massive 42% shift and indicative of the writing on the wall that OEMs like Maruti Suzuki and Mahindra & Mahindra have seen early in the day.
It must be noted that given their bulky form and built-to-purpose credentials, UVs have traditionally seen a diesel engine get preference over petrol, due to its higher fuel efficiency and low-end torque which help propel these vehicles with ease even at full load. However, with the narrowing gap between the prices of the two fuels, a 10-year limitation on the life of a diesel vehicle in cities likes Delhi-NCR, and more expensive BS VI diesel engine technology compared to petrol, the trend is reversing, and how.
Want to know the stats in the van segment? Actually, it's not very different there either. Of the total 11,880 vans sold in February 2020, only 653 or 5% are diesels and 11,227 or 95% are petrols; Compare this with 18% diesel and 82% petrol exactly a year ago.
Not exactly good news for diesel in India, is it?
Sub-4-metre and midsized UVs get petrol power pep
Within UVs, the most voluminous sub-segment – the sub-4-metre compact SUVs – is showing a clear shift in buyer preferences. Compact diesel crossovers (less than 4,400mm in length and priced up to Rs 15 lakh) which retailed all of 42,200 units in February 2019 against 15,925 units of petrol, declined to mere 17,343 units (-59.90%) last month, even as the overall sub-segment registered a 15.63 percent growth to 67,210 units.
Clearly, buyers of products such as the Hyundai Venue (diesel-petrol: 2,029 / 8,292) and Ford EcoSport (2,087 / 1,626) are increasingly opting for petrol powertrains given their feature-rich packages on offer, and from the looks of it the complete exit of the segment king Maruti Vitara Brezza from diesel in the BS VI regime isn't helping diesel's cause either. The Brezza, which saw 11,613 units of its diesel version going home to buyers in February last year, recorded a 180-degree shift with 6,848 units getting despatched last month when the crossover was launched in an all-new petrol-only avatar at the Auto Expo.
Petrol panache and pocket-friendlier prices of petrol cars
When it comes to passenger cars, this sub-category within PVs too recorded an 85 percent drop in sale of diesel variants to just 3,816 units last month (February 2019: 25,566). While UVs are typically linked with diesel engine power, passenger cars which range from mass-market hatchbacks to midsized C-segment sedans are usually preferred with petrol engines for their refinement and cheaper price-tags.
As a result, sales of petrol-powered passenger cars could only register a nominal 4.56 percent increase in February, with sales totalling 152,167 units (145,533) as compared to the dramatic 200 percent jump in sale of petrol UVs.
Models such as the Honda City saw a 60.47 percent YoY decline in diesel variant sales to 2,347 units (February 2019: 5,938); Hyundai's Verna dropped 50.42 percent to 9,003 units (18,159) and Maruti Ciaz too registered a 64.53 percent decline in its diesel variant to 3,374 units (9,513), clearly indicative of fast-changing buyer preferences. That's not all. Mass-market diesel-engined favourites including Maruti's best-selling Dzire and Swift siblings also dropped 40 percent and 55 percent to 67,127 units (111,090) and 24,659 units (54,670) respectively.
Petrol shows its power over 11 months in FY2020
The consumer shift to petrol power has been happening over the past two years but it is in the recent past that pace has picked up, something which OEMs have learned too.
Between April 2019 and February 2020, the first 11 months of the ongoing fiscal year 2020, diesel-powered passenger cars have dropped from contributing 19 percent to 12 percent of total PV sales which also have slid sharply by 50 percent to 191,306 units (April 2018-Febraury 2019: 386,365), proof enough of the reduced market size for passenger cars in favour of UVs. Petrol car makers though must be rubbing their hands with glee as sales have grown from 81% to 88% with overall sales touching 1,421,010 units (April 2018-February 2019: 1,654,105).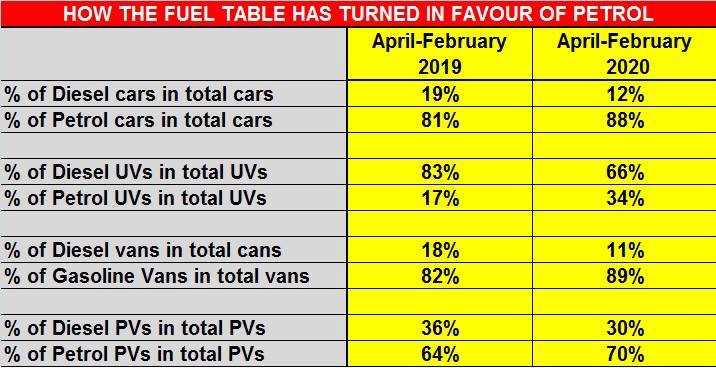 Now, as the country shifts into stricter BS VI regime from April 1, which mandates a substantial 82 percent reduction in PM2.5 emitted from diesel, and a corresponding 68 percent reduction in NOx, the future of diesel vehicles in India looks blurred, with a fair number of OEMs including PV market leader Maruti Suzuki diving out from diesel, at least for the initial phase of implementation of BS VI. Nonetheless, Korean carmakers Kia and Hyundai remain bullish on diesel-powered products, keen to play when the big cat is away. But will the torquey monsters make gains in the face of renewed and greener petrol power or will both fuels see a new contender for glory in the form of new mobility technologies such as electric? Watch this space.
RELATED ARTICLES