BMW Motorrad India headed for record sales in 2022, trio of 310s to power growth
January-June sales of 3,114 units already 60% of CY2021 total; G310 R, G310 GS command 90% share and G310 RR has just been launched, cumulative sales since 2017 cross 15,700 units.
Clockwise from top left: the just-launched BMW 310RR, the 310 GS and the 310 R.
G310 R and G310 GS account for 90% of sales in H1 2022; since 2017, cumulative sales of all BMW Motorrad India have crossed 15,700 units – the 310 twins account for an estimated 84% or 13,205 units.
The BMW 310 series – G310 RR, G310 R and G310 GS – has been jointly developed by BMW Motorrad and TVS Motor Co and is locally produced in India from TVS' state-of-the-art plant in Hosur, Tamil Nadu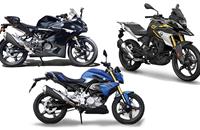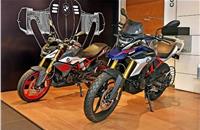 With the third member of the 310 series – the G310 RR – joining the BMW Motorrrad India portfolio on July 15, expect the two-wheeler arm of the BMW Group to accelerate growth in India.
The first two siblings – the G310 R and G310 S – have been the company's best-selling products right since their launch on July 18, 2018, priced at Rs 299,000 and Rs 349,000 respectively.
At the time, the launch of these two motorcycles by BMW Motorrad marked the company's entry in India's growing midsize motorcycle segment. What's more, they were the most affordable models from the German manufacturer and the entry point to the BMW Motorrad world. While the made-in-India G310R and the G310GS were being exported to European and the US markets, their rollout in India has paid huge dividends over the past four-and-half years.
Now as demand in the midsize motorcycle market, and also the premium segment within that, beginnning to take off, BMW Motorrad India is making the most of the trend.
Over 15,500 units sold since 2017, 310 twins account for 84%
Between late 2017, when it began operations in the country, and end-June 2022, BMW Motorrad India has sold over 15,500 two-wheelers (see data table below), with CY2021 being the best year by far. Now from the looks of it, sales in calendar year 2022 are set to scale a new record.
In the first six months of 2022, a total of 3,114 units – 60% of the total CY2021 sales – have been retailed enabling smart growth of 56.7%. Together, the G310 R and G310 GS commanded a share of around 90%, which means 2,802 units. The new mid-range F850 GS / GSA, the R1250 GS / GSA and the S1000 RR were other important contributors to the H1 2022 total.
A back-of-the-envelope calculation, after referring to BMW Motorrad India's sales since its market entry in 2017, reveals that the company has cumulatively sold over 15,710 two-wheelers in India. Of this total, it is estimated that till June 2022, the BMW 310 twins account for 13,205 units or an overwhelming 84% of total sales.
Having recognised the growing and sizeable potential of the midsize motorcycle market in India, BMW Motorrad, on June 22, 2022, announced the first-ever BMW G 310 R Rider Academy in India. The Rider Academy will offer BMW G 310 R riders / owners curated training sessions to hone their riding skills under expert guidance. This involves a one-day exclusive riding experience for BMW G 310 R owners. The participants will go through a comprehensive training. The training includes basic familiarity of the motorcycle, understanding of correct rider position, throttle control, vision steering and other exercises such as emergency braking and riding on track.
BMW-TVS partnership to extend to future tech and EVs
The trio of 310s – G310 RR, G310 R and G310 GS – has been jointly developed by BMW Motorrad and TVS Motor Company and are locally produced in India from TVS' state-of-the-art plant in Hosur, Tamil Nadu. Now, with the wave of electrification gradually taking root across the world and also in India, both OEMs are also to collaborate on a common platform, with the first new product slated to roll out by 2023.
On December 15, 2021, the two companies announced a plan to develop common platforms by mutually tapping the emerging technologies in the future mobility space, keeping in mind the global requirements of customer segments in various markets. Exclusive products for both companies will be developed on these common platforms, and the two OEMs will retail their products globally.
TVS will continue to bring on board engineering prowess in design, manufacturing and supply chain capabilities and provide best-in-class quality and economic advantage. The first product through this cooperation is expected to be showcased before the end of 2025.
3,114 units in Jan-June 2022: BMW Motorrad India's best-ever H1 sales
BMW Motorrad India has been a key contributor to BMW Group India's sales. BMW Group India has recorded the best-ever half-yearly sales performance by delivering 5,570 cars and 3,114 motorcycles between January-June 2022. BMW, Mini and BMW Motorrad achieved their highest H1 deliveries.
Along with the 310 series, the compaany also retails the C 400 GT, R 1250 GS and R 1250 GS Adventure, R nine T and R nine T Scrambler, S 1000 R, M 1000 RR and the R 18 Classic.
Commenting on the H1 performance, Vikram Pawah, President, BMW Group India said, "BMW Group is taking rapid and consistent strides in India. Despite the turbulences caused by various factors in the domestic and international market, we have achieved the best-ever half-yearly sales performance for BMW, Mini and BMW Motorrad. This success underpins the enormously strong demand for BMW Group products in the luxury car and premium motorcycle segment in India.
Pawah added: "We are totally committed towards the market and are ensuring that vehicles are being produced and delivered as planned. A majority of products are sold out and we are trying our best to match the huge demand. The order books are full and the pipeline for coming months is quite solid. In the meanwhile, we are maintaining absolute transparency across the country on delivery timelines and are ensuring a premium experience that is full of joy at each step."
ALSO READ BMW Motorrad reveals new CE 04 electric scooter
The BMW CE 04 employs a permanent magnet motor, mounted in the steel frame, between the battery and rear wheel. It has a rated output of 15kW (20hp) and a maximum output of 31KW or 42hp. It enables the CE 04 to do 0-50kph in 2.6sec anda top speed of 120kph​.
RELATED ARTICLES