Bajaj Auto, TVS and Royal Enfield record robust sales in April-May, increase market share amid wave of demand for premium products
With demand once again picking up for motorcycles and scooters along with green shoots of recovery from rural India, the two-wheeler industry posted 16% growth in April-May 2023. Accelerating demand for premium products sees Bajaj, TVS and Royal Enfield make early gains in FY2024.
With industry body SIAM announcing the wholesales numbers for three vehicle segments – passenger vehicles, two and three-wheelers – for the first two months of the ongoing fiscal year, one of the highlights is that of growth returning to the two-wheeler industry. Cumulative April-May 2023 numbers are 28,10,138 units, up 16.32% year on year (April-May 2022: 24,15,769 units).
Importantly, the growth is democratised across two key sub-segments. While scooter sales at 9,10,982 units are up 16% (April-May 2022: 7,86,541), motorcycle sales at 18,28,394 are an increase of 17.55% (April-May 2022: 15,55,300). Moped numbers at 70,762 units are down 4.28% (April-May 2022: 73,928) but sales in May were in the black.
In terms of product category share, motorcycles accounted for the bulk of the two-wheeler market at 65%, followed by scooters with 32.41% and mopeds with 2.51 percent.
What has helped is possibly the growth in the country's GDP, green shoots of recovery in the rural market, the ongoing marriage season in India which sees a lot of gifting of two-wheelers and the fair number of new product launches. Of the 14 OEMs in the fray, only four have seen sales decline but they are also the ones with sales less than five or four figures. Seven OEMs have sales in six-figure numbers and they are the movers and shakers of the industry. Let's take a closer look at how the major two-wheeler manufacturers have performed in April-May 2023 and the resultant impact on their market share.
Hero MotoCorp: 894,493 units, up 3% YoY
Market share: 31.83%, down from 35.80% in April-May 2022
Market leader Hero MotoCorp has registered wholesales of 894,493 units, which is 29,537 units more than the 864,956 units in April-May 2022 and comprises 508,309 units in May (up 9% YoY) and 3,86,184 units in April (down 3% YoY).
As a result of the tepid demand for over 18-odd months from rural India, which is the biggest buyer of commuter motorcycles, the company has been losing market share for some time now. At present, its overall two-wheeler share is 31.83%, down from 35.80% in April-May 2022. Hero has shed share in both scooters (6% from 7.54%) and motorcycles (45.92% from 51.79%). However, from the promising outlook of rural India, there could be a welcome return of demand particularly for commuter bikes.
Sales in the past two months comprised 894,493 bikes, up 3%, and 54,784 scooters, down 8%. Hero MotoCorp has three key motorcycle models (HF Deluxe, Passion, Splendor) in the 100-110cc commuter segment. At 724,955 units in April-May 2023, they saw YoY growth of 7.3% and accounted for 81% of total two-wheeler wholesales and 83% of total motorcycle sales. Clearly, they will have to sell well in the coming months if Hero is to see speedy sales growth.
In the 110-125cc bike market, the Glamour-Splendor combine sold 1,05,811 units, down 8% (April-May 2022: 1,15,041). Sales of the two Xtreme models, which play in the 160cc-200cc premium market, were down a sizeable 40% to 8,916 units (April-May 2022: 14,897).
Hero MotoCorp sold 720 electric Vidas in the first two months of FY2024.
Honda Motorcycle & Scooter India: 649,434 units, up 2% YoY
Market share: 23.11%, down from 26.47% in April-May 2022
With cumulative two-month sales of 649,434 two-wheelers, Honda Motorcycle & Scooter India saw marginal growth of 2% (April-May 2022: 639,591 units). The sustained demand for its Activa brand of scooters has helped buffer the substantial 31% YoY decline in sales of its motorcycles.
HMSI sold a total of 449,381 scooters, which represents strong 28% YoY growth (April-May 2022: 351,164 units) and has helped the company increase its scooter market share by over 4 percentage basis points to 49.32% from 44.64% a year ago.
HMSI was among the first OEMs in India to become OBD-II emission compliant ahead of the April 1, 2023 deadline – in January with the 110cc Activa, the largest-selling scooter in India, and the 125cc Activa in March. The user- and urban-friendly Activa is sold in seven variants – four 110cc and three 125cc – and is Honda's trump card in the competitive Indian two-wheeler market.
Like Hero MotoCorp, HMSI too is feeling the heat of slackened demand for commuter bikes. The Shine with 172,491 units in April-May 2023 is down 23% YoY (April-May 2022: 225,178). The Shine, which accounts for the bulk of HMSI's bike sales, contributed to 86% of the company's sales in the past two months.
TVS Motor Co: 485,646 units, up 31% YoY
Market share: 17.28%, up from 15.39% in April-May 2022
The Chennai-based TVS Motor Co is firing on all cylinders for some time now in both the scooter and motorcycle sub-segments. The company sold a total of 485,646 units in April-May 2023, up 31% YoY (April-May 2022: 372,015) with scooters contributing 206,010 units or 41%, motorcycles 43% with 2,08,874 units and mopeds, for which TVS is the sole OEM in India, 70,762 units and 14.57 percent.
TVS has recorded robust growth in its motorcycle sales – 112% – thanks to strong and continuing demand for the Raider 125 which is coming into a league of its own with 65,931 units. And the premium Apache brand has seen demand zoom 133% with sales of 80,103 units (April-May 2022: 34,386). The trio of entry-level bikes – the 110cc Radeon, Sport and 100cc Star City – clocked sales of 62,249 units, up 4% YoY. TVS also sold 591 units of the RR 310, down 25% YoY.
As a result of the strong performance on the bikes front, TVS' motorcycle share has nearly doubled to 11.42% from 6.34%. In fact, it has not only helped buffer the decline in scooter market share but increased TVS overall two-wheeler market share to 17.28%, from 15.39% a year ago.
When it comes to scooters, TVS sold a total of 206,010 units, which is marginal 3% growth (April-May 2022: 199,366 units). The trio of the Jupiter, NTorq and Scooty Zest sold 178,117 units, down 2.34% (April-May 2022: 1,82,400). Demand for the Scooty Pep+ fell 71% to 3,753 units from 12,909 units in April-May 2022. What has saved the blushes for TVS in terms of scooter sales is the spurt in buying of the al-electric iQube scooter – up 495% to 24,140 units from 4,057 units a year ago. Put that down to the frenzied customer buying in the last 8 days of May 2023 before e-two-wheeler prices were hiked following the slashing of the FAME subsidy.
Bajaj Auto: 376,374 units, up 99% YoY
Market share: 13.39%, up from 7.83% in April-May 2022
Bajaj Auto, which had closed FY2023 with an overall two-wheeler market share of 11.35%, has registered strong sales and growth in the first two months of FY2023. The predominantly motorcycle player, which has only recently ventured into e-scooters, sees its market share rise by two percentage basis points to 13.39%, mainly as a result of its near-100% growth in motorcycle sales.
The Pune-based OEM sold a total of 376,374 units, comprising 362,620 bikes (up 95% YoY) and 13,754 electric Chetaks (up 263% YoY on a low base). The robust motorcycle sales have increased Bajaj's share in the segment to 20% from 12% a year ago. Clearly, Bajaj is well set to accelerate growth in FY2024.
A look at the SIAM-provided data reveals that Bajaj has achieved growth in all sub-segments, with smart increases particularly in its premium bikes. In the entry level 100-110cc segment, the Platina 100 and CT100X have sold 97,411 units, up 65% YoY. The 110-125cc segment, which has the CT125X, Platina 110, Pulsar 125 and KTM 125 Duke and RC125, delivered sales of 170,478 units up 72% YoY (April-May 2022: 99,177). Then, in the 125-150cc category, the Pulsar 150 clocked sales of 35,915 units, up 307% on a lower year-ago base of 8,809 units.
In the 150-200cc segment, the Pulsar N160, NS200 and RS200, along with the KTM 200 Duke and RC200 brought in sales of 43,748 units, rising 315% over April-May 2022's 10,538 units. A segment above, in the 200-250cc category (Pulsar 22F, N250, F250, Dominar 250, KTM 250 Duke and Husqvarna Vitpilen and Svartpilen 250s), the growth story is even better – 11,713 units versus 1,706 units, which constitutes 586% YoY growth. And in the 350-500cc segment (Dominar 400, KTM RC390 and 390 Adventure) Bajaj sold 3,355 units, up 76% YoY.
Bajaj Auto also sold 13,754 Chetaks, a 263% YoY increase (April-May 2022: 3,790), which is a result of its highest-ever e-scooter monthly sales in May (9,208) with buyers rushing to buy two-wheeled EVs before June 1.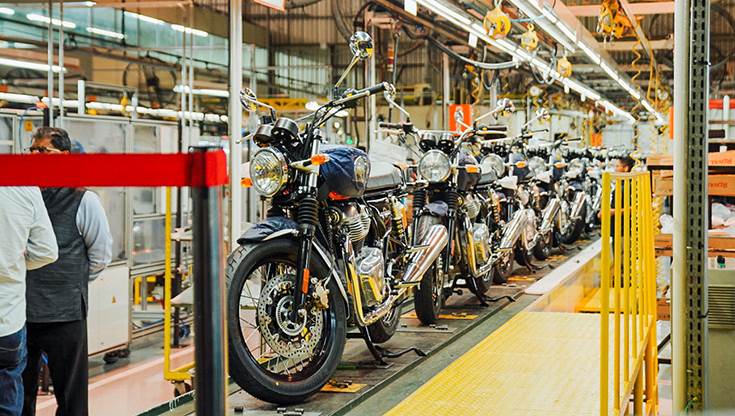 Royal Enfield: 139,676 units, up 30% YoY
Market share: 4.97%, up from 4.44% in April-May 2022
The Chennai-based motorcycle manufacturer reported total wholesales of 139,676 units, up 30% on its year-ago sales of 107,377 units. This has helped the company increase its bike market share to nearly 5% from 4.44% a year ago.
The bulk of its sales, as is usual, came in the 250-350cc category where the Bullet 350, Hunter 350, Classic 350 and Meteor 350 reside – 127,279 units, which marks 30.51% YoY growth. The 411 Himalayan adventure bike clocked sales of 7,585 units, up 19.58% YoY. In the 500-800cc segment (Continental GT650, Interceptor 650, Super Meteor 650) Royal Enfield saw sales rise to 4,812 units, up 37% over April-May 2022's 3,516 units.
Growth outlook
Given the good clip of sales in the first two months of FY2024 along with the welcome return of demand, pent-up as it may be from rural India which is a big buyer of commuter motorcycles, it can be surmised that that the two-wheeler industry should be looking at double-digit growth in FY2024. The uptick in the GDP, fast-improving consumer sentiment and also rollout of new models from OEMs augurs well for the industry. Importantly, consumers seem to have taken the marginal price increases for the OBD II emission tech upgrade, effective from April 1, 2023, in their stride.
The electric two-wheeler industry, which recorded best-ever monthly retail sales of over 105,000 units in May 2023 before the slashed FAME II subsidy and higher prices kicked in from June, is set to see numbers decline sharply in June and the next few months before they rise again around festival time later in the year.
RELATED ARTICLES