Automotive brands see value surge in latest India market study
Latest India-specific Brand Finance study reveals the most valuable and strongest brands across sectors. While the Tata Group maintains its No. 1 position, the Mahindra Group is the fastest growing brand, moving up to seventh position in the Top 100 brands; M&M tops auto brands with 59% growth in brand value.
India, whose economy and business growth continues to show remarkable resilience amidst global turmoil, remains a strong investment destination. The automotive industry, comprising vehicle and component manufacturers, contributes 8% of the country's total exports and accounts for 7.1% of India's GDP, is a key driver of growth.
Vehicle manufacturers had a good CY2022 with sales of over 20 million vehicles (2,07,52,305) and year-on-year growth of 12 percent. The component supplier industry's turnover rose 35% in H1 FY2023 to Rs 2.65 lakh crore (US$ 33.8 billion) while exports rose 8.6% to US$ 10.1 billion. Doing their bit for India Auto Inc are multiple brands across segments and their performance is what contributes to their brand strength.
Motherson Sumi is the sole automotive component supplier in the Top 100 ranking, its improved brand value helping it rise 8 ranks to 60th position.
Specific to the global auto industry, India has eight brands in the Top 100 Most Valuable Auto Brands of 2023 comprising three carmakers, four two-wheeler manufacturers and one commercial vehicle manufacturer in the Top 100 global brands announced earlier this year by leading brand valuation consultancy, Brand Finance.
Not surprisingly, these eight and some more including oil marketing companies and tyre makers are part of the latest Brand Finance India 100, 2023 report released on June 7, which ranks the world's most valuable and strongest Indian brands across sectors and assessed over 250 Indian brands for its study.
Tata Group remains India's most valuable brand
The salt-to-software Tata Group, whose brand value is up 10% to US $26 billion / Rs 214,422 crore) continues to be the most valuable brand in India. With a refreshed business strategy focusing on digitalisation, e-commerce, EV, electronics and streamlining of key business units, it is witnessing a surge in its brand value.
The Tata Group's automotive portfolio companies comprise Tata Motors, Jaguar Land Rover and Tata AutoComp, which benefit from synergies with group companies like Tata Steel, TCS, Tata Elxsi, Tata Digital, Tata Power, Tata Chemicals and Tata Capital.
Tata Motors, with a brand value of $1.4 billion (Rs 115,456 crore), has seen a YoY growth of 26.3%, and takes fifth rank in the automotive OEM segment.
India's automobile industry, particularly passenger vehicles, recorded strong double-digit gains in FY2023. Tata Motors, which registered best-ever wholesales of 538,640 units, up 45% YoY (FY2022: 370,372 units) surpassed half-a-million sales for the first time in a fiscal. With a multi-fuel (petrol, diesel, CNG and electric) portfolio comprising seven cars and SUVs, the company is well placed to capitalise on growth in 2023.
What's more, Tata's CV operations are showing a smart uptick. FY2023's combined medium, heavy and small CV sales totalled 413,539 units, up 16% YoY (FY2022: 356,972 units). The company is benefiting from the growing demand for HCVs as a result of the increased governmental and private sector spend on infrastructure development while LCV and SCV demand is spurred by the e-commerce and last-mile mobility sectors. And in a manner similar to EV PVs, Tata is developing EV solutions like the Ace EV, electric buses and HCVs customised to address CV applications.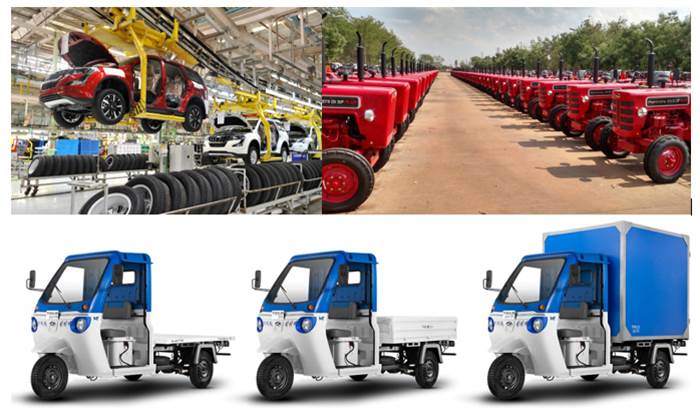 Latest Brand Finance study rates Mahindra Group as the most valuable automotive brand in India
Mahindra Group drives up with strong gains
The Mahindra Group has made strong gains of 15% in brand value to US $7 billion / Rs 57,729 crore, improving two ranks to seventh position. Founded in 1945, it is one of the world's largest business groups with operations in over a hundred countries, employing over 260,000 people. The Group performed exceptionally well last fiscal with record profit of Rs 10,282 crore, surpassing Rs 10,000 crore for the first time on revenues of Rs 121,269 crore.
The Mahindra Group's presence spans several industries including automotive, tractor and farm machinery, IT, financial services, renewable energy, logistics, hospitality and real estate. It is also is a top performer across several global industry rankings and assessments in Environmental, Social, and Governance (ESG) which is increasingly becoming the barometer of brand value globally.
In Brand Finance's 2023 India market study, Mahindra & Mahindra (M&M), with a brand value of $3.6 billion (Rs 29,689 crore), sees YoY growth of 59.3% and has been rated as the most valuable automotive brand in India.
M&M recorded its best-ever sales in FY2023 – 359,253 units, which constitutes handsome 59% YoY growth (FY2022: 225,895 units). As of June 2023, it has an order backlog of 292,000 units. Furthermore, its tractor division also farmed solid growth in FY2023 – combined domestic and export sales of 407,545 units, up 15% YoY (FY2022: 354,698 units). On August 15, 2023, Mahindra Tractors will unveil the Oja lightweight tractor platform which will spawn all of 40 models across 4 sub-platform for 4 markets – India, the US, South East Asia and Japan.
Like Tata Motors, M&M has outlined a strategic EV roadmap comprising five all-new 'Born Electric' SUVs revealed last August. Earlier this year, the all-electric XUV400 entered the market and has between January and April sold 3,104 units. On the CV front, Mahindra Last Mile Mobility recently notched the sales milestone of 100,000 electric three-wheelers.
These are the Top 10 strongest Indian brands across all sectors. While Royal Enfield is ranked fifth, Maruti Suzuki is in ninth position.
Royal Enfield and Maruti Suzuki among Top 10 strongest Indian brands
Chennai-based Royal Enfield, apart from being ranked fifth among all Indian brands, is also the fourth strongest auto brand globally. This is yet another company which recorded best-ever sales in FY2023 – 834,895 units, up 39% YoY.
Royal Enfield has aggressive plans for speedy growth and now plans to set up a new factory in Tamil Nadu to cater to its growing global ambition and also diversification into electric motorcycles. Earlier this month, RE expanded its global manufacturing footprint with a CKD assembly operation in Nepal – its fifth after the ones in Brazil, Thailand, Colombia and Argentina and state-of-the-art manufacturing and ancillary facilities located in Tamil Nadu.
Similarly, Maruti Suzuki India, which is ninth in the Top 10 strongest global brands, also takes ninth position in the strongest Indian brand ranking. At $2.5 billion (Rs 20,617 crore), it is rated as the second most valuable Indian auto brand with a 14.3% improvement over 2022. The passenger vehicle market leader with a 16-strong model portfolio, sold 16,06,870 units, up 21% YoY (FY2022: 13,31,558). The company would have logged additional sales if it weren't for production being intermittently disrupted due to supply chain issues specific to electronic components.
The company, which is riding a wave of demand for its new products like the Grand Vitara, Fronx and Jimny SUVs, has targeted 15-16% growth in FY2024 and is eyeing production of 2.28 million units. On July 5, it will launch a new MPV which is a rebadged version of the Toyota Innova Hycross.


TVS improves ranking, moves up the ladder board
TVS Motor Co is the other Chennai-based two-wheeler OEM which has seen an increase in brand value, moving up three ranks to No. 40 from 43rd position in 2022. In what was a difficult market scenario in FY2023, what with flagging rural India demand, TVS sold a total of 2,047,564 scooters and bikes, down 5% (FY2022: 2,164,228). However, in growth terms, it fared better in exports – 1,090,139 units, up 43% (FY2022: 1,090,139) and second only to export leader Bajaj Auto.
Where TVS has made good strides is in the EV market – the iQube e-scooter has since its launch in January 2020 sold a total of 132,730 units till end-May 2023. TVS is making dynamic moves to expand its EV programme and this includes acquiring equity stake in overseas companies. Over the past year, it has done this with Killwatt GmbH, BBT 35/22 Vermogensverwaltungs GmbH, and Singapore-based Ion Mobility. The company is also readying to expand its EV portfolio on two- and also three wheels.
Oil matters
According to Brand Finance, "Turbulence in crude availability has been a global phenomenon and the shadow is looming on brands from India as well. The Top 3 brands – Reliance, Indian Oil and Bharat Petroleum – show pressure on brand value growth. The two brands (ONGC and HPCL) that have grown in brand value are driven by organic growth have shown dexterity in investing in right assets during these turbulent times. Indian Oil and Reliance have made a strategic entry into green fuel initiatives aligning with the global shift towards sustainability focused businesses."
Rating tyre brands
The Indian tyre market will have a 3.1% CAGR from 2023 to 2028, and is now being driven by an increase in regional tyre production facilities because of the strong 'Make in India' trend. MRF Tyres from India has not only has jumped to the No.1 rank in brand value but it is the second strongest tyre brand globally, the second fastest growing tyre brand globally in terms of brand value and also ranked among the top 10 tyre brands on sustainability perceptions value.
As per Brand Finance, the Indian tyre sector has interesting pairs of brands at the Top 2 position – MRF and Apollo – with a difference of less than 3% value difference between them. Same is the case with Nos. 3 and 4 where JK Tyre and CEAT tyres – both showing healthy growth – are again separated by 9%.
Beating the challenges of a VUCA world
Finally, to summarise, brand matters. In today's world of business that calls for dealing with VUCA (Volatility, Uncertainty, Complexity and Ambiguity) on a daily basis, it helps to be a brand with top-of-mind recall and market dominance. However, that calls for a lot of sustained effort, across multiple fronts, for companies and their management to keep the flag of success continually flying high on the global front. The Indian companies and brands in the latest Top 100 list are doing just that, by pushing the brand envelope with the power and panache of their products, services and aspirational connect with consumers.
All data charts: Brand Finance
ALSO READ: Tata Motors aims to capture PV, EV, CV demand in FY2024 amid growing competition
RELATED ARTICLES