Tesla is 2023's most valuable auto brand, 8 Indian OEMs in Top 100
At US$ 66.2 billion, Tesla's brand value has surged by 44% and marks the first time an EV OEM has topped the global rankings; India OEM footprint grows in Brand Finance's annual automobile brand study.
Elon Musk's Tesla has jumped two places, going ahead of Mercedes-Benz and Toyota, to become the world's most valuable automobile brand, now valued at US$ 66.2 billion. This revelation comes from the latest edition of 'Auto 100', the annual comprehensive study on the most valuable and strongest automobile brands produced by leading brand valuation consultancy, Brand Finance.
Tesla has accelerated to the front of the pack, with its brand value surging by 44 percent. This makes it the world's most valuable automobile brand for the first time, and the first time that a brand which does not manufacture internal combustion engines has topped the global rankings.
The Tesla brand is now worth more than five times its pre-pandemic value, overtaking last year's leader, Mercedes-Benz (brand value down 3% to US$ 58.8 billion), and last year's runner-up, Toyota (brand value down 18% to US$ 52.5 billion).
Commenting on Tesla taking the numero uno brand position, Alex Haigh, Valuation Director of Brand Finance, said: "This growth in brand value is a positive sign for Tesla as it indicates that consumers are recognising and valuing the brand more, which could potentially lead to increased sales and revenue in the future. The automotive industry is highly competitive, so for Tesla to achieve this level of growth in brand value is a noteworthy accomplishment and a testament to the value of the Tesla brand. Tesla must now work to protect this moving forward in order to build long-term brand strength."
Eight Indian OEMs in the Top 100
India, which became the world's third largest auto market after China and the USA earlier this year, is represented in the Top 100 through eight brands comprising three carmakers, four two-wheeler manufacturers and one commercial vehicle manufacturer (see listing below).
India has three carmakers, four two-wheeler manufacturers and one commercial vehicle manufacturer in the Top 100 Most Valuable Brands listing.
While five of them – Mahindra & Mahindra, Maruti Suzuki, Tata Motors, TVS Motor Co and Royal Enfield – have improved on their CY2022 rankings, Bajaj Auto and Hero MotoCorp have seen a drop in their YoY rankings. Ashok Leyland, the sole Indian commercial vehicle manufacturer in the list, maintains its 78th position as it did in CY2022.
Mahindra & Mahindra is the sole Indian brand in the Top 20 list of fast growing automobile brands and has recorded 59% improvement in its brand value.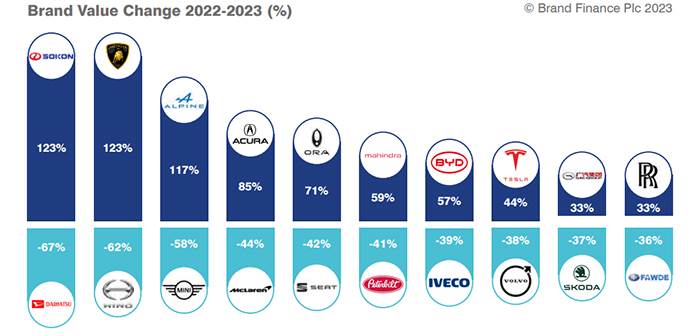 Ferrari remains world's strongest brand
Ferrari, though its brand value is down 8% to US $7.4 billion, is again the world's strongest automobile brand with a Brand Strength Index score of 90.7, and AAA+ brand rating. Ferrari in fact had a strong financial performance in 2022. Its brand reduction in dollar terms was caused by adverse foreign exchange movements and concerns about future financing requirements.
The Italian carmaker's total shipments for 2022 were up 18.5% compared to 2021 and its net revenues were up 19.3%. The brand's involvement in Formula 1 continues to help bolster Ferrari's brand strength.
At No. 2 position is Lamborghini with a brand value of $8.8 billion, having jumped seven ranks to be close behind its Italian compatriot. It is closely followed by Porsche, which retains its third position, with $8.7 billion.
The first Indian brand in the 'Strongest Top 10' listing is Royal Enfield with a brand value of $8.62 billion, up YoY by $3.8 billion. The Chennai-based motorcycle manufacturer has jumped 10 ranks to take No. 4 position behind the world's three strongest auto brands. Quite an achievement. Two other Indian brands – Tata Motors and Maruti Suzuki – keep Royal Enfield company in the Top 10. Tata Motors, which recorded its best-ever calendar year sales in 2022 improves upon its year-ago 27th position to take No. 8 ranking with a brand value of $85.8 billion. Just behind, at No. 9, is India's car market leader Maruti Suzuki but the company is down five points on its 2022 rankings.
Every year, Brand Finance puts 5,000 of the biggest brands to the test, and publishes over 100 reports, ranking brands across all sectors and countries. The world's most valuable and strongest Automotive Industry brands are included in the annual Brand Finance Automotive Industry 2023 ranking. In addition to calculating brand value, Brand Finance also determines the relative strength of brands through a balanced scorecard of metrics evaluating marketing investment, stakeholder equity, and business performance. Compliant with ISO 20671, Brand Finance's assessment of stakeholder equity incorporates original market research data from over 100,000 respondents in 38 countries and across 31 sectors.
Why brand matters?
Sound and honest brand perception is vital in a world agog with products, their claims and promised benefits. In his foreword to the Top 100 study, David Haigh, chairman and CEO, Brand Finance, writes: "Brand valuation helps companies understand the value of their brand and how it contributes to the overall value of the company. This important understanding can inform decision-making related to marketing and branding efforts, as well as provide a benchmark for future performance. It can also be used to help attract investors and secure financing, as a strong brand can be a valuable asset. Additionally, brand valuation can be useful in the event of a merger or acquisition, as it can help determine the value of the brand being acquired. Overall, brand valuation helps organisations understand the worth of their brand and how it fits into their overall business strategy."
He adds, "A strong brand can lead to improved business returns in several ways. First, a strong brand can help a company differentiate itself from its competitors and establish a unique identity in the market, which can lead to increased customer loyalty and retention. This, in turn, can lead to higher sales and revenue. A strong brand can also help a company command a higher price for its products or services, as consumers are willing to pay more for a brand they perceive as high-quality and trustworthy. In addition, a strong brand can help a company attract top talent, as employees may be more attracted to work for a well-known and reputable brand. Finally, a strong brand can provide a company with a competitive advantage and help it weather economic downturns or industry disruptions."
ALSO READ: Denso rated most valuable component brand, Aptiv fastest-growing, Valeo strongest
All data tables/charts: courtesy: Brand Finance
RELATED ARTICLES