'A mindset shift is fueling growth of the ultra-luxury segment': Rajan Amba
Jaguar Land Rover India is bullish about the demand in the ultra-luxury segment and has registered an 88 percent uptick in its FY24 orderbook. The company says its newly-introduced Velar SUV has already received over 750 bookings and the bulk of its volumes are coming from the flagship products.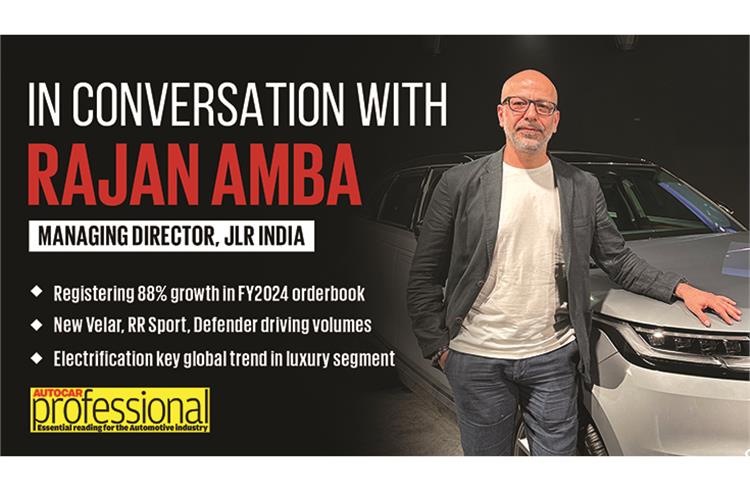 The Tata Motors-owned British luxury car marque, Jaguar Land Rover (JLR) is poised to register its best-ever sales in India in FY24, with the company already posting a handsome 88 percent uptick in its order book over last year. JLR India has launched the 2023 Velar SUV, priced at Rs 94.30 lakh, and says the SUV has already received over 750 bookings.
Rajan Amba, Managing Director, JLR India, talks about how a mindset shift of the consumers is fueling the growth of the ultra-luxury segment, which will continue to be the company's mainstay, and its area of focus to realise more market share.
With the bulk (over 75%) of JLR India's demand is coming from the Range Rover Sport, Velar, and Defender models, Amba states that the maturing Indian market is increasigly witnessing the transition towards more premium options, in line with the growing aspirations and spending power of the consumer.
Amba further reiterates the company's optimism about the global electrification trend, and its plans to bring JLR's first all-EV model to India once it gets globally unveiled in 2025. He also talks about how the company is taking a calibrated approach to strengthen and improve the quality of the JLR India network.
RELATED ARTICLES