Tamil Nadu announces new EV Policy, targets Rs 50,000 crore investments in EV space
The new policy set a vision to attract Rs 50,000 crore worth of investments in EV manufacturing and creation of 1.5 lakh new jobs during the Policy period,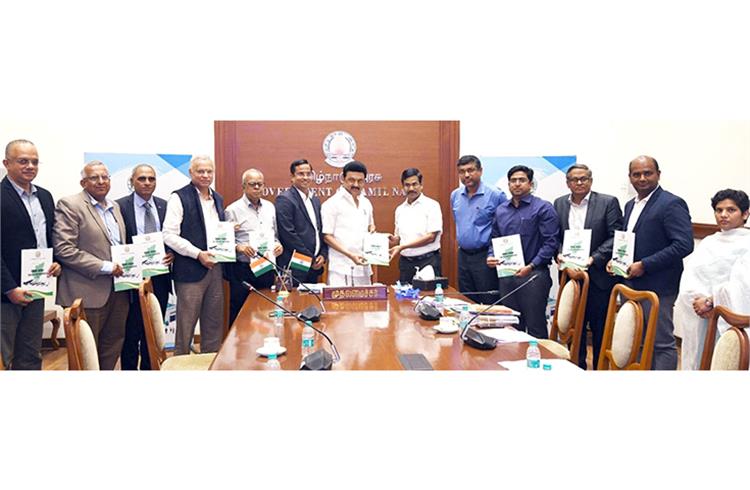 Tamil Nadu Government today introduced new EV policy, which gives various sops including reimbursement of state goods and services tax (SGST), investment and turnover based subsidy, advanced chemistry cell subsidy, electrification of public and commercial transport, formation of electric vehicle cities among others.
The new policy, which was released by Tamil Nadu Chief Minister M K Stalin today set a vision to attract Rs 50,000 crore worth of investments in EV manufacturing, creation of 1.5 lakh new jobs during the Policy period, and development of a robust EV ecosystem in the State. Tamil Nadu has signed MoUs with an investment interest of nearly Rs. 24,000 crore and employment potential of 48,000 jobs in the EV value chain.
Tamil Nadu Electric Vehicles Policy 2023 will promote Chennai, Coimbatore, Tiruchirappalli, Madurai, Salem, and Tirunelveli as pilot cities for implementing e-mobility solutions. The term EV includes battery electric vehicles (BEV), plug-in electric vehicles (PEV), plug-in hybrid electric vehicles (PHEV) and strong hybrid electric vehicles (SHEV), said in the policy document.
As per the new policy, EV projects will be provided 100% exemption on electricity tax for a period of five years on power purchased from the Tamil Nadu Generation & Distribution Corporation Limited (TANGEDCO) or generated and consumed from captive sources.
As part of employment generation, EV projects will be provided an employment incentive in the form of the reimbursement of the employer's contribution to the EPF – maximum Rs.48,000 per employee and residents of Tamil Nadu- for all new jobs created during the policy period.
The policy also offers financial support companies who wish to transition/diversify into EV manufacturing for upskilling their workforce and waived road tax, registration charges and permit fees for EVs.
According to the policy, amendments to building and construction laws will be made to ensure that charging infrastructure is integrated at the planning stage itself for all new constructions and apartments in cities. Further based on the battery capacity and the vehicle type, Tamil Nadu government will also offer incentives for commercial vehicles ranging between Rs.5,000 to Rs.10 lakh.
As per the new EV policy, the Tamil Nadu government will also revise the power tariff for public charging stations and offer incentives to charging and battery swapping stations. The state government will also incentivise converting internal combustion engine powered commercial vehicles to EVs.
The State plans to undertake measures to electrify shared transport vehicles in a gradual manner beginning from the EV cities.
E-commerce and other e-aggregator companies in Tamil Nadu shall be encouraged to transition their vehicles to EVs gradually. Presently, the registration of EVs is limited to private vehicles. The Home (Transport) Department shall issue guidelines and undertake capacity building of RTOs to enable registration of commercial Electric Vehicles, including EV-2 wheelers for commercial use. The State is in the process of formulating and issuing guidelines for exempting permits for e-Autos operating in the State. The list of approved e-autos will be notified by the Home (Transport) Department.
The Policy document stated, globally, various governments such as the USA, China, and Norway among others, have utilised purchase incentives as a policy measure to spur EV adoption. The purchase incentives aid EVs to overcome competition barriers such as higher purchase costs and range anxiety brought about by limited charging infrastructure.
Electrification of commercial vehicles is economically viable and provides higher benefits due to higher utilisation rates, and faster payback periods vis-à-vis private vehicles and as it services the public. Thus, the Government of Tamil Nadu shall seek to provide the initial impetus for driving EV adoption in the State by incentivising commercial vehicles by providing the incentives till December 31, 2025.
To attract and nurture the growth of EV startups in the State, the Government of Tamil Nadu plans to facilitate partnerships with industries through Tamil Nadu Startup and Innovation Mission (TANSIM). Further, EV startups would be eligible to apply for benefits under the Tamil Nadu Startup and Innovation Policy.
RELATED ARTICLES