New Brezza and Grand Vitara drive up Maruti Suzuki's pending orders to 387,000 units
Demand for new SUVs pushes up order backlog; new Brezza gets 90,000 bookings and Grand Vitara 40,000; CNG model portfolio accounts for 126,000 units or 33% of pending orders.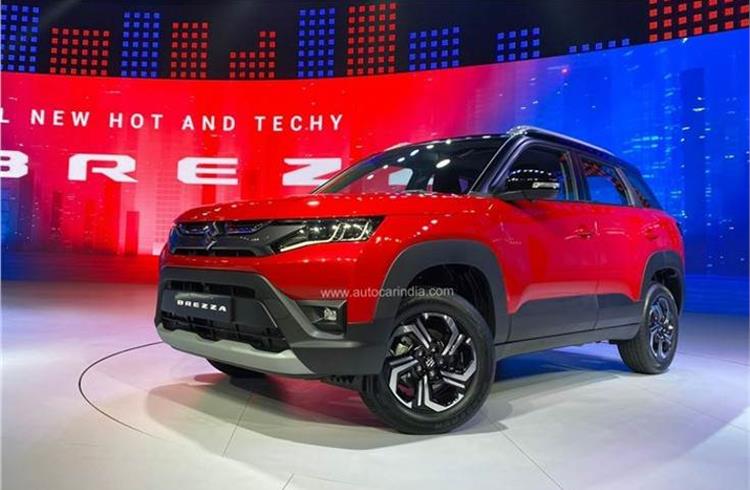 The new Brezza, launched on launched on June 30 at Rs 799,000, has received 90,000 bookings, of which 70,000 units are yet to be supplied.
The recently revealed Maruti Grand Vitara midsize SUV has thus far received 40,000 bookings; deliveries are slated to commence in September.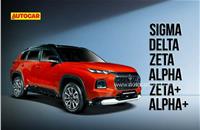 Passenger vehicle market leader Maruti Suzuki India currently has a 'problem' of plenty. The company has new vehicle bookings of 387,000 units. This number was around 280,000 units in Q1 FY2023, but strong customer demand for the new Brezza compact SUV, launched on June 30 at Rs 799,000, and the midsized Maruti Grand Vitara, unveiled on July 20, has increased the backlog by another 100,000-odd units.
Maruti Suzuki has a vehicle manufacturing capacity of 2.3 million units per annum. This comprises 700,000 units at Plant 1 (Gurgaon) in two shifts at two assembly facilities, 880,000 units at Plant 2 (Manesar) in two shifts at three assembly facilities, and 750,000 units at Plant 3 (Suzuki Motor Corp plant at Hansalpur, Gujarat).
According to Shashank Srivastava, Senior Executive Officer (Marketing and Sales), Maruti Suzuki India, the new Maruti Brezza has, since its launch two months ago, received around 90,000 bookings of which 70,000 are pending. Speaking to PTI, he said the company aims to ramp up production of the model to over 10,000 units per month. Meanwhile, the recently revealed Maruti Grand Vitara has thus far received 40,000 bookings; deliveries are slated to commence in September.
Srivastava added, "There is also a waiting period for the new Ertiga, XL6 and Baleno." The premium Baleno hatchback currently has an order backlog of an estimated 38,000 units.
CNG models account for 33% of pending orders
Maruti Suzuki India, which has the first-mover advantage in the CNG car market, continues to witness strong demand for its CNG models– Alto, S-Presso, Wagon R, Celerio, Dzire, Ertiga, Eeco, Super Carry and Tour-S and more recently the Swift. Of the carmaker's current order backlog of 387,000 units, CNG variants account for 33% or around 126,000 units.
Interest rate hikes yet to impact demand
Commenting on the Reserve Bank of India's recent repo rates hikes, Srivastava said the they have not yet impacted demand in the passenger vehicle market. However, he said the real-world picture will emerge when the semiconductor shortage issue is resolved and production is normalised.

"Theoretically speaking, it should have a negative impact because interest rates going up (have an impact on) discretionary spending, which also includes spending on cars...but at the moment that we are not feeling that," he told PTI.

Like most OEMs, Maruti's production has been adversely impacted by the chip crisis over the past 18-odd months. According to Srivastava, while supplies have improved, there are still some constraints which have prevented running its plants at full production capacity. He said, "We do not have a visibility going forward of the exact availability of chips. "When it will become 100 per cent, we don't know. The visibility for future availability of semiconductors is actually limited. We keep getting updates every week and we keep modifying our estimate but one thing I can tell you is that in this quarter we will not see 100 per cent normalisation."
In the April-July 2022 period, the company produced a total of 634,133 units, up 20% on year-ago production of 529,075 units. In FY2022, Maruti Suzuki rolled out a little over 1.6 million units (1,622,331 units).
Commenting on overall PV industry growth, Srivastava confirmed the sector's positive movement this fiscal. "The projection in the industry was about 3.46 million to 3.52 million units at the beginning of the year. There seems to be consensus in the industry of it being revised to 3.6 million to 3.7 million units, which will be the highest ever. The last highest was 3.37 million units in 2018-19."
ALSO READ
Maruti Suzuki plots three new SUVs across key segments
Hisashi Takeuchi, MD & CEO, Maruti Suzuki India: "We should have an SUV in every segment, and we should be achieving 50% in each of these segments in India. Then we can eventually reach 50% overall." bit.ly/3zU8yPU
RELATED ARTICLES