National Road Safety Month draws to a close but the mission continues
Industry stakeholders including government, associations, OEMs and ancillaries participate to drive the message of safer driving on Indian roads.
National Road Safety Month draws to a close but the mission continues
National Road Safety Month draws to a close but the mission continues
National Road Safety Month draws to a close but the mission continues
National Road Safety Month draws to a close but the mission continues
National Road Safety Month draws to a close but the mission continues
National Road Safety Month draws to a close but the mission continues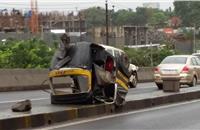 India is easily the world's most dangerous country in terms of the sheer number of road accidents and corresponding fatalities and injuries arising out of them. The country has one of the worst road safety records in the world with a total of 150,000 people being killed, while over 450,000 people get injured in road crashes every year, thereby resulting in social-economic losses from accident deaths equivalent to a shocking 3.14 percent of GDP every year.
Seventy percent of the fatalities are in the age group of 18 to 45 years, impacting the country as a whole. While various initiatives are being undertaken by different stakeholders of the society, the 32ndNational Road Safety Month, which was flagged off on January 17, draws to a close today after aiming to spread awareness about road safety and reducing road accidents on India's roads.
On February 13, the World Bank in association with the SaveLife Foundation, released a comprehensive report on 'Traffic Crash Injuries and Disabilities: The Burden on Indian Society.' The study, launched by Transport Minister Nitin Gadkari, reveals that more than 75 percent of poor households in India reported a decline in their income as a result of a road traffic crash. The financial loss for the poor amounted to more than seven months' household income, while it was equivalent to less than one month's household income for rich households.
The past 30 days saw different OEMs, ancillaries, government machinery as well as allied players of the automotive industry come forward and do their bit and drive awareness about this critical subject.
SIAM does its bit for a safer India|
Unified automobile body SIAM or the Society of Indian Automobile Manufacturers partnered the Ministry of Road Transport And Highways (MoRTH) and Delhi Traffic Police to conduct various activities during the month, while also launching the virtual road safety educational gallery, which remained the pivotal point of attraction throughout the last 30 days.
Designed with the objective of educating stakeholders, and general public about road safety, the gallery sought to spread awareness and discipline on roads and drivers' behavioural changes through encouraging best practices for road safety.
In the Nation Road Safety Month, SIAM along with its members and stakeholders claims to have successfully reached to approximately one million citizens, propagating the message of 'Sadak Suraksha Jeevan Raksha'.
A series of road safety awareness and training activities were organized by SIAM for drivers of truck, bus and three-wheeler including school and college students, women riders and citizens at large.
The road safety month also included a refresher program on safe driving and conducted eye check-up for three-wheeler drivers organised at the Institute of Driving and Traffic Research (IDTR)located at three places in Delhi including Burari, Loni and Sarai Kale Khan.
In a bid to further provide a holistic approach to the entire programme, health and eye check-up camps were organised for the drivers in more than 25 locations country wide. SIAM with ASRTU also organised road safety awareness virtual workshops for STU drivers across the nation and trained more than 11,000 drivers.
Furthermore, SIAM along with the Delhi Traffic Police also organised various awareness-building campaigns like Pedestrian Walk and women two-wheeler rally where 100 women riders across different walks of life participated to spread the message of road safety. Additionally, awareness drives for general public were conducted at 119 accident-prone road intersections within the capital city, with an objective to reduce accidents, fatalities and related injuries on roads.
Various programs were also undertaken by SIAM's regional bodiesin Delhi, Rajasthan, Orissa, Maharashtra, Karnataka, Madhya Pradesh, Tamil Nadu and Pondicherry.
According to Rajesh Menon, Director General, SIAM said, "SIAM has always been committed towards fostering safer vehicular mobility not only through technological innovations and best-practices, but also creating and spreading awareness amongst the public for making Indian roads safer. As a responsible organization, SIAM understands the criticality of road safety for all and has been instrumental in creating mass awareness through numerous programmes and initiatives on safety."
SIAM also received support from its memberssuch as Ashok Leyland, Hero MotoCorp, Hyundai Motor India, Mahindra & Mahindra, MG Motor India, Skoda Auto Volkswagen Indiaand Tata Motors through information sharing in the form of videos and presentations from January 18 through to February 17, on the agenda of road safety. This collective support is being considered to have helped in connecting with the audience at a larger level through the SIAM Virtual Road Safety Education Gallery.
The automobile lobby body also organised a seminar on the subject of 'Emerging Technologies for Safer Mobility'. The online webinar brought together industry leaders such as Gurpratap Boparai, MD, Skoda Auto Volkswagen India, KC Sharma, superintendent engineer, MoRTH, Deepak Sawkar, chairman, SIAM CMVR Group and Sudeshna Sen, director (Finance and Administration), NATRIP among other key personalities.
Volkswagen India joined the campaign with its initiative of three Is – information, influence and implementation. The company undertook the month-long initiative at its dealerships across India to create awareness and reiterate the importance of road safety among employees, dealer partners as well as customers. The 3-I concept can be elaborated as under:
- Information: educating and spreading awareness across age groups on the importance of road safety, along with the important rules and regulations one must follow
- Influence: Organizing of road safety rallies, pedestrian blocks to endorse safe driving on Indian roads, outdoor safety messages on highways and toll plazas, knowledge sessions in schools, slogan and drawing competition to engage young children
- Implementation: Undertaking of the road safety pledge, free vehicle safety check across workshops, quick safety tips & reminders to customers on their handheld
According to Ashish Gupta, brand director, Volkswagen Passenger Cars India, "Safety is of paramount importance to Volkswagen and is part of our core DNA. Volkswagen understands the importance of safety and our entire product portfolio is equipped with all essential safety features across the variants. In our endeavor to create awareness and reduce the number of road fatalities, we have adopted a unique three I's philosophy, through which we intend to inform, influence and implement road safety measures across our dealerships in India and in turn to our citizens."
Energy major Shell, which had launched its 'DriveSafeIndia' campaign in 2019 with an aim of reaching out to over 300,000 people by 2021 across different states of India, was able to show continuity by being able to collectively reach out to more truck drivers this year and helping them by conducting free eye check-ups and providing free spectacles.
The company says that its focus lies to ensure customer safety on the roads by managing risk for drivers, setting barriers for control and ensuring timely health and welfare. Shell had conducted over 180,000 eye tests and distributed 120,000 pairs of numbered glasses for truck drivers across 40 cities in India by March 2020. This year, the total screenings tally rose to 232,000 drivers with 149,259 eye glasses dispensed to the drivers with need for corrective vision.
Karnataka with a total of 52,593 eye screenings being conducted tops the list of states, followed by Tamil Nadu (52,468), Maharashtra (39,889), Gujarat (34,335), Haryana (9,455), Punjab (4,588) and Uttar Pradesh (6,450) – which are the major centres in India for Shell to be conducting its free eye check-ups for the last three years.
According to Nitin Prasad, chairman, Shell Companies in India, "Getting road safety right is one of our topmost priorities and we are confident that our efforts in this direction will be fruitful for all. During these challenging times, truck drivers in particular were the road warriors, both for Shell and all other industries, who allowed us to keep functioning from our home."
"Keeping them healthy and safe, keeps our economy healthy and safe. The ability to see clearly is the most basic and most essential of their needs and it is our sincere endeavour to keep investing our energies in this cause and continue to play a part in keeping Indian roads safe," he added.
JK Tyre & Industries announced its collaboration with the Delhi Traffic Police Road Safety Cell (education wing) and SIAM in their efforts to promote importance of safer driving practices.
While the Indian tyre manufacturer has been promoting road safety for a significant amount of time, the focus this year, relied on 'pedestrian safety'. JK Tyre, in association with the Delhi Traffic Police, had deployed a team of volunteers at strategic locations in the national capital to further drive awareness about safer driving practices at these locations. In addition, there were various other activities that were conducted, including walkathons at high visibility locations.
According to Srinivasu Allaphan, Director - Sales and Marketing, JK Tyre & Industries, "As a responsible corporate, JK Tyre has been diligently working towards tyre safety through its unmatched technologies leading to road safety."
"Looking at the increasing numbers of road accidents due to bad tyre-health diagnostics, JK Tyre introduced its 'Smart Tyre' technology in India that will surely cut down on road accidents. We are fully committed to the government's initiatives of road safety, and have been partnering with them to spread awareness across the nation on safe driving."
Growing safety consciousness amongst car buyers
With India and its consumer's growing consciousness for road safety, there has been a market pull in the recent past for products which offer the highest levels of structural and added safety for the country's rather value-conscious vehicle buyers. As a result, OEMs like Mahindra & Mahindra and Tata Motors have received a lot of acclaim for offering well-faring crash-tested cars like the Mahindra XUV300 and Thar, and Tata Altroz and Nexon.
While carmakers are leveraging these high-test scores to market their products in a scenario of cut-throat competition, it is also increasingly making the general public aware about the importance and relevance of safe products in the first place, alongside safer driving practices to complement the high technology on-board. Initiatives like the National Road Safety Month and all-round participation by all pillars of the society help serve the cause of reducing accidents on India's fast-improving roads.
ALSO READ
Indian and global road safety experts urge higher priority for safer mobility
Most truck drivers in India are sleep deprived, compromise road safety
SaveLife Foundation's Piyush Tewari: 'On the road to zero crash fatalities'
Global NCAP's David Ward on 'Democratising safety'
First India distracted driving study reveals high level of cellphone use
RELATED ARTICLES