Road crashes in India sharply increase poverty and debt: World Bank
More than 75% of poor households in India reported a decline in their income as a result of a road traffic crash; findings reveal sharp rural-urban divide and the disproportionate impact on women.
Road crashes in India sharply increase poverty and debt: World Bank
Road crashes in India sharply increase poverty and debt: World Bank
Road crashes in India sharply increase poverty and debt: World Bank
Road crashes in India sharply increase poverty and debt: World Bank
Road crashes in India sharply increase poverty and debt: World Bank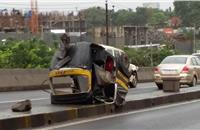 With the National Road Safety Month underway, the World Bank in association with the SaveLife Foundation, a national non-governmental organisation focused on road safety, has released a comprehensive report on 'Traffic Crash Injuries and Disabilities: The Burden on Indian Society.' The study, released by Transport Minister Nitin Gadkari, reveals that more than 75 percent of poor households in India reported a decline in their income as a result of a road traffic crash. The financial loss for the poor amounted to more than seven month's household income, while it was equivalent to less than one month's household income for rich households.
India has one of the worst road safety records in the world and a total of 150,000 people are killed, while more than 450,000 people are injured in road accidents every year, resulting in social-economic losses from accident deaths equivalent to a shocking 3.14% of GDP every year. Seventy percent of the fatalities are the age group of 18 to 45 years, impacting the country as a whole.


As per the Road Accident Report for 2019, 449,002 accidents took place in the country during CY2019, leading to 151,113 deaths and 451,361 injuries. In percentage terms, the number of accidents decreased by 3.86 % in 2019 CY2018, while accident-related deaths decreased by 0.20 % and those injured decreased by 3.86 percent.
Low-income families and women bear the brunt
The World Bank-SaveLife Foundation report highlights the disproportionate impact of a road crash on poor households that pushesthem into a vicious cycle of poverty and debt. It sheds light on the links between road crashes, poverty, inequality, and vulnerable road users in India.
The study interviewed around 2,500 respondents, including 1,647 respondents from low-income households, 432 from high-income households and 420 truck drivers in the four selected states (Uttar Pradesh and Bihar representing Low-Capacity States and Tamil Nadu and Maharashtra representing High-Capacity States) across urban and rural areas. The qualitative part of the study included focus group discussions with road crash survivors and their family members and in-depth interviews with adolescents aged 14-18 years.
The report recommends policy-oriented approaches for saving lives and improving the ability of victims and their families to get back on their feet, including providing immediate financial, medical and legal aid.
"We have taken a number of positive initiatives to reduce road crash deaths in India.With the support of all stakeholders in our society,I am committed to reducing road crash deaths by 50 percent by 2025,"said Nitin Gadkari, Minister for Road Transport & Highways and the Minister of Micro, Small and Medium Enterprise at the release of the report."This report highlights the link between poverty and impact of road crashes. I urge all state governments to effectively implement the Motor Vehicles (Amendment) Act, 2019 and work together to mitigate the effects of road crashes on poor and disadvantaged sections of the population,"he added.
Sharp rural-urban divide, high impact on women
The report also brings out the sharp rural-urban divide and the disproportionate impact on women. The survey shows that the income decline for low-income rural households (56 percent) was the most severe compared to low-income urban (29.5 percent) and high-income rural households (39.5 percent). Women bore the burden of crashes across poor and rich households, often taking up extra work, assuming greater responsibilities, and performing caregiving activities after a crash. About 50 percent of women were severely affected by the decline in their household income after a crash. About 40 percent of women reported a change in their working patterns post-crash, while around 11 percent reported taking up extra work to deal with the financial crisis.
The study also documented low rates of access to insurance coverage and poor awareness related to legal compensation among truck drivers. Two-thirds of truck drivers interviewed for the survey were not aware of third-party liability insurance. None of the drivers had applied for or benefited from cashless treatment at hospitals, Solatium Fund for hit and run cases or ex-gratia schemes.
"Road crashes can have a devastating and disproportionate impact on the poor, thrusting a family into deep poverty," said Hartwig Schafer, World Bank Vice-President for the South Asia region. "The World Bank is committed to supporting the Indian government in creating safety netsfor poor households to easetheir financial burden and help them cope with the sudden emergency linked to road crashes," he added.
In addition to the financial losses, the report highlights the social impact of road traffic injuries. About 64 percent of low-income households reported a deterioration in their standard of living (more than twice reported by high-income households), while more than 50 percent reported mental depression post-crash.
"The findings of the report identify the areas that require immediate improvements such as efforts towards post-crash emergency care and protocols, insurance and compensation systems. It also presents an opportunity for development agencies, policymakers and respective state governments to prioritize a complete policy overhaul of the existing system and implement sustainable solution-oriented, inclusive measures to improve their performance on road safety,"said Piyush Tewari, CEO and founder of SaveLIFE Foundation.
The report recommends making health infrastructure and coverage more accessible and inclusive; providing social security net for crash victims from low-income households through state support; creating an accessible legal framework for availing insurance and compensation for road crash victims; recognizing the gender impact of road crashes and addressing it through participative governance and special schemes for women; and strengthening post-crash support for children and young adults through state support.
MoRTH to engage with SaveLife Foundation and World Bank
Transport Minister Nitin Gadkari mentioned that the report is "one of the eye-opening reports for the government. We will look to frame relevant laws and policies to address the challenges and work on the recommendations."
He further mentioned that it is not possible for any single stakeholder to address the alarming situation, and hence the government is looking to engage with all relevant stakeholders to improve the road safety aspect in the country. "We will look to engage with IITs and engineering colleges and institutions to enhance safety. Next year the Road Safety Week will be carried out by the Road Safety Council which will be headed by a senior retired IAS officer to sensitise and create awareness around the topic."
He added that the Road Transport Ministry will have a meeting in the next 15 days with SaveLife Foundation and World Bank and will look at the recommendations and plan out what steps are needed to be taken. MoRTH will also present recommendations to other ministries where applicable. "We need cooperation from all stakeholders including state governments to implement and rectify policies to ensure road safety," said Gadkari.
When queried about the introduction of Bharat NCAP, Gadkari said, "SIAM is already working on Bharat NCAP, we will take cooperation from all stakeholders to help make it a success."
Photographs: Subhash Simhudu
READ MORE
Indian and global road safety experts urge higher priority for safer mobility
Most truck drivers in India are sleep deprived, compromise road safety
SaveLife Foundation's Piyush Tewari: 'On the road to zero crash fatalities'
Global NCAP's David Ward on 'Democratising safety'
First India distracted driving study reveals high level of cellphone use
RELATED ARTICLES