Indian and global road safety experts urge higher priority for safer mobility
As many as eight automotive industry and road safety experts were part of an incisive debate on how the road safety quotient in India can be improved. Every life lost is one too many.
Road safety is one of the biggest health concerns globally today. Even as countries across the world are trying to flatten the Covid-19 graph, this is one chart that is continuing to spike up ominously. Over 1.35 million people are killed each year across the world in fatalities from road crashes. In addition, as many as 50 million people are injured. In fact, road traffic crashes are the eighth leading cause of death globally for people of all ages, and the leading cause of death for children and young adults aged 5–29 years.
Studies released at the 3rd Global Ministerial Conference on Road Safety in February 2020 in Stockholm, Sweden revealed that road traffic deaths and injuries cost countries close to three percent of their GDP. In, the Indian context, this problem takes up even more gigantic proportion with over 400 people losing their lives every day in road accidents across the country. Even during the lockdown to contain Covid-19, data released by Haryana indicates the death due to road accidents were significantly higher than Covid in the state.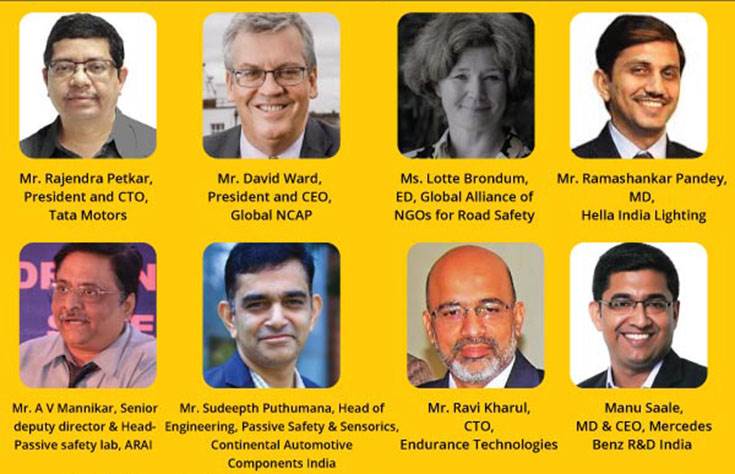 In an effort to address this pressing and continuing problem of alarming proportions, Autocar Professional kicked off its annual webinar on automotive road safety six years ago with the objective of contributing towards the cause of safer mobility, and roads. The sixth edition of the webinar this year had the theme, 'Towards Safer Mobility – Achieving Vision Zero'. The list of panelists who spoke on the occasion included,
David Ward, President and CEO, Global NCAP
Lotte Brondum, ED, Global Alliance of NGOs for Road Safety
Rajendra Petkar, President and CTO, Tata Motors
Manu Saale, MD and CEO, MBRDI
Ravi Kharul, CTO, Endurance Technologies
AV Mannikar, Senior Deputy Director & Head – Passive Safety Lab, ARAI
Ramashankar Pandey, MD, Hella India Lighting
Sudeepth Puthumana, Head of Engineering, Passive Safety & Sensorics, Continental Automotive Components India
Alejandro Furas, Technical Director, Global NCAP
David Ward, President and CEO, Global NCAP kicked off the session with his opening presentation that concentrated on the global initiatives to curb the high rate of fatalities. He said that the, "The third Global Ministerial Conference in February adopted a target to halve fatalities due to road accident by 2030. Though ambitious, I think it is achievable."


Speaking specifically about India's position and how it can play a pivotal role, Ward added that, "India remains in a leadership position in this global initiative towards safer roads, safer mobility. Better enforcement for safety priorities like wearing helmets and strapping on seatbelts remains crucial."
Lotte Brondum, ED, Global Alliance of NGOs for Road Safety echoed Ward's statement when she emphasised that, "Safety is not an option but a priority for road users." The Global Alliance of NGOs for Road Safety is a collection of non-governmental organisations (NGOs) that implement programs and lobby for road safety initiatives around the world. They have over 250 members from over 90 countries worldwide.


Charting out a roadmap on the key concern areas, Brondum pointed out that, "Evidence-based solution is key to achieving zero fatalities in road accidents. In India, 150,000 lost their lives across Indian roads in 2018 – that makes it nearly 410 people losing lives every day and 26 people dying in the span of time taken for the webinar. Enforcement, engineering and education are key factors for achieving zero fatalities on Indian roads."
Corroborating Brondum's perspective, David Ward lauded India's initiatives in this matter, "India has achieved key headway in terms of enhancing safer mobility in the past few years."

Speaking specifically on India-centric challenges, Alejandro Furas, Technical Director, Global NCAP pointed out that there has been, "Great effort from local car manufacturers towards improving car safety. India's initiative to develop its own technology to enhance safety is commendable. Pace of development in India significantly better compared to global peers."
Furas highlighted that given the fact that India is a cost-sensitive market, affordability of safety elements can go a long way in enhancing their acceptance. So enforcement and affordability are the key aspects of promoting greater safety in the country. He added that, "Economies of scale crucial in incorporating safety elements/technology in automobiles. Once safety elements are made mandatory by regulations, these economies of scale can enhance the safety quotient."
Tata Motors' Rajendra Petkar: 'Road safety should be a prime agenda for OEMs and the government.'


Rajendra Petkar, president and CTO of Tata Motors, opened his presentation by quoting a World Health Organisation (WHO) statistic of 1.35 million people losing their lives, and over 20-50 million being injured every year due to road deaths. Petkar said a sustained focus is very important for India – as vehicle density increases each year, so do accidents. "The situation is controllable and requires three stakeholders to work towards safer mobility – policy makers, OEMs and road users." In addition, there is also a need to focus on road infrastructure, strengthening and enforcing of execution.
Expanding on the second stakeholder's role (OEMs), Petkar said road safety has been a prime agenda for vehicle manufacturers. For Tata Motors, the target is not just meet the domestic norms, but also those of developed markets. "Safety is becoming a priority agenda for consumers. The domestic automotive industry has demonstrated that it can deliver on safety and carmakers in India are now increasingly getting high Global NCAP safety ratings for their vehicles."
He pointed out that in 1997, Tata Motors had built India's first car crash test facility. "Tata Motors has a legacy in safety. We believe it is a basic right (safe vehicles) for a consumer and at an affordable price point. We achieved the first five-star safety rating from Global NCAP for the Nexon, as did our latest hatchback – the Altroz. The Tiago and Tigor have received a four-star Safety rating from Global NCAP," added Petkar.
He said Tata Motors is "targeting to benchmark against the global best". He said it is imperative that vehicles are driven by safe drivers on safe roads, adding that a tired commercial vehicle driver is as dangerous as an intoxicated driver of a car.
The cost of additional vehicle safety continues to be an issue with consumers and industry but according to Petkar, all it takes to convince a consumer is dissemination of the right information. "Consumers are willing to pay if they are convinced and if we price a product in a manner that it doesn't come at a very incremental price. We can also look at what can be done (cost cutting) at different stages of the product development process, so that the vehicle is not out of the reach of the customer. Consumer awareness about vehicle safety in India has kicked off with greater gusto after Global NCAP's 5-star safety rating for the Tata Nexon," concluded Petkar.
Endurance Technologies' Ravi Kharul: 'Regulation, customer expectation, technology advancements key drivers of vehicle safety.'

India is the largest two-wheeler market in the world and safety is a real concern here. Ravi Kharul, CTO, Endurance Technologies said, "Two-wheelers are quite vulnerable in road accidents. Safety is very important here as it not just affects the rider but also the pillion passengers. Protection of pedestrians, the vehicles is also important and going forward it can also affect the insurance premium."
Adding more he stated, "Some new trends we expect in the near feature are electronic stability control, auto emergency braking. Some vehicles are already using GPS based navigation systems. The key drivers for future mobility is going to be regulation and norms. Also, there are a lot of technology advancements happening in the field of control system, sensors and in ADAS. These will add more safety to the vehicles as well as the riders."
Kharul pointed out that, "IoT will play a key role in enhancing pro-active two-wheeler safety aspects." But, these do come in along with few challenges in the Indian market. He feels implementing all these is going to be really difficult as there are some unique India specific challenges –"Poor vehicle maintenance a key India-centric challenge while addressing two-wheeler vehicle safety." But that is not the only problem point. There are several other concerns too. He elaborated that, "It is a completely different market here. We have multiple languages, speed breakers, stray animals which are typical only to India. Two-wheelers in India is a commodity and highly cost conscious market. This was the main reason ABS did not pick up when it was introduced some years back. Endurance is working on new cost effective ABS solutions which are at the development stages. But, a lot of actions need to be taken to reduce accidents. It starts right from vehicle design and system. The introduction of CBS and ABS are going to have its own impact. From an OEM perspective, they can add more features to make it safe but, there needs a lot of awareness and discipline in traffic from the user," he concluded.
Mercedes-Benz India's Manu Saale: 'Safety involves a three-pronged focus point and this includes Vehicle, human and infrastructure.'


German luxury carmaker, Mercedes-Benz India says its focus has been on spreading awareness and highlighting possible areas of improvement through workshops and summits. It has been offering high levels of safety equipment and technologies in its premium models on offer in India and is also playing a key role in developing newer safety systems through its tech centre, Mercedes-Benz R&D India (MBRDI) in Bangalore.
Manu Saale, MD and CEO, MBRDI highlighted that, "Safety involves a three-pronged focus point and this includes Vehicle, human and infrastructure." Mercedes-Benz India has been conducting its biennial Safe Roads Summit on a global scale. 'The Safe Roads programme was conceptualised in 2015 to promote road safety to the general public using physical demonstrations, visual aids and research reports, through a road show format. Two years later, the Safe Roads India Summit was launched in 2017 on the theme 'Child Safety and Vulnerable Road Users on Indian Roads'.
Speaking at the Autocar Professional Webinar on the subject 'Towards Safer Mobility – Achieving Vision Zero', Manu Saale, added that, "At Mercedes-Benz, safety is an integral part of our brand promise and with Safe Roads, our attempt is to promote and make roads safer for every user. Given the understanding of road safety scenario in India, we laid the foundation by launching the Safe Roads nationwide initiative five years ago."
In an innovative approach to drive the message of safety, Mercedes-Benz has also been laying focus on upcoming drivers and has been targeting school-going kids and college students to spread awareness about road safety. The company through its CSR efforts, has given road safety training to more than 15,000 children from the cities of New Delhi, Bangalore and Pune. "When these kids go home and talk to their parents, that is where the essence of the entire communication comes to play. To be told by your kid to wear a seatbelt is the strongest driving force in bringing a cultural change," Saale added.
Mercedes-Benz says that it is adopting a multi-pronged strategy to drive the sustainability mission on the roads. So, on one hand while the company has been conducting Tech Days wherein it aims to target kids when they are young and educate them on a lot of hygiene factors such as safely crossing the road, its Safe Road Summit, on the other hand, leverages the power of a broad forum to bring forward white papers by international stakeholders on the topic of road safety.
"Our journey in promoting road safety across the country, first, through road shows in eight cities and now with the Safe Roads India Summit, has been very fulfilling. This biennial summit is a significant step to make our initiative touch a larger audience through a sustainable and more effective manner. It's a conglomeration of automotive safety experts from India and across the globe, sharing and exchanging insights and latest developments in the field of safety through live exhibits and expert speaks," Saale concluded.
Continental Automotive Components India's Sudeepth Puthumana: 'Airbags and seatbelts have helped reduce fatalities but there's still a long way to go.'


German technology and component supplier Continental has been essaying a strong role in India on the vehicle safety front, be it essential safety kit like airbags and seatbelts for cars or affordable single-channel ABS for two-wheelers.
According to Sudeepth Puthumana, Head of Engineering, Passive Safety & Sensorics at Continental Automotive Components (India). "Airbags and seatbelts have helped bring down fatalities. Still, there is a long way to go. We are also working actively on ADAS (advanced driver assistance systems) elements for global markets."
Currently, the Indian ADAS market is in its infancy with just minuscule percentage of vehicles fitted with these technologies like adaptive cruise control, emergency braking and lane-keeping assistance. The primary reason for the low level of adoption is because India's IT infrastructure along the highways is still not developed in comparison to some matured markets. ADAS's adoption holds significance because India, which ranks amongst the leading countries in terms of road accidents witnesses over 415 deaths and 1,286 injuries every day. In 2018, road crashes claimed the lives of 151,417 lives (+2.37 percent) and injured 469,418 (-0.33 percent) individuals. The increased adoption of ADAS will help in saving lives and preventing the injuries.
Despite several challenges, India remains one of the fastest-growing automotive markets in the world and most leading global suppliers are keen to have the first-mover advantage. "Continental is fully equipped with providing cost-effective localised solutions in India (like MiniMAB one-channel ABS for bikes) and cost-effective airbag solutions," added Sudeepth.
Further, Continental is leveraging the capabilities at its Technical Centre India (TCI) in Bangalore to contribute to some of the futuristic automotive safety technologies that will first see the light of day in advanced economies such as the US and Europe and gradually filter to emerging nations. The company's India R&D operations contribute as much as 80 percent to the global development of safety functions such as a 'pre-crash safety monitor' which is slated to get introduced in these two continents by 2023-24.
ARAI's AV Mannikar: 'Bharat NCAP taking time but will enhance safety margin'


AV Mannikar, senior deputy director and head of passive safety lab at the Automotive Research Association of India (ARAI) shed light on how the testing agency has traversed a long way from its modest beginning of giving Type Approvals to vehicle components to dealing with crash worthiness and rolling out vehicles that adhere to global safety standards, today. The nodal testing agency, established in 1966, has played a crucial role in putting India on a global map when it comes to transportation safety. "India has come a long way in terms of implementation of safety regulations. We are proud that ARAI has provided the first public domain crash test facility for the Indian automotive industry," said Mannikar.
He added that, "Now, we are looking beyond regulations and implementation of an India-specific NCAP will enhance vehicular safety by a huge margin." India mandated offset-frontal and side-impact collision testing for all new and existing models from October 2017 and October 2019, respectively, under the AIS-098 regulations. He reiterated that, "We have achieved the minimum vehicle safety levels on the roads and we are now qualified to get this information instrument." But the automotive industry still faces a huge conundrum when it comes to setting up a benchmark educational matrix for the consumer in the form of a crash-test star-rating system like the Global NCAP.
The veteran researcher said that even though the 'Bharat NCAP' which was proposed to be rolled out in 2017 has been significantly delayed and is taking time, but it is "bound to enhance safety margins" of vehicles in the country. "So, we must encourage Indian NCAPs and while implementation of safety regulations as per the roadmap will continue, safety initiatives such as the Bharat NCAP should be commenced early which will demand safety beyond regulations. ARAI is fully-equipped for all regulatory and NCAP testing requirements for the Indian automotive industry," he added.

The draft protocols under the Bharat NCAP propose a full-frontal collision test, offset-frontal test, side-impact test and pedestrian and rear-impact test, which have already been mandated by the government under the AIS-096 to AIS-101 guidelines at a test speed of 56kph. However, the BNCAP proposes maximum vehicle mass of 3,500kg and maximum speed of 80kph.
Mannikar mentioned that a holistic safety ecosystem is only formed when safe vehicles, safe roads as well as safe road users come together. He remarked that to solve its road safety challenges, India needs smart solutions that can be derived by adopting global technologies with their local adaptations. He went on to suggest that the new Safety Bill will act as an enabler for improving the road safety scenario in the country. "Implementation of the Vision Zero Policy will show positive, irreversible changes," Mannikar signed off.
Hella India Lighting's Ramashankar Pandey: 'Road safety in India has to be driven by affordable technology.'


The young managing director of Hella India Lighting, Ramashankar Pandey is a vociferous proponent of road safety initiatives in the country. So, it was no surprise that his talk was sharply focused on the continuing high fatality rate in India due to vehicle accidents. He also saw it fit to use the forum of the webinar to launch the company's national road safety campaign –- 'Doori Hai Zaroori' or traffic distancing.

"A learning from the ongoing pandemic is that people will adhere to change only when they decide. The sad fact is that Haryana saw 17 coronavirus-related deaths but 92 fatalities due to road accidents, during the lockdown and less traffic.
Pandey advocates the increased use of technology – and affordable at that – to make Indian roads safer. "Road safety has to be driven by technology and regulations. But technology for India also needs to be affordable for better adoption. Consumers need to take up the role of becoming law enforcers for better safety on Indian roads. Leadership and political priority have to play a crucial role in reducing the number of deaths due to accidents. Why does India continue to lose precious human life on roads even though we have the technology?"

According to him, proper awareness and law enforcement are vital to reduce road accidents in India. "Around 90 percent of CVs running on roads do not meet the safety regulations. These are like human bombs due to poor maintenance. We are losing people though we have made huge advances in technology. OEMs and many others are working hard, but does it lead to less deaths on the road? Road safety has to happen on the road. Rather than talking about EVs, we need to concentrate on connected vehicles and get all the data to understand what is happening."

Commenting on issues like unfit CVs not being tested stringently at RTOs, the Hella India Lighting boss said this will change when the vehicle recycling policy is introduced.

As regards overloading of trucks, Pandey said: "It will happen by public pressure. Our political debate is always about hype. Roads are India's biggest unnatural killer. The laws are being broken and a comment about overloading of trucks will come from some political leader maybe in the near future and then will be addressed. But, at this point, it is not being noticed."

"The new Road Safety Bill has come and a lot of rules should be enforced soon. When OEMs launch a new vehicle, it has all the new safety features as per standard but the aftermarket does not have a particular standard. Be it the State or the Central government or their own legislature, the public has to build the pressure to make all these happen," he concluded.
Autocar Professional thanks all panellists, attendees from India and overseas, association partner SAE India and associate partner Hella India Lighting for being part of the annual safety webinar.
RELATED ARTICLES