Maruti Suzuki could cut December output by 30% due to chip woes, softening demand for entry level cars
Grand Vitara hybrid variants significantly impacted by supply-side constraints while entry-level Alto and S-Presso models witness low buyer offtake.
It is understood the company could reduce December's planned production of around 183,000 units across plants in Gurgaon, Manesar, Gujarat (SMG) and Bidadi (Toyota Kirloskar Motor) to an estimated 129,000 units.
Production of Maruti Suzuki flagship Grand Vitara SUV being impacted by chip shortage, particularly in the full-digital 7-inch speedometer console offered in the hybrid variants.
The Maruti Suzuki Grand Vitara and its sibling Toyota Urban Cruiser Hyryder are likely to see an around 33% production cut in December due to chip shortage.
Maruti's smaller cars such as the recently-launched new-generation Alto are facing chip availability constraints in their anti-lock braking system or ABS modules.
Demand for entry-level models like the Alto and S-Presso said to be declining due to reduced buyer affordability, pushing the carmaker to lower its production volumes.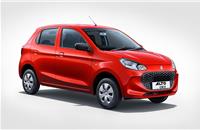 Maruti Suzuki India Ltd (MSIL) has lowered its actual production target for December 2022 by as much as 30 percent, sources have told Autocar Professional.
While the company had projected around 183,000 units in total production in the last month of CY2022 across its plants in Gurgaon, Manesar, Gujarat (Suzuki Motor Corporation) and Bidadi (Toyota Kirloskar Motor), it is understood to have revised the actual production plan to an estimated 129,000 units, including domestic and export volumes. This will be its lowest monthly production in the ongoing fiscal year (see production data table below).

Sources have revealed that dampened market sentiment for entry-level cars, including the newly-launched Alto as well as the budget-friendly S-Presso model, along with the chip shortage, which is significantly impacting the strong-hybrid variants of the carmaker's flagship model – Grand Vitara – are the key reasons for this noticeable downward revision in volumes.
It is learnt that MSIL had initially planned to manufacture around 110,000 cars across its two plants in Gurgaon and Manesar; 55,000 units at the Suzuki Motor Corporation-owned plant in Gujarat, and lastly around 18,000 cars – the Grand Vitara and Toyota Urban Cruiser Hyryder SUV models – at Toyota's plant in Bidadi, Karnataka.
However, the revision to the production plan means volumes in Gurgaon and Manesar could drop to around 77,000 units (-30%) in December 2022, and those in Gujarat and Karnataka being revised to about 40,000 units (-27%) and 12,000 units (-33%), respectively.
Maruti Suzuki manufactures the XL6, Ertiga and Eeco at Gurgaon, while the Alto, S-Presso, Celerio, Wagon R, Dzire and Brezza are built at its Manesar facility. The Baleno and Swift hatchbacks are manufactured at Suzuki's plant in Gujarat.
Semiconductor supply chain woes continue
Sources have revealed that chip procurement is the biggest setback in case of the Grand Vitara, wherein the hybrid version's full-digital speedometer console is particularly in short supply and is holding back manufacturing operations at Toyota's plant in Karnataka, where the two badge-engineered SUV models are being built for domestic as well as export markets.
Production of flagship Grand Vitara is impacted by chip shortage, particularly in the full-digital 7-inch speedometer console offered in the hybrid variants.
While around 70 percent of the estimated 12,000 units will be those of the Grand Vitara and come MSIL's way for domestic as well as export sales, the remaining 3,600 cars of the Urban Cruiser Hyryder model will go to Toyota for retail from its dealerships in India. The two Japanese brands jointly manufacture this latest SUV model as part of the Toyota-Suzuki global alliance.
On the other hand, in case of Maruti Suzuki's smaller cars, the ABS or anti-lock braking system module is understood to be facing a significant supply chain constraint due to the chip shortage, which, as per experts, is likely to continue until end-2024.
Softening of demand for entry-level models
However, company and its dealer sources revealed that since the market sentiment in terms of demand for these entry-level models is not as per expectations, there is enough leeway for the supply chain constraints to be covered in the veil of weak demand. Autocar Professional has learnt that instead of the actual plan of producing approximately 15,000-16,000 units of the Alto every month, only around 6,000 units are being realised in actual production on an average every month.
In a recent media interaction, Maruti Suzuki India chairman RC Bhargava had pointed out that the hatchback segment is likely to decline in FY2024, despite the overall passenger vehicle market poised to register an approximate 8 percent growth rate.
Bhargava had attributed the decline of the small-car segment to the consistent degradation of buyer's affordability. "People with limited income are the hardest hit, and the sustained inflation will further make it difficult. They will take a longer time to build up resources to buy a car, but we do have the models in the entry-level segment for them," he had said.
The demand being lower than expected is also true even in the case of the Grand Vitara hybrid, which sees its on-road pricing crossing well above the Rs 20-lakh mark, therefore directing most customers heading to Maruti Suzuki's Nexa showrooms in favour of the cheaper, mild-hybrid variants.
While the company officially communicates a waiting period of anywhere between 6-8 months for the Grand Vitara hybrid, dealer sources revealed the cars are being made available within 60 days. Furthermore, majority of buyers are learnt to be finding more value in the mild-hybrid powertrain equipped Zeta AT trim of the Grand Vitara, which too is becoming available within 6 weeks.
Autocar Professional emailed the company for its official comments. A company spokesperson replied saying, "It is expected that the shortage of electronic components may have an impact on December '22 production more than that in the recent months. The company is taking all possible measures to minimise the impact."
Moreover, overall passenger car retail is presently witnessing softening of demand after experiencing a 42-day festive peak in the September-October 2022 timeframe. According to industry experts, inventory at passenger vehicle dealers is likely to grow from 50,000 units to over 250,000 units due to lower customer footfalls around the fag end of the calendar.
Sales drive past a million units in first 8 months of FY2023
The company's cumulative wholesales have crossed one-million units (1,067,282 units) in the first eight months of FY2023, registering a 31 percent year-on-year growth (April-November 2021: 811,809), with the carmaker despatching 132,395 units in the month of November 2022.
While the Alto and S-Presso collectively sold 18,251 units last month, registering a marginal 4 percent year-on-year uptick, the company's UV range, including the Brezza, XL6, Ertiga and Grand Vitara clocked 32,563 units in November and therefore taking charge of its growth which is also coming from the six pack of the Wagon R, Swift, Baleno, Dzire, Ignis and Celerio, that reported a 28 percent uptick in sales to 72,844 units last month.
Despite the Indian passenger vehicle market set to touch a new peak of 3.8-million units in CY2022, experts believe headwinds in the form of high inflation and interest rates could become roadblocks in sustaining demand going forward while supply-side and logistical challenges are likely to continue as well.
RELATED ARTICLES