Indian carmakers commit $10 billion to add new capacity of 2.2 to 3 million units
With the Indian passenger vehicle market recording strong double-digit growth and lots of potential for future growth, all the top carmakers have outlined big-ticket spends to substantially increase manufacturing capacity.
Two consecutive years of strong double-digit growth after Covid has emboldened Indian carmakers to release their purse strings and commit over $ 10 billion (Rs 82,470 crore) of investment into products and capacity expansion in the coming decade. A significant part of this investment will also go into upgrading products, launching new ones and getting into the EV market in the coming years.
This enhanced capital expenditure will lead to an incremental capacity of a minimum of 2.5 million units, taking the overall industry manufacturing capacity to about 7.5-8 million units by 2030. This fresh capacity will come into play over the next 5-8 years. While some new capacity has already begun going on stream, the rest will be added as new-generation electric vehicles get ready for rollout between 2024-2028.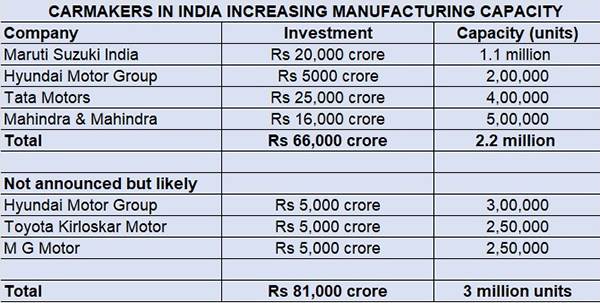 Maruti Suzuki to add a million-units capacity by 2028
Passenger vehicle market leader Maruti Suzuki India will add an estimated million units, which will emanate from its new factory in Kharkhoda, Haryana by 2028. The first 250,000 units will be commissioned by 2025 itself, with plant construction in full swing at present. Meanwhile, to cater to increased demand for its PV range, the company has also decided to increase capacity at the Manesar plant by 100,000 units in 2024.
R C Bhargava, chairman of Maruti Suzuki recently said," Maruti is not holding back on capex, we are spending a very large amount of money. We have just approved a big investment in Kharkhoda, Haryana. Suzuki is investing in Gujarat for battery and electric vehicle manufacturing plans. The other investments are also happening."
The market leader has targeted sales of over 3 million vehicles at the end of the decade and the top management has stated with this growth goal in mind, the company would need to add one new plant every two years. Maruti Suzuki has set itself a target of 2.5 million products in FY2024, eyeing impressive double-digit growth – if the company achieves it, it will be the third straight year of double-digit growth.
If Maruti Suzuki has already announced Rs 10,000 crore for expanding capacity for conventional IC engine car production, its parent Suzuki Motor Corp has also announced Rs 10,000 crore investment for EVs, which will go into localisation of parts to make the company's EV accessible.
Homegrown carmakers also plot new investment, EVs
Autocar Professional learns the other four top carmakers after Maruti Suzuki are also exploring setting up of additional manufacturing capacity.
While Hyundai Motor Group has explored the potential of acquiring Ford India's Chennai plant and General Motors India's Talegaon plant, Tata Motors has already acquired Ford's Sanand plant, which gives it additional capacity of 300,000 units per annum which is scalable to 420,000 units per annum. Tata is understood to have also considered GM India's Talegaon plant.
No. 4 PV player Mahindra & Mahindra has announced Rs 10,000 crore investment in EVs and Rajesh Jejurikar, executive director, Auto and Farm Equipment, M&M, had told the media after revealing the EV strategy in the UK, "We are looking at setting up a dedicated factory for EVs and it may come in the newly formed electric vehicle company."
On December 14, 2022, M&M confirmed that it is set to up the Rs 10,000 crore manufacturing facility, development and production of its upcoming Born Electric Vehicles (BEVs), some of which were showcased in the UK on August 15, in Pune, Maharashtra.

In its mainstream SUV business too, M&M is expanding output by 70% to about 600,000 units over the next two years, essentially to cater to sustained demand for its XUV700, Scorpio N and Thar.
Monthly production capacity is set to increase from 29,000 units in Q2 FY2023 to 49,000 units by Q4 FY24, the company announced on Friday. Between FY-22 to FY-24, Mahindra & Mahindra had announced an investment of Rs 7,900 crore over a period of three years.
"Apart from 260,000 pending bookings, the fresh booking momentum across our models continues. The increase in capex has already been factored in to ramp up volumes and it will help us meet the growing demand. All of these investments have been triggered," Jejurikar had said after Q2 FY-23 earnings announcement.
It is likely that pent-up demand after Covid-19 might have triggered a significant bounce-back in demand for carmakers as personal mobility became a necessity amid lack of adequate public transportation in 2021 and 2022. However, with the base-effect catching up and the challenges of inflation, one can expect a normal rate of growth based on the fundamentals of growing GDP.
Yet two homegrown car makers – Tata Motors and Mahindra & Mahindra – who have handsomely outpaced the market over the last two years expect to sustain the strong momentum and create a strong parallel path for EVs, which will call for significant investments.
Shailesh Chandra, president of Tata Motors Passenger Electric Mobility told Autocar Professional, "In the next five years, we have intention to invest nearly $2 billion (Rs 16,494 crore) for EVs and for the passenger vehicle business. We have a self-sufficient model wherein we plan to invest 6 to 7 percent of oour revenue to grow our business."
Mahindra, which has been chasing supply for the past couple of years, clearly wants to get its capacity issues right and its aspirations continue to remain high. A confident Jejurikar said, "Our current brand pull is giving us an inclination to take a bet to grow at a much faster rate than market. Our aspiration is to become No. 1 in the SUV segment (by revenue market share)."
Having optimised capacity, Hyundai-Kia keen to expand
Hyundai Motor India has already added 100,000 units in fresh capacity with a comprehensive debottlenecking exercise in FY2022 to augment the cumulative capacity to 850,000 units. So did its sister company Kia, which is understood to have produced over 360,000 units in CY2022.
Sources say while debottlenecking can give Hyundai Motor Group a limited incremental capacity, a big fresh investment is round the corner which will be in an all-new manufacturing facility – which may be shared by both Hyundai and Kia for the first time. The top management from the headquarters has already undertaken a number of visits to India to explore acquisition of multiple manufacturing facilities, including greenfield opportunities.
To take a leap into the EV market, Hyundai Motor India has already committed Rs 4,000 crore for EVs, which will spawn a half-a-dozen EVs across segments and body styles including an SUV. It will also introduce a dedicated and localised E-GMP platform, which may help roll out EVs from a brand-new facility.
Its sister company Kia too has announced a compact EV specially made for India and emerging markets, which is likely to come out by 2025.
With both Hyundai and Kia currently operating at almost 95% capacity utilisation, a new manufacturing line will be needed to accommodate the range of electric vehicles planned for India, say people in the know.
Smaller players also think big
While the top five carmakers continue to widen the gap with the rest of the market, the smaller players are not giving up on the growth potential yet. Toyota Kirloskar, thanks to its alliance with Suzuki, also expects to grow faster than the market due to new models from the global partnership. It expects to completely utilise capacity at its plant in Bidadi on the outskirts of Bengaluru. It's early days yet but there are have been preliminary discussions on whether the new investment needs to be made in Bidadi, given the long lead time needed to plan for new capacities.
M G Motor India has been exploring setting up of new facilities for over a couple of years now. The Renault-Nissan alliance too is in the final stages of its next phase of investment and Skoda-Auto Volkswagen is also studying EV localisation for India, which may lead to a fresh FDI in the country in the coming years.
In a world, impacted by significant local and global disruptions, India has turned out to be an oasis where growth has remained unaffected so far. With an expectation of high GDP growth in the coming years in tandem with the growing per capita, the fast-expanding road infrastructure and low motorisation, India is certainly part of frequent boardroom discussions in India and overseas.
RELATED ARTICLES