Gujarat government officials to use Tata Nexon EVs in Kevadiya
Kevadiya, which is home to the world's tallest statue, is soon to become India's first EV-only city.
Tata Motors, as part of its tender agreement with EESL, has supplied 10 Nexon EVs to be used by senior officials of the Government of Gujarat, associated with the Statue of Unity, located in Kevadiya, Gujarat.
The handover ceremony took place on August 15 in the presence of Dr Rajiv Kumar Gupta, Additional Chief Secretary (Industries & Mines Department) and MD, Sardar Sarovar Narmada Nigam,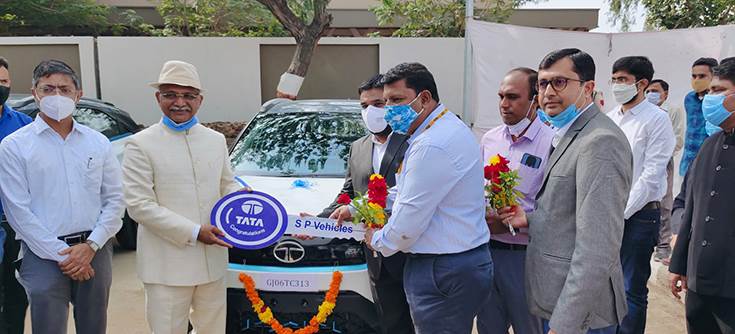 The Statue of Unity, the world's tallest statue, is dedicated to Sardar Vallabhbhai Patel. Standing tall at 182 metres (597 feet), the bronze statue is twice the height of the Statue of Liberty and 29 metres taller than China's Spring Temple Buddha, which previously held the title of the world's tallest statue. Located in Kevadiya, which is soon to become India's first e-vehicle-only area, the Statue of Unity is designed by renowned Indian sculptor Ram V Sutar and took five years to build.
The Tata Nexon EV is currently India's best-selling electric passenger vehicle and commands a market share of nearly 70% in the rapidly growing market for EVs. At present, there are over 6,000 Nexon EVs plying on Indian roads
Making a green statement
Launched on January 28, 2020, the eco-friendly compact SUV has seen rapid consumer acceptance. It had crossed the 1,000 mark on August 18, seven months after rollout, the 2,000-unit mark in 10 months on December 2, 2020, and crossed the 4,000 mark by end-March 2021, 14 months after launch. Total sales in 18 months after launch, till end-June 2021, were 5,734 units.
The Nexon EV is equipped with a powerful and high-efficiency 129 PS permanent-magnet AC motor, powered by a high capacity 30.2 kWh lithium-ion battery. High on connectivity, it also offers 35 mobile app- based features ranging from remote commands, vehicle tracking to driving behaviour analytics, navigation, and remote diagnostics.
What has worked in the Nexon EV's favour, besides its SUV appeal, are its sorted fundamentals and a value-for-money price tag that undercuts other EVs by over Rs 700,000. In the past year, Tata Motors has tweaked certain aspects of the vehicle after analysing the driving behaviour of several EV users, and incorporated relevant customer feedback in its latest software update to make the Nexon EV's drive experience smoother and the car more user friendly.
Tata Motors, through the EV ecosystem called 'Tata uniEVerse' is working with other Tata Group companies including Tata Power, Tata Chemicals, Tata Auto Components, Tata Motors Finance and Croma to drive faster adoption of e-mobility in India.
ALSO READ: Tata Power sets up fast charging EV station in Kevadia
Interview with Sandeep Bangia: 'We are committed to playing a key role in India's transition to e-mobility.'
RELATED ARTICLES