Autocar Professional's February 1 issue is out!
This issue of Autocar Professional highlights the ramifications of crude prices spiking and other supply side challenges for the auto industry.
February is mostly about the Budget but that said, the automotive industry continues to reel under supply side challenges. That's the reason this 48-page concentrates on key developments across the industry and gets you detailed perspective on leading trends.
Crude concerns


The Brent crude prices hovering close to $90/bbl cannot be good news for the Indian auto industry. With tensions continuing between Russia and Ukraine, the auto sector will no doubt feel the heat – Find out how it can affect consumer demand and overall sentiment?
Utilising synergies
Mahindra and Hero Electric are pooling in competencies to leverage their experiences in grabbing evolving opportunities in the EV space. We catch up with M&M's Rajesh Jejuriker and Hero Electric's Naveen Munjal for a detailed perspective. Grab your copy today for all the details of the collaboration.
CNG Push
Tata Motors is betting big on the CNG segment. Company launched top-end CNG variants of the Tiago and the Tigor and is hoping to attract customers who want products that offer top-class green and tech credentials.

Not just that, join us for a first-hand experience of what driving the Tiago-iCNG means.
Meanwhile M&M too looks at raising the mileage bar in its truck portfolio. We get you details on the company's new strategy that includes a CNG-powered range going forward.
The Tesla tussle
With several Indian states jostling to woo Tesla, it is more than apparent that it is the personality of Elon Musk that is the biggest draw. Yet, Tesla volumes will not be so great by the end of the day.
Fuelling options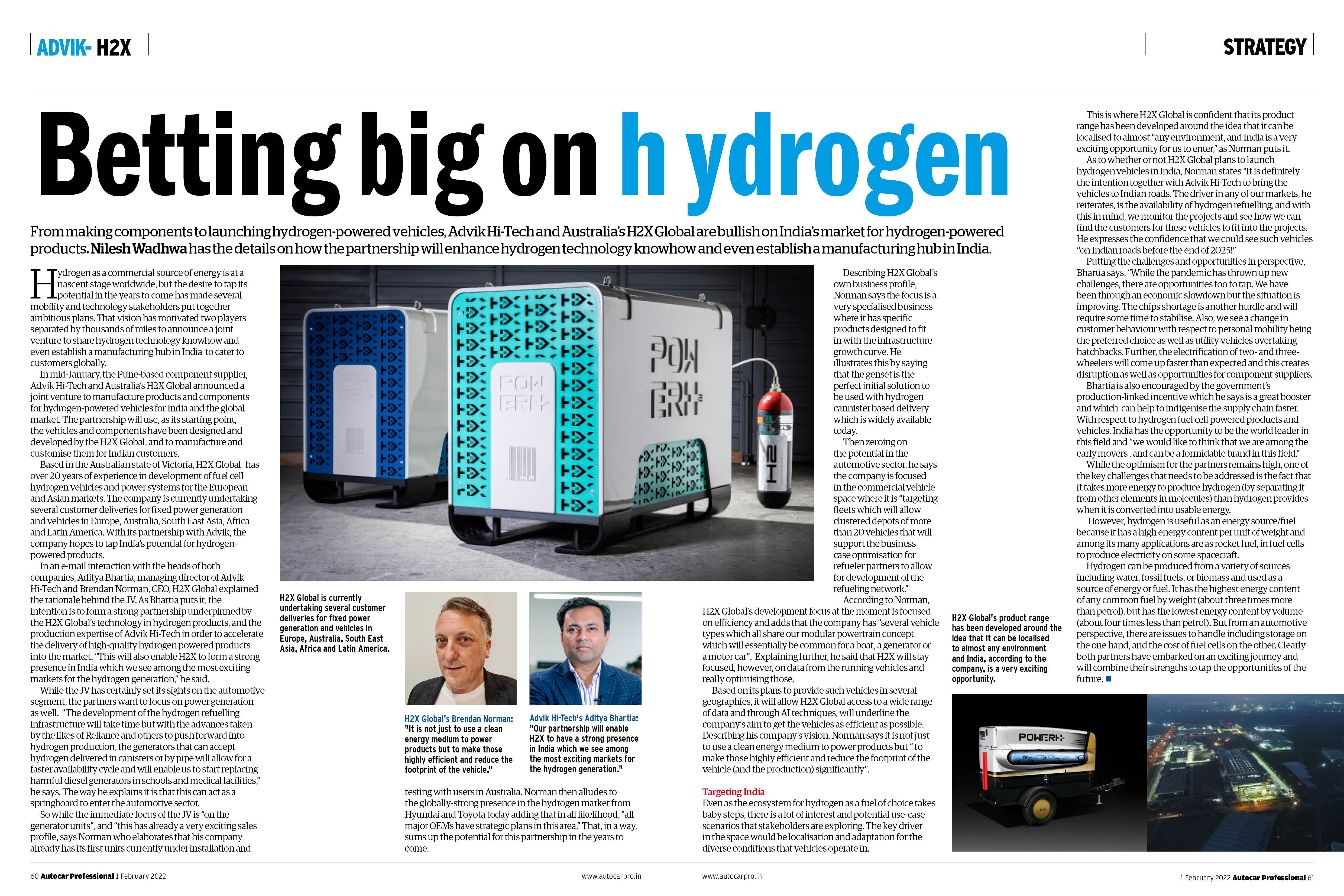 Advik Hi-Tech and Australia's H2X Global join hands to enhance hydrogen technology knowhow and identify the growth opportunities. We get a lowdown how the companies are exploring options of establishing a manufacturing hub in India.
Exponent Energy has developed solutions that can help electric LCVs, both cargo and passenger, charge up quickly.
But that is not all. This issue gets you detailed analysis of what the latest sales data indicates as well as leading EV sales trends in China.
How you can read this issue
Go grab your copy for all that action, and a lot more. Autocar Professional magazine is also available through all good newsagents and for download from Magzster. You can also buy one-off copies of Autocar Professional magazine – contact Ganesh at ganesh@haymarketsac.com. Alternatively, never miss an issue – subscribe to Autocar Professional magazine today.
RELATED ARTICLES