ZF unveils new 800V EV powertrain, eyes business consolidation with new Chassis Solutions division
The German Tier-I automotive technology major is witnessing a significant shift in revenues, 73 percent of which are now coming from EV powertrains, with ICE maintaining a command only in specific segments like commercial vehicles.
Electrification of all segments - ZF offers electric mobility solutions for cars, commercial vehicles, industrial solutions, construction machinery and micro-mobility.
ZF's 'cubix' motion domain controller software coordinates vehicle movement across the three driving dynamics and harmonises acceleration, braking, damping and steering.
Dr Holger Klein, CEO, ZF - We want to play a key role in shaping the future of mobility with our electrification technologies for all categories of vehicles.
Technology for emission-free construction sites. The electric Yanmar V8e compact wheel loader with the ZF eTRAC drive.
Ultra-compact e-drive package with thermal management and software. The EVbeat demonstration vehicle has up to a third more range in winter.
The 800V ZF EVbeat e-powertrain comes equipped with a silicon-carbide inverter and helps achieve greater range and shorter charging times.
ZF showcased energy for the next generation of commercial vehicles. The CeTrax 2 Dual central drive powers even heavy-duty trucks.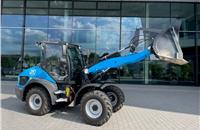 At its annual Global Technology Day demonstration event, which focused on e-mobility and chassis technology, and was held in Germany on June 29, automotive technology giant ZF showcased a range of electrification solutions for all categories of vehicles, while unveiling its self-developed thermal management system - EVbeat - for electric vehicles.
The EVbeat is claimed to provide a compact design for the drive while also enhancing winter range by up to 33 percent. The system incorporates an optimised electric drivetrain comprising power electronics, motor, and reduction gearbox, that utilises an 800 Volt silicon-carbide inverter, setting new benchmarks in terms of weight and compactness. Additionally, the newly-developed EV powertrain helps achieve greater range and shorter charging times.
ZF has also developed a unique powertrain software that significantly improves efficiency and enables connectivity to the Cloud.
According to Dr Holger Klein, CEO, ZF, "We want to play a key role in shaping the future of mobility with our electrification technologies for all categories of vehicles. With this innovative solution, ZF is underlining its system expertise in electromobility and providing electric passenger cars with a greater range. The new powertrain is free of heavy rare-earth elements and can be used flexibly by car manufacturers owing to its modular design."
After presenting the concept in November, last year, ZF now has executed the new generation of the electric drive with thermal management in a demonstration vehicle, which the company unveiled at its headquarters in Friedrichschafen, Germany.
The demonstration vehicle also showcased components of the electric driveline that were optimised and combined into a holistic system. The drive package has a 30 percent lower overall weight and, in this way, together with thermal management, it enables a torque density of 70NM per kilogram of drive weight. This is a peak value for road-legal passenger cars currently available in the market.
"Just a few months ago it was only a vision, now our drive can be experienced in a sports car. Not only are we consistently pursuing our strategy of sustainable and efficient mobility for the future, but we are also adapting our development processes to the new speed of our industry," added Klein.
Transformation driving agility
With an accelerated transformation of the mobility landscape towards sustainability and safer transportation, ZF says it has also been optimising the organisation for several months. The German Tier-I major is going faster on innovation and cutting short development and production cycles, while also leveraging technology to benefit its customers as well as its own business.
"We are embracing the new normal of the automotive industry and using it for the benefit of our customers as well as ourselves," Klein said addressing the media.
The undergoing transition towards electrification is also making ZF register a significant shift in its revenues from ICE powertrain components to EVs. While more than 60 percent of its revenues emerged from the ICE domain almost a decade ago, ZF registers only about 27 percent of its global revenues from ICE (particularly from vehicle segments such as CVs where ICE is expected to remain a mainstay) with EVs having dominated the segment within a short span of the last seven years.
Powertrain and chassis system expert
With its core competencies lying in the powertrain and chassis systems domains, ZF is now combining the two technologies to provide complete end-to-end solutions for its customers. The chassis system, which includes a vehicle's braking, steering, and suspension damping domains, is being integrated with software to offer more safety and comfort in the end products.
"We connect smart actuators through smart software so that it interacts with the entire chassis. When we bring the Cloud into the picture, this arrangement calls for new business models by solving data requirement problems for insurance and rental companies," Klein said.
ZF's 'cubix' motion domain controller software comes into play to combine chassis elements with other aspects of the vehicle. It coordinates vehicle movement across the three driving dynamics, and harmonises acceleration, braking, damping and steering.
*As a standalone suite, the independent software optimises driving behaviour in terms of comfort, dynamics, and efficiency. We offer cubix as a licensed software for chassis system optimisation as well," Klein said.
Targeting business consolidation
The company is also integrating its passenger vehicle and active safety technology aspects to form a new division - Chassis Solutions - which will bundle ZF's entire chassis, steering and braking expertise and drive faster innovation by bringing them together.
"We, at ZF, are dissolving silos and consolidating product lines as well as business units to find synergies in terms of technology. The elimination of silos increases speed.
"The new domain is set to be launched at the start of CY2024 along with a new management team. Already, the new domain has registered sales volumes of over 14 billion Euros and employs over 30,000 associates the world over," Klein said.
While the Chassis Solution division offers all the hardware components needed to control a vehicle's vertical, longitudinal and lateral dynamics – and also the associated networking in the form of hardware and software, the company is also developing new middleware software solutions by forging stronger partnerships.
Earlier this year in May, ZF partnered India's KPIT to jointly develop a middleware solution for the mobility ecosystem. The continual increase in software complexity coupled with high-performance computing infrastructure is driving demand for such a solution, and the duo is solving this industry problem.
With autonomous driving and safety technologies being some of ZF's key focus areas, the company says its long-term intent is to use technology to make the mobility of the future cleaner, safer, and more comfortable for the entire gamut of vehicles - from cars to trucks and buses, agricultural, construction equipment and off-highway vehicles.
RELATED ARTICLES