Tesla's Elon Musk now the richest person on Planet Earth
A 7.9% surge in Tesla shares helps accelerate Musk's value past Amazon.com founder Jeff Bezos. Musk is now worth $ 194.8 billion (Rs 1,441,714 crore).
Tesla's Elon Musk now the richest person on Planet Earth
Tesla's Elon Musk now the richest person on Planet Earth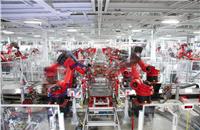 Elon Musk, Tesla's co-founder, business magnate, industrial designer and engineer, was in the news for all of 2020, through aggressive EV play on ground and in the air through SpaceX. He was also the second richest person in the world having zipped past Microsoft's Bill Gates and the Oracle of Omaha, Warren Buffet, and behind Amazon.com Inc founder Jeff Bezos. With the whopping 670 percent rally in the Tesla stock in 2020, Musk's net worth had catapulted to 128 billion dollars (Rs 947,328 crore).
The latest news is that Elon Musk, a name that manifests enigma, is now the richest person on Earath. According to Bloomberg, Musk, who was among Autocar Professional's 17 Newsmakers of 2020, is now the big boss of wealth.
The Tesla boss's shares rose 7.9%, helping accelerate Musk's value past Bezos on the Bloomberg Billionaires Index, which is a ranking of the world's top 500 wealthiest people on the planet. As per the latest surge of Tesla shares, Musk is now worth an astounding US$ 194.8 billion (Rs 1,441,714 crore) or $9.5 billion (Rs 70,309 crore) more than the Amazon.com founder.
The No. 1 ranking in terms of personal wealth caps an amazing year for Elon Musk, whose Tesla is on a roll. The American EV manufacturer, which is currently the most valuable carmaker in the world, reported record production of 179,757 cars and deliveries of 180,570 units in Q4 (October-December 2020) That is nearly twice is Q2 production (82,272) and sales (90,650). For the full calendar year 2020, Tesla produced 509,737 cars and managed to deliver a record 499,550 units – missing its targeted 500,000 units by a whisker – just 450 units. A justifiably happy Elon Musk tweeted on January 2, "So proud of the Tesla team for achieving this major milestone! At the start of Tesla, I thought we had (optimistically) a 10% chance of surviving at all."
In terms of production in 2020, Tesla registered robust 24% quarter-on-quarter growth and handsome 71% growth year-on year. In terms of sales, the EV maker achieved 30% QoQ growth and 61% YoY growth. And for the overall year, the sales increase is as good as 36% YoY, this despite the Covid-19 pandemic that has impacted all key markets.
Though its production is just a fraction of what Volkswagen, Toyota, GM or Ford roll out each year, Tesla and Musk are the blue chips on the S&P Index and the favourites of investors. What's more, with the Democrats, who favour EV-friendly transportation, at the helm of affairs in the USA, Tesla should be in full charge in 2021.
Where Tesla stands to gain over other global automakers is its hugely efficient manufacturing operation. Tesla has already commenced Model Y production in China (with deliveries slated to begin shortly), and will begin Model Y and Model 3 production in Germany and Model Y assembly in Texas later this year. And it is slated to begin sales in India too.
The enigmatic Elon Musk though is not into the power that money brings and he's like to stretch the envelope. In a tweet in October 2018, he had said: "About half my money is intended to help problems on Earth & half to help establish a self-sustaining city on Mars to ensure continuation of life (of all species) in case Earth gets hit by a meteor like the dinosaurs or WW3 happens & we destroy ourselves."
RELATED ARTICLES