New Nissan Altima debuts at Guangzhou Motor Show 2018
Global'sedan features world's first mass-production VC-Turbo engine, ProPilot driver assistance system.
The all-new Nissan Altima sedan, equipped with world-first engine technology and the ProPilot driver assistance system, made its China debut today at the Guangzhou Motor Show 2018.
Born from collaboration between Nissan designers in China, Europe, Japan and the US, the all-new Altima is a truly global vehicle and is powered by the world's first mass-produced variable compression turbo engine.
It's also the first model in China to offer Nissan's ProPilot hands-on driver assistance system. The technology helps drivers stay centered in their lane, navigate stop-and-go traffic and maintain a set speed and distance to the vehicle ahead.
"The Nissan Altima, through multiple generations, has been an exceptional popular performer throughout the world and in China, where it was called Teana," said Makoto Uchida, senior vice president of Nissan Motor Co., Ltd. and president of Dongfeng Motor Co., Ltd. "The all-new Altima honors this legacy by promising customers confident driving and handling, great performance and best-in-class fuel efficiency. It's the most advanced sedan Nissan has ever made."
The all-new Altima's 2.0 VC-Turbo engine is a breakthrough in combustion engine design. In development for more than 20 years, the engine continuously and seamlessly changes its compression ratio to optimie power and fuel efficiency.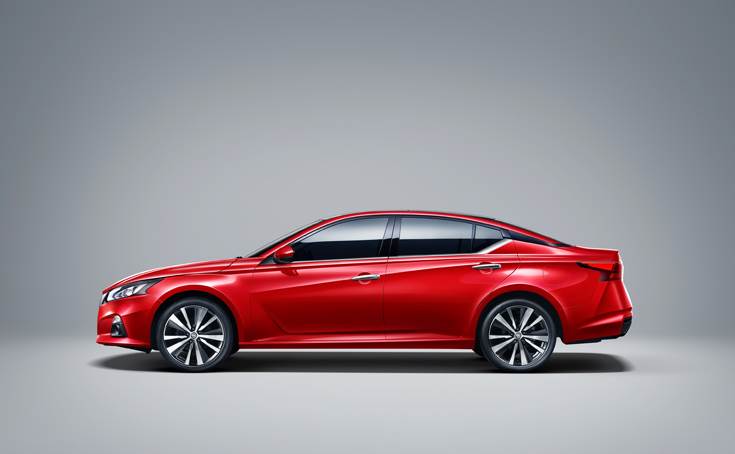 The car's sporty, sophisticated exterior design uses Nissan's global design language, which was seen in the recent Vmotion 2.0 concept car. This is manifested in the sharp horizontal lines emphasizing lower, longer proportions, as well as the streamlined boomerang-style LED headlights, the 'floating roof' design, the honeycomb grille, the rear spoiler and the 19-inch wheels.
Inside, ergonomic 3D Multi-Layer Zero Gravity seats offer extra bolstering for comfort and alleviation of fatigue on long drives. The Advanced Drive Assist Display and an advanced instrument cluster arrange driving information in an orderly, intuitive way for convenience and safety. Switches and controls are positioned for an effortless feel and natural operation.
The 16th Guangzhou Motor Show is open through November 25.
Also read: VC-Turbo – the world's first production-ready variable compression ratio engine
Toyota reveals new Corolla Altis at Guangzhou Motor Show
RELATED ARTICLES