Castrol subsidiary Nexcel develops engine oil made entirely from waste
Chewing gum and Christmas trees included in waste items recycled to yield properties required for crucial chemical additives.
The waste ingredients used included dead alkaline batteries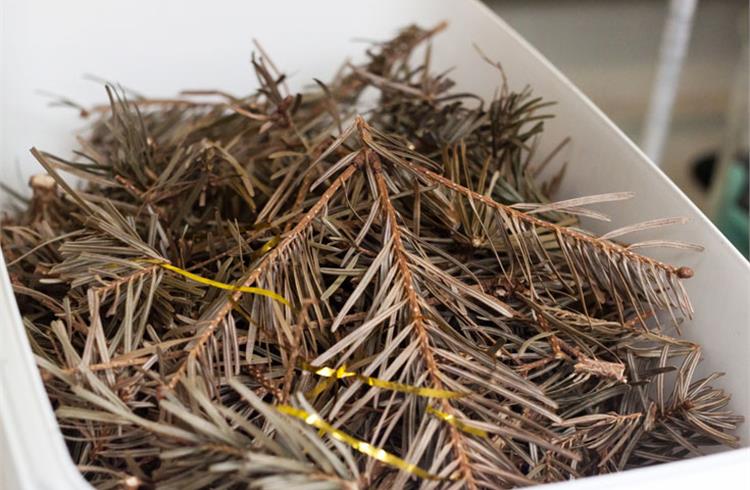 Discarded Christmas trees awaiting shredding
The final oil is clear, light in colour and of good quality.
Castrol innovation business Nexcel has produced automotive-grade engine oil using entirely waste products. Chewing gum, used fryer oil, batteries, bathroom sealant and even a Christmas tree have been recycled and yielded vital properties for the ambitious programme, which demonstrates the significant potential of re-refined oil.
"The project showcases the sustainability potential of waste," says John Ward-Zinski, Nexcel's sustainability director. "This was a hugely demanding project completed over the last year and one which we hope will open the public's eyes as to the importance of recycling and sustainability. Few people would think that discarded Christmas trees and old chewing gum could have a commercial or environmental value, but our engine oil shows this is anything but the case."
Nexcel's ambitious project has been inspired by the company's innovative sealed oil cell, which provides vehicle manufacturers with efficiency benefits and promotes used oil collection and re-refinement. "Our system has already been utilised by our technical partner Aston Martin, for use in the visceral Vantage AMR Pro at last year's Goodwood Festival of Speed, where the car became the first to tackle the legendary hill climb using re-refined oils," continues Ward-Zinski. "In 2016, Nexcel & Aston Martin also achieved a podium finish in the competitive VLN Championship at the most arduous racetrack in the world: the Nürburgring. Sustainability, and therefore re-refinement, are of growing global significance; hopefully this project helps demonstrate the extent of what is possible."
Working to a zero-waste goal
The most significant challenges of the project included the yielding of phenols and catechols from the waste to be used as antioxidants, forming the basis of the chemical additives required.
Nexcel's experts worked with a zero-waste goal, and after significant research, analysis of component properties and trial and error, the blend consisted of 180 chewing gum pieces, 500ml of used fryer oil, 1g of RTV silicone sealant, 14 household batteries, 1 litre of used engine oil and an old Christmas tree. Extraction of components from these waste items enabled Nexcel scientists to produce 1 litre of automotive quality engine oil.
"Re-refinement of used oil can create a high-quality product when blended with new additives, but bulk feedstocks made up of many different types of used oils can complicate the process and reduce the process yield. Nexcel's oil management system avoids this by segregating used engine oil, keeping it in the cell during collection," says Ward-Zinski.
"For this particular project we wanted to make the entire oil from waste materials, and the challenge lay in the creation of the chemical additives. However, with creative utilisation of modern technology there is huge potential in recycling. It could even help prevent the traditional Christmas tree tip-run needle-drop, from which no car interior has ever recovered," added Ward-Zinski.
Also Read: Castrol and Ford India to jointly develop products...
Castrol India's super mechanics to compete in APAC...
RELATED ARTICLES