SIAM bats for new stimulus package
At its 53rd annual convention, the Society of Indian Automobile Manufacturers (SIAM) made its wish for a stimulus package amply felt. ShobhaMathurreports.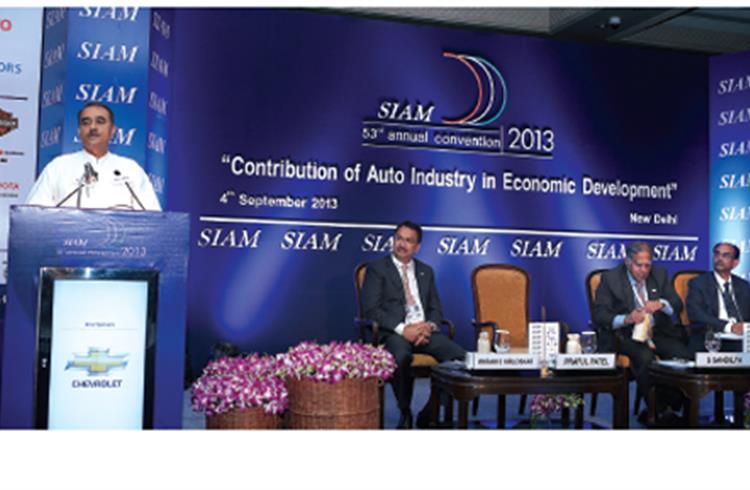 SIAM's annual convention took off on September 4 amid troubled times, when the automobile sector has been facing the brunt of an economy in decline and fast-slowing footfalls in showrooms.
In what could be salve
for the association's members, the chief guest for the seminar, Praful Patel, Union minister for Heavy Industries and Public Enterprises, said that the ministry is in the process of charting out a stimulus package for the automotive sector to tide over the current slowdown. This package is expected to be on similar lines as the one given to the sector to tide over the 2008-09 downturn.
Patel added that the ministry has been engaged in talks with the Finance Ministry for the past few months to provide support to the auto industry. He termed the ongoing downturn as "challenging" and expressed his willingness to take along a delegation of the automobile industry, including SIAM and other stakeholders, to prime ministerManmohan Singh and finance minister P Chidambaram to discuss the possibility of offering a stimulus package for the sector. "There is genuinely a case for stimulus for the auto sector," he said. The Finance Ministry in turn will loosen its purse strings and sanction the financial incentives.
SIAM says . . .
The proposed stimulus follows SIAM's recommendations to the Ministry as well as the National Manufacturing Competitiveness Council. Some of the highlights of its recommendations include sanctioning a fleet modernisation incentive on the lines of the cash-for-clunkers scheme offered by Europe during the 2008-09 global economic crisis. This will involve scrapping of 10-15- year-old gas-guzzling vehicles with ensuing IT concessions and excise duty benefits for new vehicle purchases.
The apex industry body has also suggested that the year-old ban on government purchase of vehicles as part of its austerity drive be lifted. The industry is also pitching for rollback of excise duties as was done in the earlier stimulus package in 2009. Currently excise duties are as high as 30 percent on SUVs and 12 percent on small cars. Imported CBUs attract over 100 percent duties. In 2008-09, the excise duties on small cars and two-wheelers had been pushed back to 8 percent. "The deceleration of the industry is primarily due to both external factors as well as domestic structural issues. The automobile industry is one of the highest contributors of revenue and employment in the country, and needs a more moderated tax and excise duty structure in order to ensure further growth of the industry," elaborated S Sandilya, president, SIAM. He was speaking on the overall theme of 'Contribution of the Auto Industry in Economic Development' "Slow economic growth, high interest rates and fuel prices and high inflation are all affecting consumer sentiments. The government needs to have a relook and bring a stimulus package for the auto industry which will help in achieving higher growth."
Why auto matters
Currently the excise contribution from the auto industry alone is pegged at Rs 45,891 crore, about 18 percent of the total excise collection from industry sector as a whole. Further, the automotive industry and its surrounding ecosystem generate both direct and indirect employment for more than 19 million persons accounting for almost 5 percent of the total workforce in the country.
It is estimated that each commercial vehicle produced gives incremental employment to 13 persons. Each car provides employment to five people and every two motorcycles/scooters produced employ one person. Today, prices of mobility solutions range from as little as Rs 1.5 lakh to as much as a crore and above, indicating the vast product portfolio in India.
Capacity up, business down
In a bid to beat the slowdown, most automotive companies have continued their investments and launches of new models and variants to drive sales. During the past year, the auto industry has invested about Rs 22,000 crore in developing additional manufacturing capacity. This is expected to pep up the long-term growth story of the Indian auto industry.
OEMs foresee growth but lament inaction
Maruti Suzuki, the country's largest carmaker which was bogged down by labour issues last year, is optimistic of its latest model launch the WagonR Stingray driving demand during the festive season though not with the same sting as last year.
Kenichi Ayukawa, MD and CEO, cautioned that government policies strongly influence the development of the Indian auto sector that is a major contributor of the country's economic development. "The automotive sector is linked to numerous different industries, including power and steel, and a decline in the sector could have serious adverse effects on the economy. The government needs to incorporate policies that help to promote the industry, and, in turn, economic development."
Meanwhile, Ford India is upping its production capacity at its upcoming plant at Sanand in Gujarat. An optimistic note was struck by David L Schoch, Group vice-president and president, Asia Pacific Ford Motor Company, while talking about the company's growth plans in Sanand. He foresees a great opportunity for the company to be part of the economic impact in India in the long-term. "In addition to domestic business, we have flexibility with our plants to scale up for exports. We see great opportunity of exports out of India, so over the next seven years you will see Ford drawing upon its domestic business and also taking advantage of export opportunities." He indicated that major growth areas in Asia Pacific by 2020 will include China and India with about 9 million vehicles coming out of India annually.
According to an AT Kearney study on the contribution of auto industry in technology, value creation and employment, despite the Indian auto sector accounting for 7 percent of GDP, 4 percent of exports from India and 3.9 percent of FDI inflows, with cumulative FDIs equal to $ 5.5 billion between 2009-2013, South Korea and China have experienced greater growth in their auto industries. Both reached current production levels in two-thirds of the time and are ahead of India in terms of production. But the consulting firm has predicted that India has a potential to grow at 12 percent annually till 2020. However, to ensure this growth, it will require favourable government policies and forward-thinking initiatives by both automakers and their component suppliers. In the absence of such catalysts, moderate growth of roughly 7-9 percent per annum will be more likely.
Underlining the current decline of fortunes of OEMs in India are SIAM's April-August 2013 vehicle sales numbers compared to the year-ago period. While overall passenger vehicles fell by 5.30 percent with passenger cars, UVs and vans declining by 5.80 percent, 3.11 percent and 6.24 percent respectively, the CV sector saw de-growth of 12.71 percent with M&HCVs down by 21.37 percent. LCVs also dropped by 7.76 percent.
Sales of three-wheelers were down by 4.11 percent; passenger carrier and goods carrier sales fell by 3.55 percent and 6.53 percent respectively. Two-wheelers though registered a growth of 0.72 percent. Mopeds and motorcycles declined by 13.34 percent and 2.08 percent respectively while scooters grew by 14.77 percent.
The Bajaj theorem for insulated growth
Rajiv Bajaj, MD, Bajaj Auto, however, took a leaf out of the company's business book and suggested that industry could consider a three-legged approach based on the science of homeopathy for cashing on growth opportunities.
He said Bajaj Auto had adopted this business model three years ago. While one stands for specialisation, the second is for globalisation that includes scaling up of business in every possible market, and the third leg signifies outsourcing. "Outsourcing has allowed us within the company to focus on motorcycle marketing and innovative functions and in reducing costs because it has honed fixed costs to five percent of sales and rendered us immune to volatility in market demand."
A ray of hope has shone in terms of passenger car sales that in August 2013 have grown by 15.37 percent. Possibly the few few green shoots of recovery but it's still early days yet. The festive season having arrived, industry will be hoping the south-ward sales graph takes the route up north.
RELATED ARTICLES