Maruti's service gets car owners' thumbs up
Satisfaction is significantly higher among vehicle owners whose dealership provides an alternate form of transportation while their vehicle is being serviced than among those who do not receive this service.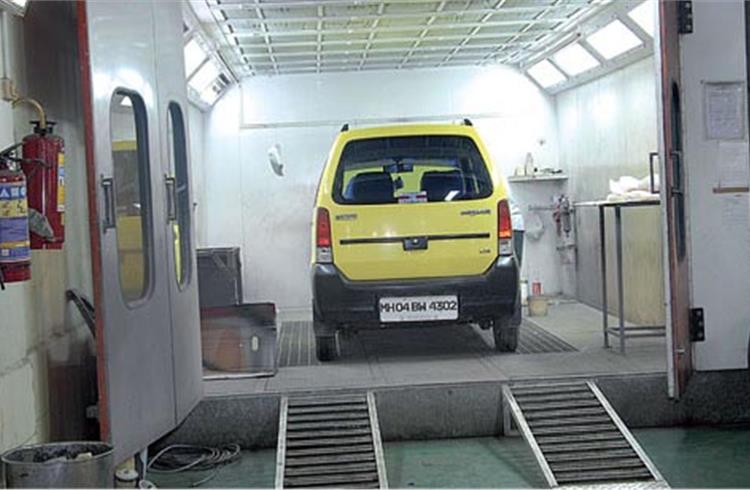 Maruti Suzuki, which has the largest customer parc in the country, has topped the JD Power Asia Pacific 2012 India Customer Service Index (CSI) Study.
Maruti, which has won the CSI study for a record 13th consecutive year, scored 879 points out of 1,000, performs particularly well across all five factors of service operations. Mahindra & Mahindra is the most improved make in 2012, significantly improving across all factors. This year's CSI study, which was field from May-August 2012, is based on evaluations from 7,594 vehicle owners who purchased their cars between May 2010 and August 2011.
The key takeaway from the findings is that vehicle owners in India increasingly seek speed and convenience when having their vehicle serviced, and consider faster turnaround in service, door-step service and alternate transportation arrangements post vehicle drop-off as essential to satisfaction.
The study, now in its 16th year, measures satisfaction among vehicle owners who visit an authorised dealership service centre for maintenance or repair work between the first 12 to 24 months of vehicle ownership. It measures overall satisfaction in five factors (listed in order of importance): service quality; vehicle pick-up; service advisor; service facility; and service initiation.
Satisfaction is significantly higher among vehicle owners whose dealership provides an alternate form of transportation while their vehicle is being serviced than among those who do not receive this service.
"Vehicle owners view the service process as an essential errand that needs to be completed," says Mohit Arora, executive director, JD Power Asia Pacific. "With increasing stress of the daily commute, time commitments and other complexities in their daily life, owners highly appreciate the actions that dealers take to mitigate the effort required for service."
Overall customer satisfaction with the dealership service experience has increased by 10 points from 2011 to 834 in 2012, demonstrating that operational improvements continue to remain a focus for the industry. Satisfaction has improved in all five factors, with the largest increase in the service quality factor.
The study also finds that during the past three years, there has been a significant reduction in the cost of maintaining and repairing vehicles, which correlates to the improvement in the overall quality of vehicles being produced. In 2012, vehicle owners have experienced significantly fewer problems, compared with 2010. This year, 10 percent of owners have experienced a problem with their petrol-fueled vehicle during the initial 12 to 24 months of ownership, down from 17 percent in 2010. Similarly, the percentage of owners who have experienced a problem with their diesel-powered vehicle has fallen to 14 percent in 2012 from 24 percent in 2010.
"While reduction in the number of problems during ownership has contributed to the reduction in the cost of vehicle maintenance and repairs for owners, the overall cost of running vehicles has gone up," says Arora. "Fuel price increases are the primary reason for the rising costs, especially for petrol models, for which a 13 percent reduction in the cost of maintenance has been offset by a 31 percent increase in the cost spent on fuel between 2010 and 2012," concludes Arora.
---
INTERVIEW WITH MOHIT ARORA, EXECUTIVE DIRECTOR, JD POWER ASIA PACIFIC
How is Maruti Suzuki able to enjoy the high level of customer satisfaction with its service over the last 13 years of the study?
Maruti Suzuki's strength is in providing a consistent experience to customers over time. They continue to focus on not just aligning its performance to customer expectations but ensuring that the performance is consistently delivered across the dealer network. Furthermore, a sharp focus exists across the organisation to continuously measure customer experiences and design countermeasures wherever gaps are identified.
On standard operating practices (SOP), positive benefits are observed only when the customer receives at least 20 of the 22 SOPs measured in the study. Maruti has been continuously breaching this mark for most of its customers. In 2012, 74 percent of MSIL customers mention that they had been administered 20 or more SOPs. In contrast, the proportion for the rest of the industry is at 64 percent.
On all time-related parameters, like time to handover the vehicle, time to meet Service Advisor, time to complete paperwork and pickup vehicle, the OEM continues to post very strong performances year over year.
Coupled with the fact that the cost of service for MSIL customers is among the lowest in the industry, customers obtain a perfect blend of convenience of quick turnaround, value proposition, thereby assisting in maintaining their industry leading performance on CSI.
Why isn't Maruti Suzuki's high customer satisfaction level not translating into better market share, without counting the labour issue?
A sharp focus on customer satisfaction has definitely helped Maruti Suzuki to significantly slow the speed of market share erosion, given the onslaught of new competition entering the market over the recent years.
Furthermore, customer satisfaction with aftersales service is one of the critical elements in the entire value proposition sought by a customer in purchasing a particular nameplate. In addition to the quality of aftersales experience, customers seek a product with high quality, contemporary styling and long term durability. So clearly, gaps exist for Maruti Suzuki on some of these other dimensions and while the performance on service to an extent mitigates some of these gaps, experiences may differ across the customer base.
Lastly, for customers who may be going for a repeat purchase may wish to graduate to higher of different segment cars — the range which is currently not offered by Maruti Suzuki.
Toyota is seen as almost synonymous with quality. Why hasn't it managed to be at the top bracket?
Till recently, Toyota was focused on the large MPV (Innova segment) and is a fairly late entrant to the passenger car segment. While Toyota internationally enjoys a strong reputation on strong product quality, this is not completely reflected in some of the new launches like the Etios and the Liva. Providing a wide range of high quality options is a clear prerequisite for successfully growing volumes in the car industry in India.
What has helped Mahindra & Mahindra improve its performance in the study?
Mahindra records significant operational improvement with mean number of SOPs being administered to customers. In addition, the OEM shows significant reduction in all time-related parameters, thereby providing quicker service to customers.
Mahindra is the most improved make (+54 points) and has moved from last rank in 2011 to fifth this year. The improvement is noted most on Vehicle Pickup, with significant reduction on disappointment levels for the OEM on vehicle pickup attributes.
What percentage of the respondents rated availability of an alternate vehicle (while his/her own vehicle gets serviced) as crucial towards their rating of a particular OEM?
The trend of the proportion of customers who want an alternate vehicle versus the proportion of customers who receive this facility has steadily increased over the last three years (from 33 percent in 2010 to 40 percent in 2012). In 2012, the gap between demand of this facility to the current delivery levels of the industry stands at 29 percent.
In addition, it is observed that providing alternate transportation creates customer delight, resulting in an increase of 89 points on overall satisfaction scores.
While again over the last three years, the delivery of this service by the industry has remained constant — there is a definite positive benefit of providing this service. Customers who are provided this service have an index which is higher by 47 points over their counterparts who are not provided this service.
How many of the OEMs surveyed offer alternate arrangements while their customers' vehicles get serviced?
Almost all OEMs provide alternate vehicle arrangements while their customers' vehicle gets serviced. However, of the ranked makes, Maruti Suzuki leads the pack in offering this service with 15 percent of car owners surveyed reporting having received this service.
SUMANTRA BAROOAH
---
INTERVIEW WITH PANKAJ NARULA, EXECUTIVE DIRECTOR (SERVICE), MARUTI SUZUKI INDIA
Maruti has won the CSI Study for the 13th consecutive year. What do you attribute this performance to and how does Maruti manage to do this consistently?
It's due to continuous improvement in our level of services provided to customers and focus on their requirements / expectations.
The study essentially measures customer satisfaction with dealer service.
How does Maruti ensure that its dealerships maintain and also improve customer service standards?
Customer focus at Maruti Suzuki starts with the top management with the company's vision as 'The leader in the Indian automobile industry, Creating customer delight and shareholder's wealth; a pride of India.' Maruti Suzuki is highly inclined at implementing service standards at dealers' workshops to provide an excellent service experience to customers. Some of the activities are:
• Continuous feedback from customers on their service experience by dealers as well as by MSIL directly.
• Robust customer complaint redressal system at dealers and Maruti Suzuki to address customer grievances, faster and effectively.
• Handholding of dealers and training of different levels of dealer service staff (training includes both technical and soft skills).
• Regular improvement in dealer service standards by taking countermeasures for improvement.
What are the new initiatives that Maruti has taken on the dealer service front?
Apart from the customer focus activities mentioned above, a few new initiatives to provide an excellent experience to customers are:
• Continuous improvement in customer facilities by upgrading them.
• Providing pickup-and- drop service for customer convenience.
• Providing loaner vehicle / shuttle service to customers.
• Providing service at customers' doorsteps through the Maruti Mobile service workshop.
• Emergency roadside assistance.
• Continuous updation of vehicle repair status in workshops through online tracking display screens for the convenience of waiting customers.
• Improvement in the washing process through introduction of efficient washing tools/equipment like underbody car washer, fully automated car washer, foam washing and use of quality washing consumables.
• Soft skills/communication training of workshop staff to improve their customer handling in MSIL workshops.
• Improving the means of obtaining customer feedback on their service experience like the introduction of a customer feedback kiosk at service workshops to take instant action on customer concerns.
How does Maruti keep its dealers motivated?
Our dealers are very much focused on customer service and understand the importance of customer satisfaction in growing their business. Satisfied customers are loyal, and make repeat visits to workshops. Customers with a delighted service experience become ambassadors for dealers, which helps increase their overall sales-service business.
Customer satisfaction is one of the critical performance parameters in the dealer evaluation process for various awards and rewards.
What is the Maruti way of handling a customer with genuine grievances?
MSIL believes in taking immediate action to resolve customer concerns regarding service or vehicle performance. We have instituted a robust customer grievance redressal management system through which a customer can easily share his feedback to both MSIL and dealer management. Our strong resolution process aims to resolve the customer concerns quickly whereever he is located by reaching to the customer through our doorstep service/pick up and drop service or even providing loaner vehicles.
SHOBHA MATHUR
RELATED ARTICLES