2013 Automotive Lighting Special - Lumax Industries to supply to Bentley
The ongoing slowdown in the auto sector has put a spanner in the works of some lighting majors' expansion and capacity utilisation plans.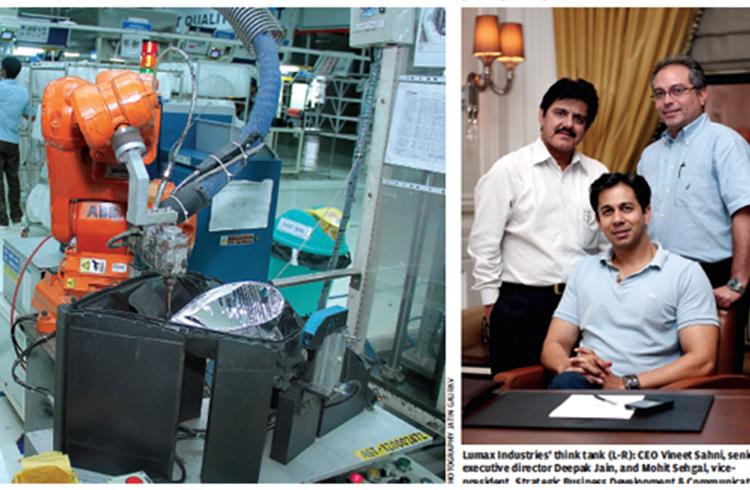 The ongoing slowdown in the auto sector has put a spanner in the works of some lighting majors' expansion and capacity utilisation plans. However, Lumax Industries, a key North India player, is looking to consolidate capacity that it has built over the last three years and leverage it to meet OEM requirements over the next two to three years. The company has added a slew of big names to its roster which is an indication of the focus on high-quality manufacturing.
As far as the big names go, Lumax has bagged orders from luxury carmaker Bentley, the marque owned by the Volkswagen Group, to supply small lamps to the Continental GT saloon in the UK. These orders will begin by the end of 2013. The company is looking to supply 6,000 sets annually to Bentley and, going forward, hopes to bag the business for rear lamps and subsequently headlamps to the prestigious brand, VineetSahni, CEO, told Autocar Professional.
Another shipment that will start this October will involve the supply of high mount stop lamps (HMSL) to Jaguar-Land Rover in the UK. These HMSL lamps will be manufactured for the first time at the company's Bawal facility and a visit to the plant by this correspondent revealed that the lamps are in the process of being made. About 3,000 sets will be exported to JLR every month. Till now these lamps were produced at the Dharuhera facility from where production will now be shifted to Bawal.
This year has seen JLR sales rise substantially, particularly in China and the UK.
Also gets HMSI's nod for supply for new model from Karnataka
Another OE manufacturer that had all lighting suppliers keen on orders is Honda Motorcycle & Scooter India (HMSI). The company recently started operations at its Narsapura, Karnataka unit and Lumax has bagged the order for supply of headlamps and rear combination lamps for a new Honda model that will roll out of the Narsapura plant.
At present, Lumax supplies to the Toyota Etios from its Bidadi facility and is now setting up an additional unit here to accommodate the requirements of HMSI. New machines are currently being added and an investment of Rs 20 crore, funded primarily by internal accruals, is underway for the new Honda model.
The plant is expected to be ready by the end of 2013-14, and in a couple of years, will generate a sales turnover of Rs 75 crore up from the current Rs 20 crore, according to Sahni.
Proximity to the customer will be the basis for its growth mantra, even as Lumax considers setting up a full-fledged manufacturing facility in Gujarat, says Deepak Jain, senior executive director. Since major vehicle manufacturers like Ford India, Maruti Suzuki India and Hero MotoCorp are setting up manufacturing operations in the state, being product-ready to service their requirements becomes an imperative.
Lumax already has a presence in most the other auto hubs in India. It also has the necessary infrastructure in terms of land and building at Sanand that it set up for Tata Motors' Nano project but since Nano volumes have not been as expected, the plant is yet to become operational in Gujarat. Hence, expansion in Gujarat for Lumax will depend on the ramp-up plans of other vehicle manufacturers in the state.
Ready for the uptick when it happens
Though most investments have been already made by the Lumax Group, some additional investments are to follow. For instance, a capex of Rs 100 crore has been earmarked for the Group funded through internal accruals for 2013-14. In the last three years, Rs 500-600 crore has been invested that could help Lumax be ready for the upturn in the market. Jain believes one should not let a crisis go to waste and use it as a learning experience, considering the cyclical nature of the auto industry.
Overall, Maruti remains a strong growth driver for Lumax, which is also a supplier to the Honda Amaze which is averaging sales of over 4,500 units per month since its launch in April 2013. From a company perspective, Maruti still enjoys the highest market share from among all Lumax'scustomers and for Tata Motors, Lumax accounts for 40 percent of total lighting equipment purchases.
However, like most other players in the lighting industry, Lumax has not remained unaffected by the ongoing slowdown. Being a net importer as a Group, a weak rupee has hit profitability though group companies continue to increase operating margins. Spiralling interest rates, rising fuel and energy costs along with inflation have made the environment extremely tough. Jain says that Lumax is therefore utilising this time not only to reduce cost of innovations to maintain its cost competitiveness but also spending time on initiatives that include technology development, skill building, strengthening management and capability building to increase the topline.
People power
Building skilled people is another focus area. A couple of months ago, Lumax inducted Sahni as its new CEO, a first from outside the family, to take care of the lighting division. It is now looking to put together a team comprising internal and external talent at both workforce and engineering levels.
Lumax is undertaking in-house product development and nurturing its own design engineers, which will help lower costs while making it self-reliant in technology as well. This is the latest trend being witnessed at the OEM level as well, with engineering moving from Japan to India.
Lumax's exports are currently pegged at $10 million. Some key clients include Audi, JLR and Bentley. It also exports to Nissan and plans to grow the business further. While Jain denies plans for an overseas assembly unit at present, he does not rule out the possibility should an India-based customer invite it as a core supplier to set up base abroad.
A visit to the Bawal plant, spread over 10 acres, reveals a very modern unit with a high level of automation. The unit has a production capacity of 10 million lamps per annum and is dedicated to Maruti Suzuki. The whole facility has a dust-free environment with a single sealed entry and exit, air handling units and air showers to remove dust and is the result of a 20-year learning process. Replete with automatic conveyors for movement of material and finished products besides robots for applying glue for bonding of lamps and for painting, the plant has almost 80 percent unutilised space for further expansion to meet the requirements of new Maruti models.
Overall, Lumax Group with a topline of Rs 2,500 crore is keen to clock 10 percent growth in 2013-14, thanks to new orders. While the industry did not fare well last year, the Group registered double-digit growth of 13 percent in topline. Going forward, it is optimistic that its lighting business, flush with new projects and growth plans, will keep the flag flying high despite the overcrowding in the lighting segment.
RELATED ARTICLES