How a two-wheeler company is treading a different path
Bangalore-based start-up Ather Energy draws a 'pull approach' strategy towards its goal of bringing a 'revolution' in the two-wheeler industry.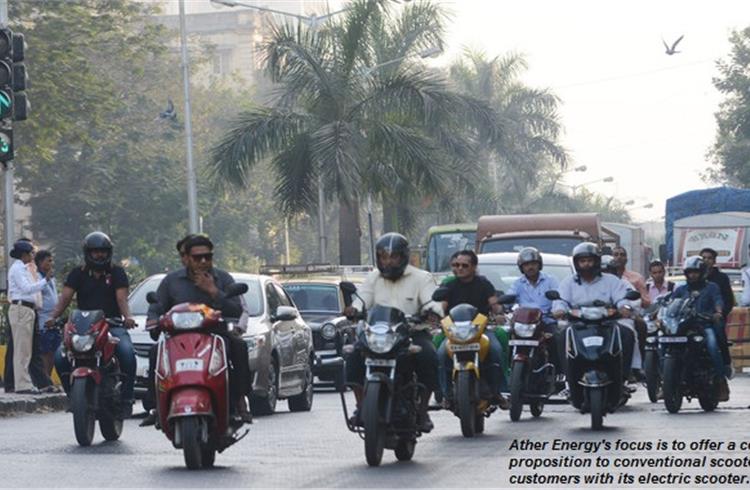 How a two-wheeler company is treading a different path
How a two-wheeler company is treading a different path
How a two-wheeler company is treading a different path
When I was a school-going kid, one of my prized possessions was a Batman badge. I liked it for the message in it which read 'Zero tolerance for crime'. It's interesting to find out that even a co-founder of a company could also be inspired by Batman and his attitude. "It just needs a huge amount of determination to do something of that sort. It is one thing to be a vigilante but another thing to do it the correct way," says Swapnil Jain, co-founder and CTO of Ather Energy, which is months away from the start of production of what it pitches as India's first 'smart electric two-wheeler'.
Twenty-six-year-old Swapnil, an engineering design graduate from IIT Madras, says that the team at Ather Energy is doing what is "really necessary". "If it was only about design, we could have designed lot more things. We have actually thought of a lot of things and left them because there wasn't enough reason to do them. They weren't really causing as huge an impact as we wanted them to," he says.
Swapnil's responsibility is to draw the technology roadmap based on which the company will invest. So far, Ather Energy has spent around Rs 10 crore in R&D and building the team.
Indigenous development
Ather Energy says it is taking a route that is very different from other electric two-wheeler makers in India. "For a lot of them, it is actually Made in China kits that are assembled in India. After speaking to a lot of people, we realised that they did not have the depth of understanding of the technology which goes into an EV," says Swapnil.
Ather Energy is betting on high engineering level and vehicle performance to make its vehicle stand out, or stay miles ahead of the rest. Sixty engineers (of the total team strength of 73) are busy developing and validating various aspects of the Ather Energy smart scooter. Even the first recruit for the marketing team is an engineer.
Also read: Ather Energy's 'smart' electric scooter to debut on February 23 in Bangalore
Tarun Mehta, the other co-founder and Ather Energy's CEO, reveals that except for the motor controller everything's designed from scratch, literally from a fresh sheet. That is a long list which includes the battery pack (excluding cells), battery management system, seven-inch touchscreen dashboard, charger, hardware including the RAM specifications and design. The frame (part-aluminium and part- steel) rims are also designed in-house. The team also includes PCB (printed circuit board) designers who are laying out "hundreds and thousands of tracks", sitting at the four-storeyed office that the start-up moved into two months ago.
One of Tarun's responsibilities is to build the team and that's what he was busy doing over the past year. "In India you will get a lot of software talent. But if you are looking for someone for battery pack design then, you are looking at a very very small set of people. Most probably, nobody. You have to pick people for functional skills rather than actual experience and then get them to understand this topic and then start working on it. We spent a lot of time defining what we wanted to do on software, what the smart vehicle will be all about," says Tarun.
The 'smart' scooter is currently being put through its paces twice a week. Fine-tuning of the platform is expected to be finished within four months and a few months later, the vehicle electronics could be fully ready for production. Since the first ever prototype in June last year and the first "legit functional prototypes" in March this year, the 'smart' scooter has seen a lot of development. From a level of serious reliability issues, it has now reached a stage where it has undergone accelerated testing of 100,000 kilometres.
The Ather Energy 'smart' scooter is set to be the first EV with a lithium ion battery. Its power, according to the maker, would be in order of magnitude more powerful than most other electric two-wheeler models and thrice the speed, "10 times" longer battery life and "eight times" faster charging than others. "Right now we are targeting 1.5 hours for full charge," says Swapnil. A way to an even faster charging has also been "figured out" but that will not be offered in the first product as it has crossed the stage where it could have been configured for extra fast charging.
Sci-fi meets tech meets sporty
That is the design theme of the 'smart' scooter which will sport a short stubby tail, kicked-out rear wheel and a downward leaning stance in the front. The exposed chassis and swingarm will reflect some elements of a sporty motorcycle.
Shantanu Jog, who heads creative design at Ather Energy, says the design journey began with 24 themes! "When it is something like this clean sheet where everything's from scratch, you usually take an approach where you start off with the problem and then you start with key words related to that (to arrive at the final design)," says Shantanu, who shifted from TVS Motor to Ather Energy.
The pre-order sales approach
Since the scooter promises to the "first smart vehicle in the country," and Ather Energy sees itself as a unconventional company in the automobile industry, a new go-to-market strategy has been planned. "We want to build a strong community of evangelists because we are not going after a lot of volumes from day one" says Tarun. Given that Indian consumers are yet to consider electric vehicles as an alternate to vehicles with combustion engines, it is unlikely that customers will queue up at showrooms soon after launch.
"The focus is on building the brand. So, imagine less of dealerships and more of involved centres where people can walk in and we can interact with them and educate them about what this entire new world is going to look like," adds Tarun. That major task will be driven by Ravneet Singh Phokela, former VP of Flipkart and ex-global marketing director of Nokia in London, who has been hired as Ather Energy's chief business officer in September.
In a month or two, a new website will be launched which will interact with the audience to build interest on the project and buy into the idea so much that they give pre-orders. Tarun explains the strategy by saying, "You want to buy a Maruti Alto, you go buy a Maruti Alto. You don't want to know how a Maruti Alto is made. But you may want to know what is happening to Tesla Model S. Or Apple who may say "only people who give us pre-orders will be part of the journey" for something that will revolutionise the industry." This reflects the company's pull approach for garnering sales.
Interesting turns ahead
A little over a year ago, Ather Energy had run out of money. Then, after two rounds of funding (one each by the Bansals of Flipkart and Tiger Global) and with around Rs 70 crore in the kitty, the start-up's funds are good enough to see it through the launch and start of sales. Of that Rs 20-30 crore will be invested in setting up the manufacturing plant in Whitefield, Bangalore. Another round of funding could come up once sales begin.
From a 1,000 square feet place in Chennai where the journey started to a 3,000 square feet bungalow and now a 15,000 square feet office in Bangalore, Ather Energy is growing at a fast pace. But the market journey is yet to begin and the team, and hopefully the market, is in for some interesting times.
Batman fights to rid society of crime. No crime to fight in the two-wheeler industry, but the young team at Ather Energy is working hard to offer the society of two-wheeler users a fresh and powerful option.
RELATED ARTICLES