Analysis: Why Ford failed in India
One of the first multinationals to enter the Indian car market, Ford made some serious errors of judgement which led to its exit.
Ford's announcement to stop making cars in India makes you look back at its chequered history to see why it got the Indian market so wrong. Ironically, the American carmaker did everything by the book. It set up full scale manufacturing operations in India which included two vehicle production plants (440,000 units per annum capacity), a state-of-the-art engine factory, and also developed a deep supplier base to give its models a high level of local content. And to make its investments pay off (over US $ 2 billion over 25 years), Ford focussed on the mass, sub-4-metre segment for economies of scale and, for more volumes, it even made India an important export base.
Ford products were well-engineered, set a benchmark for driving dynamics, affordable to buy and latterly became cheap to run as well. And, unlike so many multinationals which gave up on diesel, Ford in fact invested in BS6 diesel tech in the belief that India was still a substantially large diesel car market.
So, then why did Ford fail? It clearly wasn't for a lack of commitment. In fact, the American carmaker followed the same business template in India as some of its hugely successful rivals like Hyundai but after persevering for 27 unprofitable years, it didn't manage to crack the Indian code. That's because this code can't be found in any rule book, strategy document or the PowerPoint presentations consultants charge millions for.
To win in the highly nuanced Indian market, you have to write your own rules, stay street smart, keep your ear to the ground and be fast and agile to swing with customers preferences in a rapidly changing market. It wasn't just because of wrong strategy but some serious errors of judgement or simply not 'getting India' that finally got Ford.
Here are five reasons why Ford never really recovered.
1. Underestimating the Indian customer and his wallet
The gold rush of the mid-1990s after the auto industry was de-licensed saw multinationals tripping over themselves to get a foothold in what was then seen as the last untapped market of the world. Ford was one of the first MNCs to come to India but completely misread the Indian consumer. The thinking was that after decades of being starved of the latest products, Indians would blindly snap up anything a global brand offered.
The failure of the Ford Escort – the company's first model – was a wake-up call. The Escort came with an old 1.3 petrol engine, no power steering (though the diesel had it) and no power windows for the rear passenger. Indian consumers rejected it.
The reality of the Indian market bit hard and Ford realised that it couldn't simply parachute one its global products and had to develop something tailor-made for the Indian market. Taking these lessons to the drawing board, Ford's first made-in-India car – the Ikon – was born and became an instant hit. The Ikon, the first model to come out of Ford's Maraimalainagar factory in Chennai, had a decent level of local content which allowed it to be smartly priced. It was practical, very spacious for its class and drove like an absolute dream. No surprise then that in the first full year of its sales it raced ahead as the best-selling car in the midsize segment,
But, after a few years the high cost of ownership began to bite. Case in point, former Autocar Professional staffer Darius Lam was slapped with a Rs. 70,000 bill to repair the air-conditioner of his five-year-old Ikon, whose residual value was no more than Rs 150,000! Such instances of repair shock were common and gave Ford a reputation for high ownership costs, which impacted sales which in turn impacted resale value leading to a serious damage to the brand. Fords had earned a reputation for being expensive to maintain.
Again, Ford didn't give up but took these hard-hitting learnings to heart. With the Figo, Ford had figured out what the Indian customers wanted. Beyond an affordable, cheap to run and practical car (which the Figo was) but crucially it had to be cheap to service. Customers just hated wallet-busting workshop bills. The strategy to develop more 'child parts' and further localise the Figo paid off.
The Figo, which won the 2011 Autocar Car of the Year, was a turning point for Ford which established its entry-level hatch as a more spacious and solid alternative to the other smaller and lighter econoboxes. At its peak, the Figo sold 78,116 units in FY2011. But the stigma of being an expensive car to own stuck to the brand like a bad smell. It took Ford more than a decade to address the issue cost of ownership by offering spares and service cheaper than rivals and spending crores of marketing money to shake off the perception. By then it was too late.
2. Overinvesting in an overestimated market
Chuffed with the success of the Figo which sold a peak 78,116 units in FY2011and a market that was forecast to grow to 7 million cars, Ford, in 2011, approved a plan to invest $1 billion (Rs 7,401 crore) in a second, state-of-the-art factory in Sanand, Gujarat with a capacity of 240,000 units a year. The runaway success of the EcoSport launched in 2013 further fuelled confidence in the Indian market. However, after the inauguration of the Sanand factory on March 26, 2015, by then global CEO Mark Fields, the growth trajectory of the Indian market had tapered off. Exports too had not taken off the way Ford had intended which meant capacity utilisation was far from break-even.
March 26, 2015: Ford CEO Mark Fields and then chief minister of Gujarat, Anandiben Patel, at the opening of the Sanand plant.
Ford India's Sanand plant has a manufacturing capacity of 240,000 vehicles and 610,000 engines per annum.
Misjudging the growth of the Indian market and, more importantly, misjudging Ford's own growth potential turned this plant into a millstone around Ford's neck. Running well below capacity, Sanand made Ford haemorrhage badly and the company never recovered from the huge losses incurred. In fact, if Ford hadn't invested in Sanand, it's possible that it wouldn't have had to shut shop in India.
3. Chasing Maruti Suzuki instead of the SUV market
With the opening of the Sanand plant, Ford started chasing volumes and drove deeper into mass-market segments with sub-4-metre products like the Figo and Aspire. As a consequence, Ford went head-on against Maruti Suzuki and Hyundai with compact sedan and hatchback offerings which was a big mistake. Whilst Ford did an admirable job of lowering the running costs of all its models to compete at the budget end, it ended up with a bloody nose and learnt the hard way that the bottom of the pyramid is locked out by the leaders.
For 35 years, every car maker has in some way or form tried to take on Maruti and has failed because they haven't got the formula right. And that formula is a blend of cars that are cheap, highly fuel-efficient and utterly reliable sold through a well-oiled distribution network that reaches every corner of the country.
By focussing on its 'B-cars' (Aspire and Figo), Ford missed jumping on the SUV bandwagon, the fastest growing and most profitable wedge of the market. The Ecosport's success should been a pointer but Ford ignored the gaping hole between the Ecosport and the Endeavour which is at it turned out, is the most lucrative segment in the market, which the Koreans have effectively grabbed.
In 2015, Ford seriously looked at launching the Kuga midsize SUV as a Creta fighter but with little localisation, costs could not be brought down to a competitive level and the plan was scrapped. Ford re-looked at the midsize SUV segment and had reached an advanced stage of development with the B772, a Creta fighter based on an all-new platform to be shared with Mahindra. But again, this project died with the alliance falling apart.
4. Spending where it doesn't matter and not spending where it does
It's not only Ford but just about every other western automaker that can't quite get the cost structure right for India which makes them uncompetitive in the market. Knowing where to spend and where not to, is a deft balancing act which only a company like Maruti Suzuki has mastered.
With Ford, it was a classic case of spending where it didn't benefit the customer and cutting corners where it does. Case in point is the Sanand plant which was built like a 'Taj Mahal' to costly global specifications, some of them of no relevance to India. Why waste money on building a structure to take a gale force rating of 9 just because Ford's plants in America (hit four times more by tornados than any other country in the world) are built that way? Why spend 6-7 times more on forklifts (a plant needs lots of them) than what Mahindra or Tata would just because they meet Ford's global standards? It's this sort of mindset, of blindly following an expensive global standard, howsoever irrelevant it maybe, that throws costs out of whack.
Employee costs too are ridiculously high (rumoured to be Rs 10 lakh per annum on average for every worker), which again hammers the bottom line. No surprise then that the break-even volume to justify the money spent on building the Sanandplant worked out to 100,000 units a year, a figure Ford never came close to.
One of the reasons it never came close to achieving these volumes is because Ford didn't spend money where it should have which is on its cars. Again, the company didn't stint on safety and the build quality of its cars, which didn't matter so much to the customer but what did was the penny-pinching in terms of materials, equipment and features. Whilst the Korean brands at one level pampered customers with the latest gizmos, Ford started deleting some features (like its fabulous Sync 3 infotainment unit) from its cars just to save costs and this didn't go down well with customers.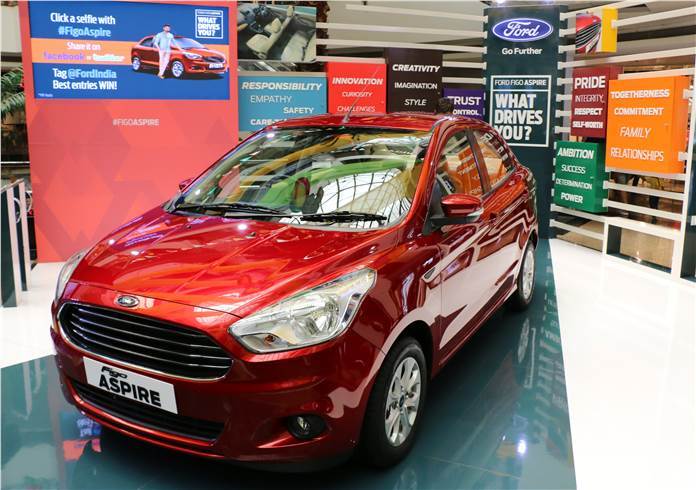 Also, Ford didn't put enough marketing money behind its capable products, especially when they were launched. The launch of the Aspire, a key mass-market model back in 2015, was drowned out by the marketing blitz generated by the Maruti S-Cross and Hyundai Creta launched around the same time. There was just no buzz around the Aspire and Figo like there was for the blockbuster Ecosport.
5. Too good for its own good
Ford's reputation as an employer is possibly second to none in the auto industry. The Ford family-owned global automaker has a culture of strong family values and ethics. However, this 'Mr. Nice Guy' culture, whilst great for employees and their partners, blunted the competitive edge needed to survive in a cut-throat marketplace like India.
Ford's easy-going style and lack of aggression was obvious right in the beginning when the company was building the Maraimalainagar factory. Around the same time, Hyundai was building its first factory not far away in Sriperumbudur but finished it a whole year earlier than Ford. The story goes that when Ford executives hit the golf course on weekends, the Koreans worked 24/7 to complete the factory in record time. This typified Ford's rather laidback approach which allowed aggressive rivals to race ahead.
Ford's tolerance of non-performing dealers has also been its undoing. Rather than cracking the whip on erring dealers, some of whom are believed to have diverted profits into the real estate business instead of ploughing them back into the dealerships, they weren't dealt with strictly enough as they were 'part of the family'. Now it remains to be seen what settlement Ford will offer defunct dealers after winding up operations.
RELATED ARTICLES