TVS iQube sells over 10,000 units four months in a row, 15,522 in February
TVS Motor Co's electric scooter, which is seeing demand accelerate, records cumulative sales of 93,186 units in 38 months since launch in January 2020; likely to cross the 100,000 milestone in FY2023.
From launch till February 2023, the TVS iQube has chalked up sales of 93,186 units, including 81,290 units in the first 11 months of FY2023.
The iQube won the 'Green Two-Wheeler of the Year' title at Autocar Awards 2023, ahead of a number of rivals.
Following the launch of the refreshed iQube in three variants, sales have accelerated.
TVS has ramped up iQube production to meet demand. Between April 2022 to January 2023, 78,235 iQubes have rolled out of the plant.
TVS Motor Co's iQube is on a roll. At 15,522 units in February 2023, the electric scooter has recorded its best-ever monthly wholesales since it was launched in January 2020. What's more, the iQube has surpassed the 10,000 units sales mark for the fourth consecutive month (see data table below), indicative of the sustained as well as growing demand for the product in the domestic market.
There's more on the number-crunching front – total cumulative sales in the 38 months since January 2020 through till end-February 2023 add up to 93,186 units. Given the momentum of sales, this also means the iQube will ride past the 100,000-sales milestone (since launch) in the first fortnight of March 2023.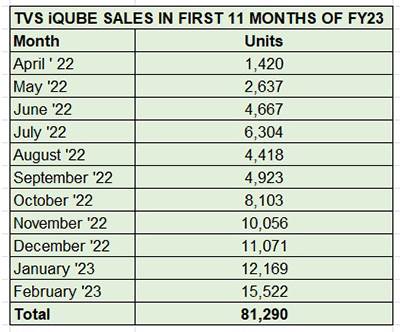 Given the rapid of pace of demand for electric scooters, which others in the industry are also benefitting from, the iQube's April 2022-February 2023 sales of 81,290 sales are up 805% on a very low year-ago base of 8,974 units. The speedy rate of sales growth can be ascertained from the fact that sales have nearly accelerated quarter on quarter (QoQ): from April-June 2022's 8,724 units to 15,645 units (up 79% QoQ) in July-September 2022 and to 29,230 units (up 87% QoQ) in October-December 2022. The combined January-February 2023 tally is 27,691 units.
If the near-doubling quarter-on-quarter mantra works for Q4 FY2023, then January-March 2023 wholesales should be in the region of 58,500 units. If this happens, this would also mean that iQube sales would cross the 100,000-unit milestone in FY2023. At present it is 18,710 units shy of achieving the big number for the current fiscal year.
This is just what the company has targeted, as outlined by K N Radhakrishnan, Director and CEO, TVS Motor Co. Speaking in an investor call on January 27, 2023, he had said: "We are confident of crossing more than 100,000 EV sales in the domestic market during this financial year."
Refreshed iQube delivers sales charge
Along with growing two-wheeler customer preference for EVs in the face of high petrol costs – currently Rs 106.29 a litre in Mumbai – the acceleration in demand for the TVS iQube seems to have come after the rollout of the refreshed iQube in May 2022.
Sales have accelerated after the refreshed model was launched in May 2022. TVS claims top-spec iQube ST delivers a range of 140km.

Available in three variants (iQube, iQube S and iQube ST), the zero-emission TVS is priced between Rs 98,564 and Rs 108,690 (on-road Delhi) including the FAME and other state subsidies, for the entry-level iQube and iQube S trims, respectively. TVS Motor has also introduced a top-spec iQube ST variant with a range of 140km on a single charge. This is nearly twice the range of 75km on the earlier model.
The refreshed iQube retains its all-LED lights and 12-inch wheels but gets a host of connectivity features, driven by the various TFT instrument clusters on offer. While the entry-level iQube gets a 5-inch unit that supports turn-by-turn navigation, the iQube S comes equipped with a larger 7-inch TFT cluster that offers music controls and theme personalisation as well. The top-end ST variant features a 7-inch touchscreen instrument cluster, which is also ready for OTA updates, and also offers voice assistance.
Recognising the e-scooter's growth potential, TVS has also expanded the retail network for the iQube which is currently available in 100 cities and across 200 touchpoints.

The iQube's strong performance is reflecting in TVS' much-improved ranking in the two-wheeler EV OEM stakes. On the retail sales front, and as per Vahan data, in January 2023, TVS jumped four ranks to No. 2 from No. 6 position in CY2022 to No. 2 in January 2023, just behind leader Ola Electric. In February, with retails of 12,582 units, it maintains that position behind Ola, which tops with 17,641 units.
Ample recognition of the TVS iQube electrifying sales came recently – the eco-friendly scooter won the 'Green Two-Wheeler of the Year' title at the Autocar Awards 2023 last month.
ALSO READ:
Indian EV industry opens CY2023 with retail sales of over 100,000 units
Electric two-wheeler sales in India soar 305% in CY2022 to race past 600,000 units
RELATED ARTICLES