Tepid car sales in June as buyers delay purchase decisions ahead of GST
With buyers preferring to adopt a wait-and-watch policy in June, ahead of GST kicking in on July 1 and giving considerable taxation benefits ranging from 3-12 percent, most OEMs have reported lacklustre sales numbers.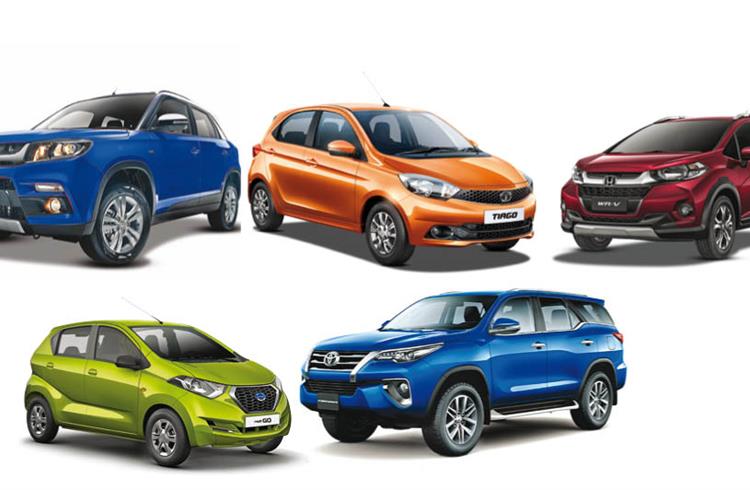 Vehicle buyers the world over always scout for the best deal and haggle for the best discounts. Indian consumers are no different and having known, well in advance, that the prices of most vehicles – particularly the much-in-demand SUV category – would see a dip after the Goods & Services tax kicks in on July 1, they preferred to adopt a wait-and-watch policy in June 2017. Proof of that customer stance is in the lacklustre sales numbers released by most automakers, beginning with the bellwether of the Indian automobile industry.
With GST directly impacting the ex-showroom prices of cars, customers are bound to benefit further in the final on-road car prices, with subsequent prices of motor insurance premium and road registration tax also coming down, which are both calculated on the ex-showroom value of a vehicle.
Maruti Suzuki India sold 93,263 units in the domestic market in June 2017, up barely 1.2 percent year on year. June 2017 sales, which dipped below the 100,000-unit mark, are the lowest yet for Maruti this year which has sold 133,768 units in January (+25.7%), 120,599 units in February (+11.5%), 127,999 units in March (+7.7%), 144,081 in April (+23.1%) and 130,248 units in May (15.1%).
Now, let's look at how the company's sales moved, model-wise, in June 2017. With overall passenger car sales at 69,970 units in June, down 3.6 percent YoY (June 2016: 72,551), Maruti's utility vehicle sales of 13,879 units (+43%) compared to year-ago sales of 9,708 units, helped prevent the carmaker's overall passenger vehicle numbers from entering negative territory.
Demand for the entry level, bread-and-butter duo of the Alto and Wagon R dipped 7.9 percent at 25,524 units (June 2016: 27,712).
The company's six compact cars comprising the Swift, Ritz, Celerio, Ignis, Baleno and Dzire sold 40,496 units, up 1.3 percent (June 2016: 39,971). The Ciaz premium sedan, which is now sold only from the premium Nexa channel, sold a total of 3,950 units, up 41 percent YoY (June 2016: 2,800).
The two vans – Omni and Eeco – sold 9,208 units, down 6.7 percent (June 2016: 9,874).
Sales of Maruti UVs (Gypsy, Ertiga, Vitara Brezza, S-Cross) rose 43 percent to 13,879 units (June 2016: 9,708). However, UV sales this June are the lowest for the carmaker this year, indicating that a good number of consumers have waited for GST to kick in and deliver sizeable price benefits, considering that UVs and larger cars are the biggest beneficiaries of the biggest tax reform ever attempted in the country.
But going forward, the company can expect to harvest rich dividends given that other than the hybrid vehicle category, all other segments benefit from reduced taxation. Maruti Suzuki, like other OEMs, reduced vehicle prices following implementation of GST as a result of which the ex-showroom prices of its models have been reduced by up to 3 percent.

However, pricing of the Ciaz SHVS and Ertiga mild hybrids has increased. As is known, hybrids have been heavily taxed in the GST regime and the SHVS-equipped Ciaz and Ertiga diesels get price hikes of Rs 188,000 and Rs 169,000, respectively, due to the increase in duty.
Hyundai Motor India, like Maruti Suzuki India, has felt the pressure of slow sales in June. The Korean carmaker has reported domestic market sales of 37,562 units, down 5.6 percent year on year (June 2016: 39,807). Commenting on the June sales, Rakesh Srivastava, director - Sales and Marketing, said, "In a challenging market fuelled with speculations on the GST tax structure; Hyundai registered highest ever half year (H1: January-June 2017) domestic sales at 253,428 units with a growth of 4.1 percent on account of strong acceptance of the Grand i10, Elite i20 and Creta. We expect a positive demand pull after the successful implementation of GST in the coming months as industry will witness heightened level of customers' interest in a seamless unified single market."
UV major Mahindra & Mahindra registered sales of 16,170 units in June 2017, a YoY decline of 5.27 percent (June 2016: 17,070). Commenting on the numbers, Rajan Wadhera, president, Automotive Sector, M&M, said, "Our focus has been to minimise channel stocks to reduce the transition losses, on account of GST implementation. We are closely observing GST and strongly believe that once we tide over the initial uncertainties, GST is set to usher in a new era for the economy in general and the automotive industry in particular. Going forward, we expect that our wide product portfolio will drive our growth".
Targeting a strong comeback this fiscal, in a recent interview to Autocar Professional, managing director, Dr Pawan Goenka spoke about the company's high hopes from the upcoming U321 MPV, which will be launched later in CY2017 and also being determined about a turnaround in its market hold in the segment. "We have one major product launch in 2017 and that is the U321. And, we expect it to become a high-volume driver and add to our numbers that we are doing today. I am pretty confident, this year we will see a turnaround, whether it is 2%, 5%, or 7%, but we will see a turnaround for sure," he said.
Tata Motors, which has seen an uptick in its PV sales in recent months as a result of demand for the Tiago and Hexa, sold 11,176 units in June, down 10 percent YoY (June 2016: 12,482). Overall performance, however, for Q1, ended June 2017, stands an 11 percent growth as compared to Q1 of FY2017.
Toyota Kirloskar Motor's sales of 1,973 units in the domestic market in June are down a sizeable 85 percent year on year (June 2016: 13,567). Not surprising, since customers were aware that the popular Innova Crysta MPV and Fortuner SUV would both see their price-tags reduced substantially with GST, what with taxation on UVs and larger cars dropping by 12 percent from 55 percent to 43 percent.
Commenting on the monthly sales, N Raja, director and senior vice-president, Sales & Marketing, Toyota Kirloskar Motor said, "The uncertainty surrounding the GST implementation with regard to passenger vehicles has impacted retails as customers postponed their plan of purchasing the vehicle to after the GST rollout. Thus, Toyota Kirloskar Motor took a conscious decision to lower the volumes of vehicles sold to dealers last month. This strategy has been undertaken to ensure that there is minimum burden on our dealer partners and they can focus on clearing the existing stocks at the dealerships."
RELATED ARTICLES