Tata Nexon tops SUV sales in FY2023, Maruti Eeco bestselling MPV 
India's booming utility vehicle market has 30 marques with 100 models and a mind-boggling 726 variants.
India's passenger vehicle segment hit record volumes of 38.9 lakh units in financial year 2023 (FY2023), up 27 percent year on year. Much of the credit for this should go to the booming utility vehicle (UV) sub-segment that comprises of SUVs and MPVs. These two sub-segments alone sold over 20 lakh units (20,03,718 units), registering a 35 percent growth over last year and accounted for a 51.50 percent share of the passenger vehicle market. Every second car sold in India now is either a UV, SUV or an MPV. Little wonder all carmakers worth their wheel in India are expanding their SUV portfolios with a vengeance.
Achieving success in India's booming utility vehicle market, which has over 100 models from all 30 marques, and a mind-boggling 726 variants, gives companies bragging rights. And that's just what these top 10 models did in FY2023, as per data obtained from JATO Dynamics India.
These top 10 UVs stood out in terms of sales volumes, each selling in excess of 1,00,000 units. Together they accounted for 12,52,680 units or 62.51 percent of total segment sales. They comprise five compact SUVs (Tata Nexon, Maruti Brezza, Tata Punch, Hyundai Venue and Kia Sonet), three midsize SUVs (Hyundai Creta, Kia Seltos and Mahindra Scorpio), one MPV (Maruti Ertiga) and a van (Maruti Eeco).
Tata Nexon remains bestselling SUV, Creta is second
The compact Tata Nexon retains its title as India's bestselling UV with 1,72,138 units, and is ahead of the midsized Hyundai Creta – which is second on the charts – by 21,766 units. What is also noteworthy is its rate of growth – 39 percent over FY2022's 1,24,130 units. Averaging monthly sales of 14,344 units, the Nexon's best month was November 2022: 15,081 units. Sold in as many as 69 variants – 47 petrol, 10 diesel and 12 electric – this is one SUV where buyers are really spoilt for choice.
What the Nexon is to Tata Motors, the Creta midsize SUV is to Hyundai. The Creta sold 1,50,372 units in FY2023, up 27 percent year-on-year (YoY) (FY2022: 1,18,092), and has a sizeable lead over its rivals. The Korean carmaker's bestselling product, now in its second-generation avatar, contributed 27 percent to Hyundai's total sales of 5,67,546 units last fiscal.
Maruti Suzuki Brezza: Third-ranked Maruti Brezza, with 1,45,665 units, is India's second bestselling compact SUV. The Brezza clocked its best-ever monthly sales across all UVs – 16,227 units in March 2023. This enabled the company to pip the hard-charging Tata Punch and maintain its position as the top manufacturer for the third year in a row.
Tata Punch:The Tata Punch's sales continue to improve, with it selling 1,33,819 units, which is a 154 percent improvement over last year's 52,716 units. This has helped it jumped five ranks from ninth to fourth. Launched in October 2021, the Punch is the youngest member of Tata's 'New Forever' range, and is offered with both MT and AMT transmission options. The feature-laden SUV comes with a 7-inch touchscreen, digital instrument cluster, auto AC, automatic headlights, connected car tech and cruise control. The Punch is also set to get a CNG variant this year.
Maruti Eeco: The utilitarian Maruti Eeco van, available in petrol and CNG versions, and in five- and seven-seat configurations, also registered six-figure sales – 1,31,191 units, which is a 21 percent growth. This is indicative of the fact that the Eeco remains one of the most affordable ways to transport five or more people and their luggage.
Maruti Ertiga: The Maruti Ertiga, India's bestselling MPV, with 1,27,679 units in FY2023, is at sixth place, but drops three ranks. Demand, nonetheless, remains strong for the popular MPV, which is offered with both petrol as well as CNG fuel options. Of Maruti Suzuki's pending order backlog of 3,80,000 units, including 1,21,000 CNG variants at end-FY2023, the Ertiga CNG accounts for the highest – nearly 68,000 units or 56 percent of pending CNG model orders.
Venue, Seltos, Sonet, Scorpio: the rest of the best: Coming up at seventh is the Venue. Hyundai's first-ever compact SUV that registered sales of 1,20,653 units, up 15 percent. The Hyundai Venue drove past the 4,00,000-unit milestone in the domestic market 47 months after its launch. Priced from Rs 8.71 lakh for the base model through to Rs 15.40 lakh (on-road Delhi), the Venue is available in 13 variants across three engine options – an 83hp 1.2-litre petrol, a 115hp 1.5-litre diesel and a 120hp 1.0-litre turbo-petrol. Gearbox options include a 5-speed manual, 6-speed iMT and 7-speed DCT for the petrols and a 6-speed manual for the diesel.
The battle for eighth and ninth ranks is between two Kia siblings, the Seltos midsize SUV and the Sonet compact SUV. The Seltos, with 1,00,132 units, was just 6,036 units ahead of the Sonet, which recorded sales of 94,096 units, albeit with a much better rate of growth – 27 percent compared to the Seltos' 4 percent. Proof of this is the fact that in the January-March 2023 period, the Sonet sold more units (27,774) than the Seltos (25,036).
Wrapping up the top 10 bestselling UVs of FY2023 is the Mahindra Scorpio with 76,935 units, recording a growth of 99 percent (FY2022: 38,696). Brand Scorpio got a fresh charge with the launch of the Scorpio N in August 2022, which itself received another boost two months later when it aced the Global NCAP crash test with a five-star rating.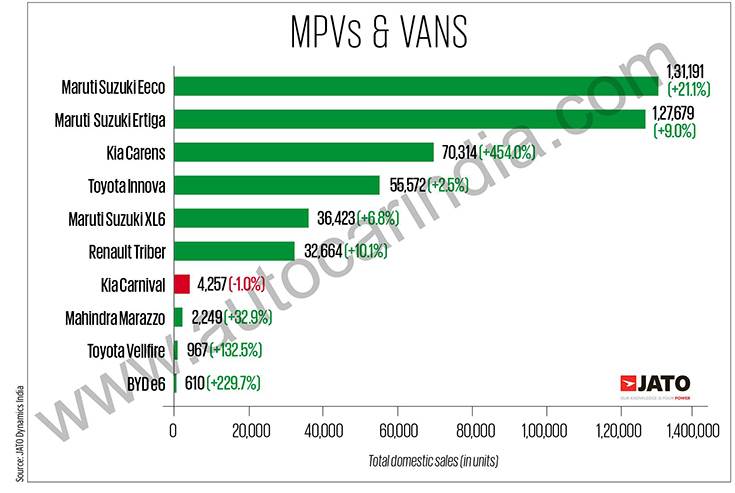 Maruti Suzuki leads the charts in MPVs as well
A multi-purpose vehicle (MPV) is meant to be an ace of space along with key attributes of comfort, good ride and handling, and safety. The three bestselling MPVs in FY2023 – the Maruti Ertiga (1,27,679 units), Kia Carens (70,314 units) and the Innova Crysta/Hycross (55,572 units) – together accounted for 2,53,565 units or 12.65 percent of total UV sales in FY2023. The big growth story though has been the Carens, which, in a short span of time, has carved a niche for itself.
The Eeco van sold 1,31,191 units, thereby proving that demand continues for the utilitarian transporter. It also helps that the Eeco is the sole product in its category.
UV sales outlook for FY2024
FY2024, which will see a good number of UVs introduced in the market, across sub-segments, will continue to draw buyers. The SUV buyer in India, who is spoilt for choice in terms of models, variants, fuel type (petrol, CNG, electric, diesel), will continue to benefit as manufacturers go out of their way to cater to demand. It's also the reason why the bulk of the nearly 8,00,000-odd pending bookings belong to the SUV and MPV segments, and a fair number of them are present in this top 10 bestsellers list.
Copyright (c) Autocar India. All rights reserved.
ALSO READ:
Mercedes-Benz India retains top luxury carmaker title in FY2023
India's bestselling hatchbacks in FY2023: Maruti Suzuki maintains firm grip
India's Top 10 bestselling cars in FY2023, Maruti Wagon R remains No. 1
RELATED ARTICLES