Mercedes-Benz India retains top luxury carmaker title in FY2023
The E-Class LWB remains Mercedes-Benz's top seller, but the BMW 3 Series is the bestselling car in the segment.
If there was another defining factor for automobile sales in FY2023, it was the burgeoning customer demand for luxury and super-luxury cars and SUVs. This niche segment of India Auto Inc took a further leap forward in FY2023, despite a slowing economy and some macro-economic challenges. As per JATO Dynamics India's sales data of seven luxury carmakers, FY2023 sales grew to 36,508 units, up 29 percent from 28,329 units in FY2022, as buyers made a beeline for the latest and the best on offer.
Market leader Mercedes-Benz India continues to maintain its rapid pace of growth, selling 15,790 units, up 31 percent (FY2022: 12,056). The company's bestseller continues to be the LWB E-Class (3,159 units, up 13 percent). Huge demand for the C-Class (2,405 units) saw it record 335 percent growth over last year even as the GLS (2,214), GLE (2,170) and GLA (1,747) saw robust growth. The GLS was the bestselling luxury SUV in India last fiscal.
BMW India retains its second position with 11,175 units, up 29 percent (FY2022: 8,690). The bestselling BMW – and luxury model in FY2023 – was the 3 Series sedan with 3,438 units, up 69 percent. It is followed by the X1 (2,339), 2 Series (1,127), X5 (1,079), 5 Series (1,013), X7 (666), 6 Series (524) and the X3 (421).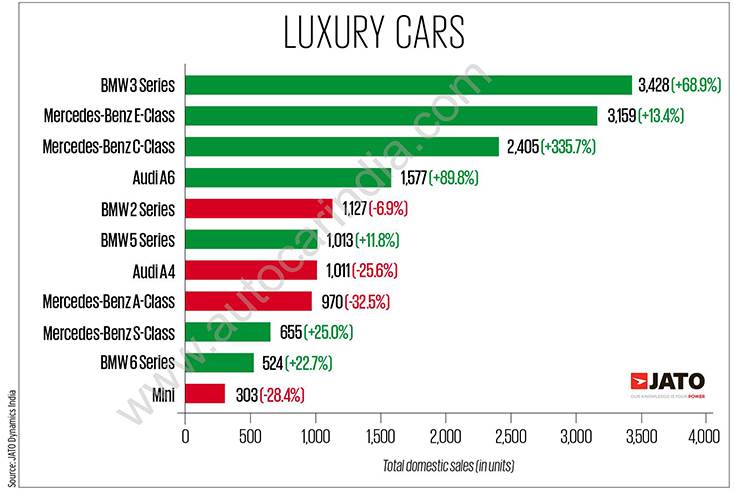 Audi India, with 5,120 units, saw sales rise 46 percent (FY2022: 3,511). The A6 sedan with 1,577 units was its top seller, followed by the Q5 (1,024), A4 (1,011), Q7 (604) and Q3 (489).
In fourth place is Volvo Auto India with 1,879 units and 30 percent growth, going past Land Rover and improving on its fifth rank in FY2022. The XC60 (769 units) and XC40 (600 units) were the models which saw most customer demand, while the XC90 went home to 334 buyers.
Land Rover, which dropped one rank to fifth place, sold 1,678 units and witnessed a decline of 5 percent (FY2023: 1,766 units). The Land Rover Defender (523), Velar (383), Discovery Sport (266) and Range Rover Sport (217) were the main sellers for the brand. Meanwhile, Jaguar, with sales of 222 units, registered 12 percent growth, with the F-Pace accounting for 177 units and 80 percent of total sales. BMW-owned Mini saw sales decline – down 2.9 percent to 644 units comprising 341 units of the Countryman and 303 units of the Mini. As for luxury EVs, a total of 501 units were sold in FY2023, accounting for 1.37 percent of the total sales. The top three bestselling EVs were the Mercedes EQC (235), Audi e-tron (124) and BMW iX (89).
Copyright (c) Autocar India. All rights reserved.
ALSO READ:
India's bestselling hatchbacks in FY2023: Maruti Suzuki maintains firm grip
India's Top 10 bestselling cars in FY2023, Maruti Wagon R remains No. 1
Maruti Dzire is India's bestselling sedan in FY2023
Tata Nexon tops SUV sales in FY2023, Maruti Eeco bestselling MPV
RELATED ARTICLES