Tata Nexon is India's best-selling UV in FY2022
With sales of 124,130 units and robust 95 percent growth, Tata Motors' game-changing high-on-style, big-on-content compact SUV takes the best-selling utility vehicle crown from the Hyundai Creta.
If there is one vehicle segment in India which continues to fire on all cylinders, then it is utility vehicles (UVs). This segment has not only saved the blushes for the overall passenger vehicle segment in FY2022 but has gone and registered its best-ever sales in a fiscal.
As per data from apex industry body SIAM, a total of 1,489,178 UVs were sold between April 2021 and March 2022 – just 10,822 units shy of the 1.5-million-units mark. This is a new record for the segment, which is also the fastest growing in the overall PV market, which comprises cars, UVs and vans. The numbers would have been considerably higher if it weren't for the sales speedbreaker in the form of delayed shipments of semiconductors and also chip-heavy electronic componentry.
Considering a little over three million PVs were sold in FY2022 – 3,069,499 units – UV sales, which recorded handsome 40.38% YoY growth (FY2021: 1,060,750), contributed 48.51% to total PV sales, which in turn means nearly every second car sold in India is a utility vehicle.
Number-crunching reveals a new industry statistic – 4,080 UVs were sold on each of the 365 days of FY2022. This is a 40% YoY improvement over the 2,906 UVs sold each day in FY2021.
That's not the only newsy bit about the Indian UV sector's remarkable performance. In FY2022, it has also driven past the million-units sales landmark for the second year on the trot, clocking the milestone in just 10 months. Between April 2021 and January 2022, the segment clocked total UV sales of 1,152,968 units.
As in every segment, there are the Top 10 models – the movers and shakers – that make the difference. In FY2022, they were led by the game-changing Tata Nexon compact SUV, which has not only wrested the UV crown from the midsized Hyundai Creta but shows all signs of accelerating its score in FY2023. Two models each from Tata Motors, Hyundai Motor India, Maruti Suzuki, Kia India and one each from Toyota Kirloskar Motor and Mahindra & Mahindra were the newsmakers of the last fiscal.
Here's looking at the them in some detail, as per model-wise sales data for FY2022 released by market intelligence provider JATO Dynamics India.
No. 1 – Tata Nexon: 124,130 units (95% YoY)
There's a new UV champion in town and it's the Tata Nexon, the game-changing SUV that has made the competition stand up and take notice. Sold in as many as 45 variants – 22 petrol, 18 diesel and five electric, with automatic and manual transmission options – that targets a wide swathe of buyers, this compact SUV has unseated the longstanding UV leader Hyundai Creta.
Sales of 124,130 units are a robust 95% year-on-year increase on FY2021's 63,757 units and contributed 33% to Tata Motors' record FY2022 overall sales of 373,138 units, which also catapults it into India's No. 3 carmaker, after Maruti Suzuki and Hyundai.

The high-on-style, big-on-content Nexon has recently received a facelift – the interiors are better, space and comfort levels remain good and the SUV impresses with its ride and handling. While the 1.5-litre diesel engine is better than the 1.2-litre turbo-petrol unit, the Nexon EV has carved a niche of its own and is India's best-selling EV. And, remember it was the first Indian car to get a full 5-star Global NCAP crash test rating in December 2018.
Tata Motors is putting its shoulder to the wheel of the Nexon's production to cater to surging demand. On February 28, the company rolled out its 300,000th Nexon from the Ranjangaon plant in Pune. After the 200,000th rollout in June 2021, the next 100,000 units came up in a scant eight months.
With demand for compact SUVs showing no signs of slowing down, FY2023 should see the Nexon further making inroads into India's ultra-competitive UV market. What has also helped Tata Motors pip the Hyundai Creta with the Nexon is its better supply chain management throughout the last fiscal, essentially being able to deliver cars faster compared to Hyundai which is seeing waiting periods for the Creta drive up to as high as eight months in some cities, depending upon variant.
No. 2 – Hyundai Creta: 118,092 units (-1.62% YoY)
The Hyundai Creta, India's best-selling utility vehicle in FY2021 with 120,035 units, has lost its UV leadership to the Tata Nexon by a small margin – just 6,038 units. In FY2022, the Creta went home to 118,092 buyers, down by 1.62% percent YoY, but maintained its strong contribution to Hyundai's overall PV numbers – 24.52% -- of 481,500 units.
The Korean carmaker's strategy to remain bullish on diesel, compared to some other carmakers, is paying off. The Creta's pack of powertrains comprises 1.5-litre petrol, 1.5-litre diesel and a 1.4-litre turbocharged petrol engine options. Clearly, the new BS VI-compliant diesel motor is keeping pace with the other two when it comes to market pull.
The Creta also gets an automatic transmission option with all three engines, including the recently-introduced iMT or intelligent manual transmission – a clutch-less manual gearbox – solely with the 1.5-litre petrol engine. Moreover, Creta's modern features like a panoramic sunroof, a 10.25-inch touchscreen paired with a Bose audio system are a huge draw for buyers.
However, the SUV recently received a three-star rating in the Global NCAP crash test, with the worrisome fine-print being the unstable body structure.
No. 3 – Maruti Ertiga: 117,150 units (32% YoY)
Driving just 942 units behind the Creta is Maruti Suzuki's popular people-mover – the Ertiga – available with petrol and CNG engine options and seven variants.
At 117,150 units, the Ertiga has posted strong 32% YoY growth and contributed 8% to the company's overall PV sales of 1.33 million sales. Its importance to Maruti's relatively small UV stable becomes apparent – the Ertiga contributed 40% to the carmaker's total UV sales of 290,701 units (up 27%: FY2021: 229,101).
Maruti Suzuki is seeing growing demand for its CNG models, particularly in view of sky-high petrol prices. Meanwhile, even though the price of CNG is also seeing an uptick, the sizeable price differential between the two fuels is driving families keen on a people-mover to the Ertiga.
Bigger and better than the previous model, the second-generation Ertiga, which has just received a mid-life makeover, offers acceptable seating for seven occupants. Easy to drive, it only has a 1.5-litre mild-hybrid petrol engine on offer albeit a dull one when compared to some more spirited UVs.
No. 4– Maruti Vitara Brezza: 113,751 units (20% YoY)
Averaging monthly sales of 1,146 units in FY2022, Maruti's sole compact SUV sold a total of 113,751 units and registered a YoY increase of 20 percent. It could have fared better in the Top 10 rankings if Maruti had not had to contend with the vexing issue of inadequate supplies of chips. In FY2020, it was India's NO. 1 UV; since then it has seen a drop in its rankings.
Launched in March 2016, the Brezza breezed past the 700,000-unit milestone in December 2021, just 69 months. The petrol-only Brezza is powered by a 1.5-litre motor which, while likeable, lacks the punch of turbocharged rivals.
The Vitara Brezza shares its 105hp and 138Nm, 1.5-litre K15B BS VI-compliant petrol engine with other Marutis like the Ciaz. A 5-speed manual gearbox is standard, while a 4-speed torque converter-equipped auto is available as an option. Interestingly, Suzuki's SHVS Smart Hybrid tech is reserved for automatic versions of the compact SUV only. The 1.5-litre K-series petrol engine delivers fuel efficiency of 18.76 kilometres per litre for automatic and 17.03kpl for the manual variant. The Brezza is due for a full-blown update later this year, clearly the need of the hour as age is fast catching up for Maruti Suzuki's UV segment stalwart.
No. 5 – Hyundai Venue: 105,091 units (13% YoY)
This is the second Hyundai model in the Top 10 list and the Korean carmaker's first compact SUV has done well in FY2022 with sales of 105,091 units, up 13% YoY. Targeted at urban buyers, the user-friendly Venue has three engine options – a 1.2 petrol, 1.0 and 1.5 diesels. However, unlike the Creta, which sees strong diesel variant demand, most Venue buyers seem to prefer petrol. High-quality interiors and keen pricing across the 18-variant range continues to win buyers even though there's limited rear legroom but it's difficult not to like this compact SUV.
No. 6 – Kia Seltos: 95,929 units (7.5% YoY)
At sixth position is the Seltos, Kia's first made-in-India product which was launched in August 2019. Sustained demand for the model saw it record sales of 95,929 units, up 7.5% YoY (FY2021: 89,173). However, increased competition sees it drop two positions from its FY2021 ranking.
Autocar India says the Seltos "is among the most complete midsize SUVs on sale in India. Updated for 2021 with more features, the stylish, well-packaged and well-appointed Seltos ticks all the boxes that matter.
What adds to its appeal is a wide range of engine-gearbox options: a frugal 1.5 diesel, a likeable 1.5 petrol and a sporty 1.4 turbo-petrol, each available with manual and auto transmission options. The Seltos has all of 18 variants, each targeted at different price-points. It may be recollected that Kia was the first carmaker to develop such an varied variant strategy for the Indian market, one which has subsequently seen rivals take many a cue from that.
No. 7 – Kia Sonet: 73,864 units (16% YoY)
This big-on-appeal compact SUV continues to see good demand thanks to its consumer-friendly mix of striking styling, an upmarket cabin, and segment-best features along with a wide variety of engine-gearbox options.
In FY2022, the Kia Sonnet sold 73,864 units, up 16% on FY2021's 63,717 units.
No. 8 – Toyota Innova Crysta: 54,218 units (43% YoY)
Toyota's luxuriously appointed MPV and a hugely reliable saw strong demand – 54,218 units and 43% YoY growth. Available as both 7- and 8-seaters, the 18-variant Innova Crysta has been recently updated.
Upmarket and attractive, this people-mover, whose on-road pricing (Mumbai) starts at Rs 20.50 lakh and goes up to Rs 30.61 lakh, is a costlier buy than the competition but what you get is a spacious cabin, strong engine and equipment aplenty.
No. 9 – Tata Punch: 52,716 units
Launched on October 18, 2021, Tata Motors' micro-SUV seems to be punching above its weight. Its strong sales of 52,716 units in just six months indicates that the company's strategy to target first-time car buyers as well those who want a second small car is working rather well. And like sibling Nexon, the Punch too has a 5-star Global NCAP crash testing rating.
The Tata Punch, available in 14 variants, is powered by a 1.2-litre, three-cylinder naturally aspirated petrol engine which develops 86hp and 113Nm of torque and is mated with either a five-speed manual or an AMT automatic transmission.
While this engine already powers the Tata Tiago, Tigor and Altroz, in the Punch, it additionally features automatic engine start/stop functionality to enhance fuel efficiency. Tata Motors claims ARAI-certified fuel economy of18.97kpl for the manual and 18.82kpl for the automatic variants. The AMT gearbox on the Punch also features traction modes like some bigger Tata SUVs.
No. 10 – Mahindra Bolero: 51,154 units (-16%)
Even though sales from rural India have yet to perk up due to a sluggish economy and high fuel prices, Mahindra's warhorse shows no signs of slowing down in its appeal to a segment of buyers who are keen on a rugged, reliable and cheap SUV.
M&M's best-seller has received updates to comply with the latest safety and emission norms, the Bolero remains a popular buy more in rural parts of the country compared to urban India, where buyers have plenty of more comfortable options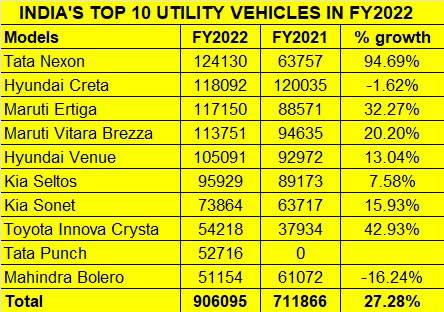 FY2023 growth outlook
At this stage, while things look good for UV players there remain some challenges in the form of wallet-burning fuel prices, which at Rs 120 a litre for petrol and Rs 105 for a diesel-litre are the highest yet in Mumbai.
Another cause for concern is the sharply risen commodity prices as a result of the Ukraine-Russia war and the past couple of months have seen prices of steel, aluminium and some precious metals scale new highs. As a result, input costs have increased and most OEMs will pass on some of these increases to the vehicle sticker price. For instance, Mahindra & Mahindra has already announced a price hike of 2.5 percent, ranging between Rs 10,000 and Rs 63,000, depending upon model and variant of its PV offerings, effective April 14.
However, there could be a new industry dynamic which could translate into a spurt in buying, likely in the first half of FY2023, particularly in the affordable segment of Rs 10-12 lakh models. Earlier this year, Transport Minister Nitin Gadkari had announced that all new cars with passenger-carrying capacity of eight people, sold in the domestic market, would have to be equipped with six airbags including two front side airbags and two curtain airbags from October 1, 2022. Given that all cars in India are fitted with two airbags as standard from January 1, 2022, the additional airbag fitment will call for new vehicle engineering and additional costs.
According to CV Raman, CTO, Maruti Suzuki India, the increase in the cost in going from two to six airbags is estimated at over Rs 16,000 per vehicle, including the cost of airbag modules, controllers and wiring harnesses. The net impact for the customer in terms of the increase in ex-showroom price is expected to be around Rs 25,000. While this move will no doubt make vehicles safer, it is likely that consumers in the entry-level segment could advance their purchase decisions ahead in the ongoing fiscal year, leading to higher demand in the first half.
FY2022's Top 10 UV listing contains 5 compact SUVs, a sub-segment where market growth is the strongest. Expect this trend to continue well into FY2023 and beyond.
Nothing powers demand like new models and the clutch of new SUVs launched in FY2022 are already notching strong numbers. FY2023 will see the launch of a number of new models which means an even more exciting time is in store for UV buyers in India.
RELATED ARTICLES