Surging demand for goods carriers propels India CV sales to all-time high in FY2018
The strong return of growth in the goods carrier segment, across both M&HCV and LCV categories, has helped the sector notch sales of 856,453 units in FY2018, up 19.94%, surpassing the earlier high of 809,532 units in FY2012.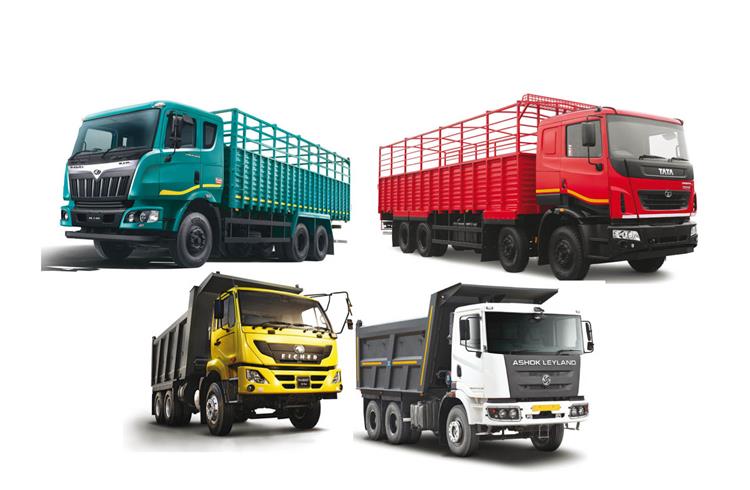 India Auto Inc is on a high and rightly so – sales of passenger vehicles, commercial vehicles and two-wheelers have hit record numbers. Importantly, the commercial vehicle segment, considered to be the barometer of a country's economy, is firing on all cylinders.
The return of replacement demand, de-bottlenecking of supplies by GST, higher average speed of trucks on highways and strong demand from rural India has given a boost to truck sales, particularly goods carriers. This handsome return of growth in the goods carrier segment, both in the heavy and light trucks segments, has resulted in the overall CV segment touching an all-time high of 856,453 units in FY2018, achieving YoY growth of 19.94 percent and surpassing the previous record of 809,532 units of FY2012.
While the passenger carrier sub-segment in M&HCVs and LCVs has declined during FY2018, the goods carrier segments have notched handsome double-digit growth. This indicates that domestic market demand for trucks is strong and is likely to remain upbeat as the economy remains strong.
FY2018 saw the overall M&HCV segment record growth of 12.4 percent; while the passenger carrier segment (buses) declined by 24.6 percent, the goods carrier segment registered growth of 19.3 percent to 304,664 units. Likewise, the LCV passenger de-grew by a marginal 3.4 percent but the goods carrier LCVs rose a robust 29.4 percent to 467,131 units.
HIGH-TONNAGE TRUCKS IN DEMAND
In the M&HCV goods carrier segment, there is a clear shift towards high-tonnage vehicles as fleet operators are increasingly favoring trucks carrying higher rated loads to benefit their operating economics.
The advent of GST since April 2018 has proved to be a huge boost in terms of daily transportation as the average daily distance covered by trucks is nearly three times higher than pre-GST times. Furthermore, stricter enforcement of rated loads and superior highway networks is helping the transportation and logistics sector to become more efficient. As a result, large fleet operators are taking advantage of the changing dynamics in the industry by deploying multi-axle, higher tonnage vehicles on long routes.
The changing trend is clearly visible in the sales of trucks. Demand for the traditional 16T and 25T rigid trucks is declining while segments like 31T and 37T rigid trucks and 35T, 40T and 49T tractor-trailers are gaining major traction.
In FY2018, 16T trucks with 4x2 axle configuration, which are deployed for both intra-and-inter-city application, has declined by 22.5 percent; a total of 35,176 units were sold (FY2017: 45122). VE Commercial Vehicles, which is a traditionally strong player in this segment, has registered gains while Tata Motors and Ashok Leyland posted a sharp decline in this segment.
Equally, the multi-axle 6x2 rigid 25T truck, until recently the most popular and highest payload carrying rigid truck, has recorded a sharp fall in annual sales. This fall is directly co-related to the changing nature of the transportation industry. With fleet operators preferring to park their money with rigid trucks that can carry more rated load, manufacturers including Tata Motors, Ashok Leyland, VECV and Daimler India CV have introduced new products in the 31T and 37T multi-axle rigid trucks. Both these type of trucks have found favour with truck buyers and sales have started to gain traction. In fact, the 37T multi-axle rigid truck segment is one of the fastest growing segments in HCVs.
In FY2018, the max-mass-exceeding-25-tonnes segment registered a growth of 47 percent with sales of 73,529 units (FY2017: 50490) with bBoth Tata Motors and Ashok Leyland dominating the segment. Also, the category of 35.2 tonnes but not exceeding 40.2 tonnes segment has seen sharp 131 percent YoY growth to 27,936 units (FY2017: 12,085). Ashok Leyland is a clear segment leader in this category with a 94 percent market share. The company, which has sold 10,666 units in this category last year, has doubled its share with sales of 26,405 units.
PICKUP AND MINI-TRUCKS DRIVE LCV SALES
The LCV segments are also witnessing a smart uptick in demand in the goods carrier segment, where the 2T mini-truck and 2-3.5T pickups dominate with 90 percent share of the total LCV goods segment.
In FY2018, both the segments notched higher growth – the 2T mini truck segment grew 41.5 percent with sales of 165, 579 units (FY2017: 116,901) and the 2-3.5T pickup segment sold 2,55,599 units for 23 percent YoY growth (FY2017: 207,600).
Tata Motors and Mahindra & Mahindra dominate the LCVs good carrier segments. Tata Motors is a clear leader in the 2T mini-truck segment with market share of 68 percent, its Ace mini-trucks continue to remain popular for intra-city and rural transpiration.
M&M is fighting it out with Tata Motors with its Jeeto range of small trucks but it has a long way to go before challenging the market leader. However, in the 2-3.5T pickup segment, Mahindra is an undisputed leader with market share of 62 percent with its popular Bolero pickup range. Now, Tata Motors is attempting to snatch market share from Mahindra by launching new products and refreshing the existing ones.
RELATED ARTICLES