Royal Enfield thunders into July's India Top 10 sales list
Royal Enfield's best-selling Classic 350 model has entered the Top 10 for the first time, clocking in total sales of 21,719 units in July 2015.
Royal Enfield's Oragadam plant is busy churning out the Classic 350 to keep pace with demand.
Honda's single-cylinder, 124.7cc, 10bhp CB Shine continues to be the fourth best-selling bike in India.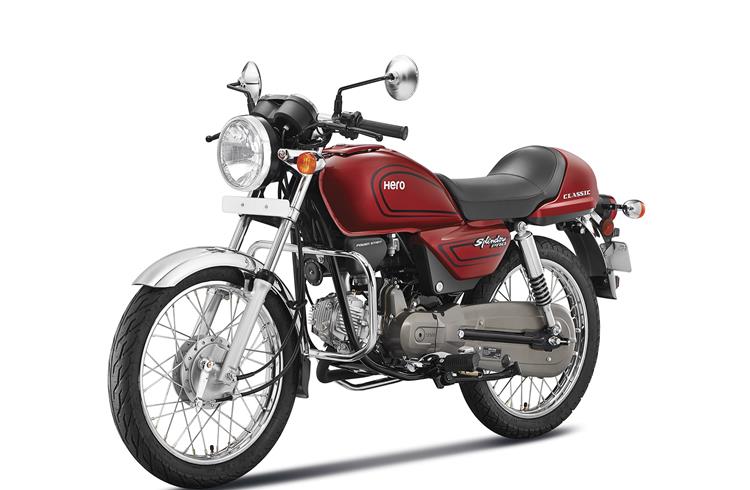 The Hero Splendor family – the highest-selling bike in India – sold 177,016 units in July 2015.
Honda's CD110 Dream (together with the Dream Yuga and Neo) sold 27,479 units in July.
Of Bajaj Auto's Discover brand, the 125cc models sold 14,776 units.
Bajaj Auto's Pulsar brand, including the 3 new Pulsars, sold 50,270 units last month.
Making its way into the list of Top 10 selling motorcycles in India for the first time this year is Royal Enfield's best-selling Classic 350 model that has ranked tenth in the list after raking in total sales of 21,719 units in July 2015 alone
The Royal Enfield Classic 350, which is powered by the air-cooled, four-stroke, twin-spark, single-cylinder, 19.8bhp, 346cc engine that gets its fuel supply through a carburettor, bears an on-road price of close to Rs 128,000 (Delhi).
The RE Classic 350's sales have been consistently growing month-on-month. The company, which is a unit of Eicher Motors, had sold 17,895 units and 19,316 units of this model in May and June 2015 respectively.
Cumulatively for the April-July 2015 period, this model has seen total sales of 75,672 units as against the sales of 47,985 units sold in April-July 2014. This marks a handsome YoY growth of 57.70 percent.
Splendor, Passion, HF Deluxe cement top 3 positions
Continuing to cement the top three positions in the list of best-selling motorcycles for the month of July 2015 are Hero MotoCorp's 97.2cc mass commuters – the Hero Splendor (five variants), Hero Passion (three variants) and Hero HF Deluxe (two variants).
While the Hero Splendor sold 177,016 units during the last month, the Passion and HF Deluxe variants sold 94,291 units and 77,264 units respectively.
Since the commuter motorcycle market is currently underperforming due to erratic monsoons and delayed festival season this year, it can be clearly seen that the top three sellers from Hero MotoCorp (HMCL) are bearing the brunt in terms of their year-on-year sales de-growth.
In July 2014, the Splendor, Passion and HF Deluxe models fetched Hero MotoCorp sales of 1,93,442 units; 1,16,302 units and 88,343 units respectively. This points out that the three bikes from HMCL registered a YoY fall of 8.49 percent (Splendor), 18.93 percent (Passion) and 12.54 percent (HF Deluxe).
The variants of top three motorcycles come in the price range of Rs 43,000–Rs 55,000 (on-road, Delhi).
Honda CB Shine stable at No. 4
The executive commuter motorcycle segment best seller, Honda's single-cylinder, 124.7cc, 10bhp CB Shine (with three variants on sale) model continues to be the fourth best-selling motorcycle in India. HMSI sold 63,695 units of the CB Shine models during July 2015 as against 79,319 units that it had sold in July last year. This, as understood, marks a fall of 19.70 percent YoY.
In May and June 2015, the Honda CB Shine had reported sales of 78,183 units and 65,350 units respectively.
According to Honda Motorcycle & Scooter India's website, the CB Shine's Delhi ex-showroom price comes in the range of Rs 55,559 (self-start, drum brake variant) to Rs 61,299 (self-start, disc brake with combi brake system).
Borrowing the engine platform from Honda's CB Shine, the Hero Glamour retains the fifth spot in the list for second consecutive month. The Hero Glamour sold 61,221 units in July 2015. The model, a stable name in the list, recorded sales of 44,280 units in July last year, and stood at number seven then.
Meanwhile, for Bajaj Auto, all eight models and their many more variants that fall under the umbrella of the Pulsar brand occupy the number six slot in the best-selling bike list for July 2015. The models sold under the Pulsar brand registered sales of 50,270 units, ahead of the well-performing 99.27cc mass commuter Bajaj CT100 in July 2015.
Among all Pulsar models, the single-cylinder 135cc Pulsar 135LS and the 149cc Pulsar 150 DTS-i have jointly fetched maximum numbers to Bajaj Auto. The two models together sold 33,890 units in July 2015. To add to that, the 178.6cc Pulsar 180 DTS-i and 199.5cc Pulsar 200NS and RS200 models (along with their variants) together sold 10,355 units last month. The single-cylinder 220cc, 21bhp Pulsar 220F, still popular for its features and styling among Bajaj bike enthusiasts, registered total sales of 6,025 units in July 2015.
All Pulsar models offered by Bajaj Auto in the market are positioned within a wide price bracket of roughly Rs 60,000 to Rs 1,48,000 (on-road, Delhi).
Falling down the order, the Bajaj CT100 stood at the seventh position for July 2015. It fetched sales of 42,829 units to the company. The CT100 had sold 66,263 units and 54,362 units in May and June 2015 respectively. The model ranked as the fifth and sixth best-selling bike in May and June respectively.
According to the company website, the CT100 (spoke wheel variant) comes for Rs 35,034 (ex-showroom, Delhi).
HMSI's Dream series (consisting of three 109.19cc models – Dream Yuga, Dream Neo and CD 100 Dream) jointly sold 27,479 units in July 2015 and stood at the eighth position. The CD 110 Dream comes with a price tag of Rs 43,497 (ex-showroom, Delhi).
Bajaj Discover makes a comeback
Bajaj Auto's Discover umbrella that consists of five different models together fetched sales of 23,230 units last month. The Discover sales stood at ninth position in July.
Among all Discover models, the 125cc models stood as the best-selling ones with their sales contribution of 14,776 units in July 2015. The sales of entry level Discover models crashed by 73 percent in July.
Interestingly, the statistics convey that while the CT100 fared well in May, sales of the Bajaj Platina and Discover models (in the entry level 100cc-110cc class) crashed by 58 percent and 65 percent respectively for that month.
Similarly, the Platina and Discover sales fell by 47 percent and 62 percent respectively for the month of June while CT100 sold more than 50,000 units that month, though lower than previous months.
Going by these statistics, the sales of CT100 and other entry level models from the Platina and Discover series have remained inversely proportional during the last few months.
Commuter bike sales are expected to grow in the coming months, say industry analysts. It's something the mass-market motorcycle manufacturers are desperately wanting, their fingers firmly crossed. Stay tuned.
Also read:
- Top 10 selling scooters in July 2015
RELATED ARTICLES