Mahindra XUV300 turns four, sells over 185,000 units since launch
Launched on February 14, 2019, the compact SUV continues to see strong demand and has helped Mahindra & Mahindra increase its utility vehicle share in a highly competitive market.
Launched on February 14, 2019, the compact SUV continues to see strong demand and has helped M&M increase its utility vehicle share in a highly competitive market.
At 52,449 units delivered in the first 10 months of ongoing FY2023, XUV300 sales have already crossed all of FY2022's 50,260 units.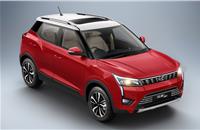 Launched on Valentine's Day in 2019 in the Indian market, the Mahindra XUV300 has turned four years old today – February 14, 2023. From launch through to end-January 2023, it is estimated that Mahindra & Mahindra's compact SUV has sold a total of 185,782 units in the Indian market.
Proof of the XUV300's strong market potential came in the first month of launch itself. With a starting price of Rs 790,000 at launch, the company received 13,000 bookings in the first 28 days, averaging 464 bookings a day. Thus, it was not surprising that the XUV300 drove itself into the Top 3 compact SUV rankings in its very first month. Within three months of launch – May 14, 2019 – the company had received 26,000 bookings and counting.
Eight months later, in January 2020, the XUV300 aced the Global NCAP crash test with a five-star rating for adult occupant protection and four stars for child occupant protection, the highest combined result in Global NCAP's #SaferCarsForIndia crash tests at the time. With growing conscious amongst Indian car buyers for safer vehicles, the XUV300's strong crash test performance has served as a catalyst to accelerate sales.
Compact SUV with growing sales
In FY2020, the XUV300 sold a total of 37,576 units, the numbers dropping marginally to 35,965 units in the Covid-19 pandemic-impacted FY2021 but recovered strongly to race past the 50,000-unit mark in FY2022. Demand continues to be strong and the sales in the first 10 months of the ongoing fiscal year – 52,449 units – have already crossed all of FY2022's 50,260 units. The highest monthly sales this fiscal have come in October 2022: 6,282 units.
In CY2022, the XUV300 sold a total of 60,260 units, giving it 12th position in India's Top 25 utility vehicles. Within the compact SUV segment, it ranks among the top five. Sustained demand for the XUV300, as also for other Mahindra SUVs like the flagship XUV700, Scorpio N and Scorpio Classic, Thar, Bolero and Bolero Neo, have helped M&M increase its overall utility vehicle market share. In the April-December 2022 period, M&M has increased its UV share by three percentage basis points to 17.54% from 14.37% a year ago.
In November 2019, M&M had recalled 16,908 XUV300s manufactured between November 2018 and May 2019 because a suspension component (front knuckle) might have an improper metallurgical condition which can cause it to deform in use." This has been the XUV300's only recall to date.
Sixteen variants across petrol and diesel
Priced from Rs 902,000 (on-road Delhi) through to Rs 14.67 lakh for the top-end variant, the XUV300 is available in all of 16 variants – nine petrol and seven diesel – with standard-fit 6-speed manual transmissions. The diesel engine is additionally available with the option of an AMT introduced in July 2019. Subsequently, the company upgraded the petrol to the BS-VI emission norms and the growing demand for petrol cars is the reason that the AMT has now been introduced into the 109bhp, 200Nm petrol motor.
To enhance the SUV's appeal among driving enthusiasts, M&M introduced a performance-oriented version of the XUV300 in October 2022 christened XUV300 TurboSport. The variant sees the crossover get equipped with a higher-spec turbocharged gasoline direct injection (TGDi) that produces 130hp of power and 250Nm of peak torque. The engine, however, only comes mated to a six-speed manual transmission with the company claiming a 0-60kph time of under 5 seconds.
Smart and well turned out, the Mahindra XUV300 seems larger than its contemporaries and makes for a better five-seater than its rivals. M&M is having a good year and with sales of 290,764 utility vehicles in the first 10 months of FY2023, the company has already crossed its previous highest UV sales for a fiscal – 235,362 SUVs in FY2019. The XUV300 has a wheel and more in that accelerated growth.
ALSO READ:
Mahindra XUV400 gets over 10,000 bookings in four days
Record quarterly volumes drives Mahindra & Mahindra Q3 net profit by 14% to Rs 1528 crore
Tata Motors, Maruti Suzuki and Mahindra battle for UV leadership in FY2023
RELATED ARTICLES