Mahindra Thar turns three years old, sells over 125,000 units
Launched on October 2, 2020, the modern avatar of the iconic off-roader which now appeals to a wider audience with its everyday usability, continues to be a big draw for the SUV manufacturer.
Unlike any of its predecessors, the new Thar feels perfectly at home in the city.
Mahindra Adventure, the brand's off-road and expedition initiative, has a staggering calendar of events with events for every kind of enthusiast.
Mahindra Adventure, the brand's off-road and expedition initiative, has a staggering calendar of events with events for every kind of enthusiast.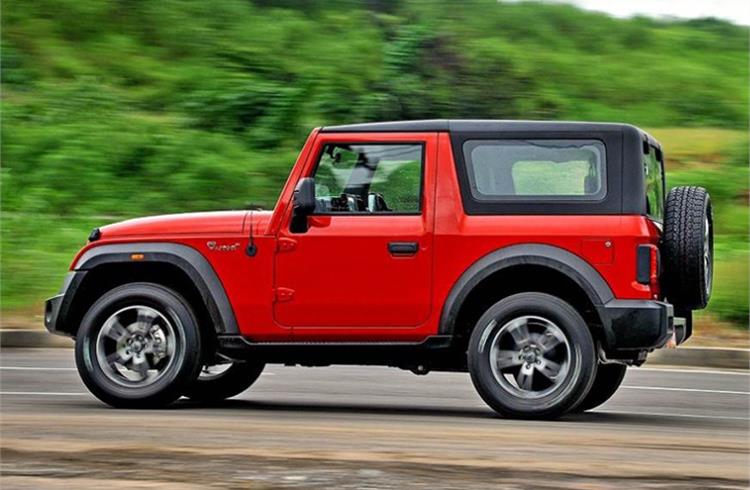 New Thar is an off-roader that can also double up as an everyday vehicle.
Thar stays true to its genes in the outdoors. Capable as ever, but now a lot easier to get along with as well.
With Gen-3 hydroformed chassis, the Thar has a coil-sprung, independent double-wishbone front and a coil-sprung, multi-link live axle at the rear. The result is a balance to revel in, on the road, and off it.
The 100,000th Mahindra Thar rolled out from the Nashik plant on March 29, 2023. 
Wider track, fatter rubber add to overall stability and manners.
Modern but understated interior feels decently premium. Ergonomics on point.
Split rear row is amply comfy; ingress a tad challenging and intruding wheel arches eat into room.
The Mahindra Thar, which was launched on October 2, 2020 and is the successor to the first-generation models introduced in 2010, completes three years in the India market today, which is also the Mahindra Group's 78th anniversary. From launch through to September 2023, the Mahindra Thar, which is far less utilitarian than its predecessor but without diluting its core appeal and appealing to a much wider audience, has sold over 125,000 units and counting.
Mahindra & Mahindra has three engines on offer for the Thar – the base 118hp, 300Nm, 1.5-litre diesel engine mated to a 6-speed manual gearbox and in rear-wheel-drive guise, a 152hp, 300Nm, 2.0-litre petrol and the 130hp, 300Nm, 2.2-litre diesel engines. The 152hp and 130hp engines get the option of either a 6-speed manual or an automatic gearbox. Also, while the diesel engine is only available in 4WD guise, the petrol is offered in both 4WD and RWD configurations. The Thar 4X4 also sports an electronic brake locking differential instead of a mechanical locking differential, which offers better grip in low-traction situations.
The Mahindra Thar is currently available with 13 variants comprising eight diesels and five petrols. Pricing starts from 13.64 lakh (on-road Mumbai) for the base 1.5D AX(O) RWD through to Rs 20.99 lakh for the top-end 2.2D LX AT variant.
That the new Thar would be a high-selling product for Mahindra & Mahindra was apparent, given that accumulated over 15,000 bookings within the first three weeks of launch and 75,000 bookings within a year.
The Thar sold 14,186 units in the last six months of FY2021, a figure which jumped by 166% to 37,844 units in FY2022. FY2023's sales of 47,108 were a 24% YoY increase over FY2022's sales. In the first five months of FY2024, the Thar has sold a total of 24,713 units, averaging monthly sales of 4,942 units and bids fair to clock over 60,000-unit sales for all of FY2024.
Cumulative sales till end-August 2023 were 123,851 units. Given the sustained sales momentum for the Thar and other popular Mahindra SUVs, the 125,000-unit mark would have been crossed in the first half of September 2023.
Thirty months after launch, the 100,000th Mahindra Thar rolled out from the Nashik plant on March 29, 2023.
On March 29, 2023, M&M announced the rollout of the 100,000th Thar from its plant in Nashik, Maharashtra, in exactly 30 months from the SUV's market entry.
Just a month after launch, the Mahindra Thar got a sales boost in the form of a 4-star Global NCAP crash safety rating. However, this rating is based on the old testing protocols, which was upgraded in July last year. Since then, M&M launched has the new 4X2 version of the Thar in January 2023, which looks identical to the 4WD model except for the lack of the 4x4 badge on the former. Currently, the sole rival to the three-door Thar in India is Force Motors' Gurkha.
The Thar has seen a single recall till date. On February 4, 2021, M&M issued a voluntary recall for 2,649 units of the diesel-engined Thar, manufactured between September 7, 2020 and December 25, 2020, to inspect an engine camshaft which might have had an improper machining condition that has escaped quality check at the vendor's end and could have led to loss of drive to the fuel pump and in turn stalling.
At the beginning of August 2021, M&M had an order backlog of 281,000 units with the Thar accounting for 68,000 units or 24% of that total and indicative of the sustained demand for this model.
THAR-E AS A BRAND EXTENSION
The Thar has recently got a brand extension in the form of the Thar-e concept, which will be powered by the Volkswagen APP550 electric motor.
According to M&M, the Thar.e is more than an electric evolution of the legendary off-roader. Pratap Bose, Chief Design Officer, Mahindra & Mahindra, said: "Creating Vision Thar.e was about embracing a future that's bold and innovative. Our design forges a new path, standing as a testament to Mahindra's commitment to cutting-edge creativity and breakaway thinking. We have maintained the adventurous spirit and off-roading capability that is quintessentially Thar, but we have crafted a unique identity in the world of electric SUVs."
ALSO READ:
Mahindra sells 41,267 SUVs in September, H1 FY2024 sales up 29%
RELATED ARTICLES