India Market Sales Analysis – December 2012
Despite a host of marketing initiatives and a flurry of handsome discounts, most automakers felt the chill of slowing sales hit them in December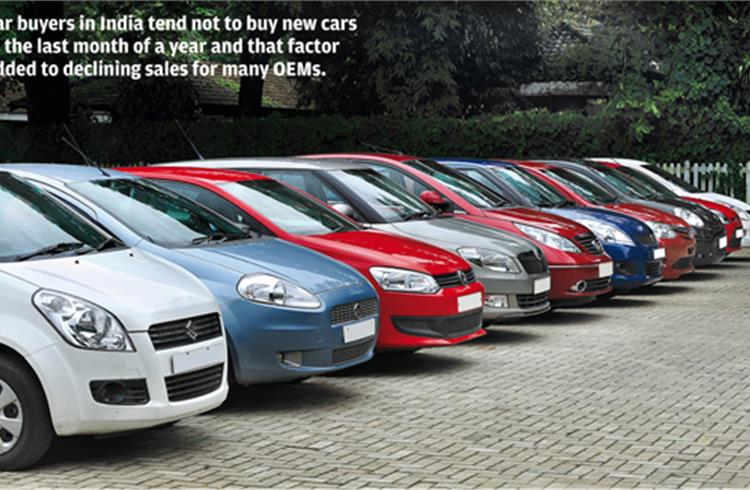 The last month of 2012 witnessed OEMs underperform despite several marketing initiatives and discount schemes to boost their sales. All discounts and customer engagement schemes appeared to have had no effect on vehicle buyers and passenger car showrooms witnessed a slump in the number of footfalls during the month.
Badly hit by the slowing economic growth, OEMs are now looking forward to corrective measures by the government in the 2013 Union Budget to be announced next month. Also, recognising the sharp slowdown, apex industry body SIAM issued its FY13 revised growth forecast – the third in 12 months – on January 9. The forecast for the car sector is particularly bad – only 0-1 percent.
While Maruti Suzuki, Mahindra & Mahindra, Ford India, Honda Cars India and Renault India bucked the trend of negative growth, companies such as Hyundai Motors India, Tata Motors, General Motors India and Toyota Kirloskar Motor felt the chill of declining sales.
Industry leader Maruti Suzuki registered domestic sales of 82,073 units in the month, up 5.9 percent over the 77,475 units sold in December 2011. The growth was backed by the 8.9 percent increase in the sales of the compact passenger cars (Swift/Estilo/Ritz) at 22,482 units (December 2011: 20,653), a 42.3 percent growth in the super compact car (Dzire) at 13,076 units (December 2011: 9189) and the utility vehicle, Ertiga which along with the Gypsy and the Grand Vitara notched up sales of 5,447 units (December 2011: 238). However, the entry-level hatchbacks (M800, Alto, A-star, Wagon R) recorded negative growth of 15 percent at 32,797 units in December 2012 (December 2011: 38,593).
The SX4 is also gradually losing its sheen as only 329 units of the model were sold during the month against 843 units sold in December 2011, down by 61 percent. So far this year (April-December 2012), the company has managed to continue its growth momentum by 8.4 percent by selling a total of 742,175 units (April-December 2011: 684,892) in India.
Hyundai Motor India, the country's second largest car manufacturer and the largest exporter, was down by 9.5 percent at 26,651 units during the month against 29,449 units in December 2011. HMIL's aggregate (domestic and export) sales comprised 41,069 units of the Eon, Santro, i10 and i20 cars (A2 segment), 6,270 units of the Accent and Verna (A3 segment), 428 units of the Elantra (A4 segment), 20 units of the Sonata (A5 segment) and 46 units of the Santa Fe SUV during December 2012.
Nose-diving by 51 percent, Tata Motors' passenger car division sold 14,185 units during December 2012 (December 2011: 28,916 units). December 2012 sales included 11,257 units of the Nano, Indica, Indigo range and 2,928 units of the Sumo, Safari, Aria and and Venture. However, according to the company, the newly introduced Manza Club Class and Safari Storme are doing well in their respective segments.
Mahindra & Mahindra's passenger vehicle division (which includes UVs and the Verito saloon) clocked in sales of 22,761 units, recording growth of nearly 18 percent over December 2011 (19,341 units). "High interest rates, rising fuel prices and an overall slowdown in economic growth have kept consumer sentiments low during 2012. This is also evident in the auto industry's sales performance for December, which traditionally has been a lean month. We do hope that corrective measures are announced and implemented soon, helping bringing in the much-needed buoyancy and growth for the industry," said Pravin Shah, chief executive, automotive division, Mahindra & Mahindra. Falling by 24 percent, Toyota Kirloskar Motor (TKM) sold 12,071 units during the month as compared to 15,948 units in December 2011. "The passenger car market continues to be slow, as has been in the last few months. We hope that the new year will usher in good times again with economic revival and better market sentiments," said Sandeep Singh, deputy managing director, marketing and commercial, TKM.
Sliding by 22 percent from its December 2011 sales of 9,039 units, General Motors India sold 7,067 units during December 2012. Meanwhile, Ford India sold a total of 6,517 units during the month as against 5,978 units in December 2011, registering a YoY growth of 9 percent. "Despite a tough business environment, we have seen record exports and sustained customer interest in December," said Joginder Singh, president and managing director, Ford India.
Riding on a low base of 1,072 units sold in December 2011, Honda Cars India recorded growth of nearly 296 percent by selling 4,242 units in December 2012, with the majority numbers contributed by the stylish Brio hatchback. On a similar note, Renault India sold 5,924 units during the month as against 185 units in December 2011. The company's December 2012 sales comprised of 4,485 units of the widely appreciated SUV, the Duster, 820 units of the Scala saloon, 515 units of the Pulse hatchback, 68 units of the Fluence saloon and 36 units of the Koleos SUV. The company had sold 145 units of the Fluence and 40 units of the Koleos during December 2011.
Renault India has sold a total of 35,052 units during the 2012 calendar year. "We are confident that this year too, we will be able to keep the momentum going as our products are well accepted by our customers and Renault's brand value is increasing with great feedback from the customers. Although the market continues to remain sluggish with high inflation, fuel price hikes and high interest rates, the automotive industry is sure to get a boost in 2013if the market dynamics improve," said Marc Nassif, managing director, Renault India.
Two-wheeler OEMs underperform as well
Hero MotoCorp, the world's largest two-wheeler manufacturer, sold 541,615 units during December 2012, marginally more than its December 2011's sales of 540,276 units. Anil Dua, senior VP, marketing and sales, Hero MotoCorp, said: "December being the last month of the calendar year usually witnesses sluggish retails as customers tend to postpone their purchases to the new year. Despite that, we have been able to despatch over 500,000 two-wheelers during the month. We also have comprehensive marketing and customer engagement plans lined up for the remaining months of the fiscal to maintain this trajectory."
Bajaj Auto recorded 13 percent sales growth by selling 298,350 motorcycles as against sales of 263,699 motorcycles in December 2011. The Pulsar and Discover brands contributed 70 percent of total bike sales. However, cumulative sales between April-December 2012 stood at 2,897,410 motorcycles including exports as compared to 2,937,157 motorcycles between April-December 2011, marginally down by 1 percent.
Continuing to grow, Honda Motorcycle & Scooter (HMSI) registered 14 percent growth on its total sales (including exports and CKD) of 217,612 units during December 2012 over the 191,584 units sold in December 2011. This growth is strongly backed by the 35 percent growth in total sales of its motorcycles, thanks to the soaring numbers contributed by the 109cc commuter motorcycle, the Dream Yuga. In December 2012, HMSI sold 106,297 motorcycles (December 2011: 78,721 units).
Meanwhile, Hosur-based TVS Motor, registered a fall of 8 percent with domestic sales standing at 134,566 units during December 2012 (December 2011: 146,747 units). Its motorcycles sales for the month grew by 6 percent – 60,210 units compared to sales of 56,662 motorcycles in December 2011. However, scooter sales, at 30,398 units in December 2012, proved to be a dampener by recording negative growth of 32 percent over sales of 44,804 units in December 2011.
Meanwhile, riding on the success of its 112.8cc commuter motorcycle, the Hayate, Suzuki Motor India posted 24 percent growth in December 2012 by selling 33,753 units compared to 27,244 units in December 2011. All in all, OEMs are keeping their fingers firmly crossed that things change for the better. Stay tuned for regular updates on www.autocarpro.in
AMIT PANDAY
RELATED ARTICLES