India Auto Inc retails up 14% in January, all segments other than tractors log double-digit growth
FADA's retail sales data reveals that India Auto Inc is seeing real-world growth with growth coming in strongly for passenger vehicles, three-wheelers and commercial vehicles; two-wheelers and tractors need rural India demand accelerator.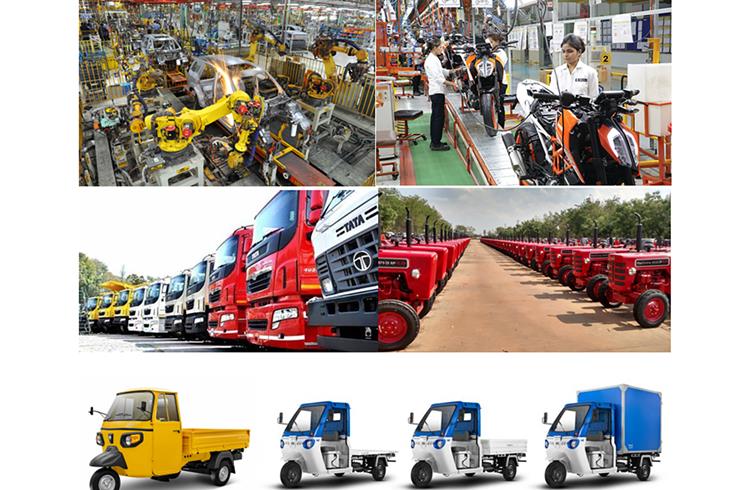 The real-world vehicle sales numbers for the first month of CY2023 are out. Total retail sales of 18,26,669 units across five vehicle categories in January 2023 reflect a 13.56% year-on-year increase (January 2022: 16,08,505 units).
As per the retail numbers released today by the Federation of Automobile Dealers Associations (FADA), all segments have recorded growth – two-wheelers (10%), three-wheelers (59%), passenger vehicles (22%), commercial vehicles (16%) and tractors (8%). The numbers are indicative of the improving economic scenario.
Commenting on the January 2023 market performance, FADA president Manish Raj Singhania said: "January 2023 witnessed total retail rising by 14% YoY but was still down by 8% when compared to the pre-Covid month of January 2020."
Two-wheeler retails: 12,65,069 units / up 10.07%
At 1.26 million units, two-wheeler sales are up 10% YoY (January 2022: 11,49,351) but the fact of the matter is that they continue to be under pressure – they are down by 7% on January 2021 retails and by 13% on pre-Covid January 2020. As the FADA president points out, "While sentiments are improving at a snail's pace and are better than what it was a year ago, the rural market is yet to fully come to the party as cost of ownership has shot up significantly while disposable income has not increased in the same ratio."
FADA's comprehensive company-wise retail numbers has plenty of takeaways for every vehicle category. In the two-wheeler segment, the top four OEMs, each with six-figure sales – Hero MotoCorp, Honda Motorcycle & Scooter India, TVS Motor Co and Bajaj Auto – account for 10,35,040 units or 82% of the total 12,65,069 units while six EV-only players – Ola Electric, Ather Energy, Hero Electric, Okinawa, Ampere Vehicles and Okaya EV – account for 43,812 units or 3.46% of overall retails in January 2023. Compare this to the top four OEMs' performance a year ago – 935,257 units or 81% and the six EV OEMs' 20,586 units or 1.79% market share. Clearly, this shift to electric mobility on two wheels is having an impact on market share. And, other than HMSI, the other three of the Top four OEMs also sell EVs albeit only one product each.
In terms of OEM-wise market share gains, while Hero MotoCorp, HMSI and Bajaj Auto have seen their market share reduce, TVS Motor Co has seen its two-wheeler share grow to 16.45% from 15.71% a year ago. Likewise for Suzuki Motorcycle India – 4.71% from 3.88% in January 2022 – and for India Yamaha Motor, 3.74% from 3.69%, albeit these two OEMs' growth is on a much smaller base.
An impressive performance by Ola Electric – 18,245 units – gives it a 1.44% retail market share in January, up from just 0.10% a year ago.
Three-wheeler retails: 65,796 units, up 58.59%
The three-wheeler category, which has seen the biggest shift to e-mobility as a result of the lower-cost-of-ownership mantra, has clocked overall growth of near-60% -- 65,796 units versus 41,487 in January 2022. The growth translates into 101% when compared to January 2021 and is down by just 3% when compared to pre-pandemic levels in January 2020.
Electric three-wheelers at 30,391 units account for a 46.18% share of total sales in January, up from 42% (17,779 units) a year ago. In comparison, IC engine three-wheeler market share (35,405 units in January 2023) stands reduced to 53.81% in January 2023 from 57.14% (a year ago.
The FAME 2 subsidy along with demand for last-mile operations is fuelling healthy growth.
Passenger Vehicle retails: 340,220 units / up 21.92%
Having closed CY2022 on a strong note, the passenger vehicle (PV) segment has opened CY2023 with 22% YoY growth over January 2022, 10% better than January 2021 and an 8% improvement from the pre-Covid month of January 2020. According to FADA, while good customer enquiries, healthy bookings and improved supplies are helping this segment, it is the entry level sub-segment which is still feeling the pinch of slow demand. While waiting period for some popular models has come down following improvement in chip supplies as well as ramped-up production from the top players, some compact SUVs, SUVs and luxury vehicles continue to witness a minimum waiting of two to three months.
The slackened demand in the entry level market is reflected in the reduced YoY market share of the top two OEMs – Maruti Suzuki and Hyundai. While Maruti Suzuki sees its overall PV share reduce to 44.10% last month from 46% in January 2022, Hyundai also sees its share reduced marginally to 13.46% from 13.60% a year ago.
Tata Motors (13.24% share) is hard on Hyundai Motor India's heels while Mahindra & Mahindra (9.91% share) and Kia India (5.67%) have also made seen good grwoth and together are the three carmakers which have made robust gains and increased their share year on year. No surprise that these three companies have the maximum models in India's Top 25 SUVs of CY2022.
The growth in the luxury vehicle market is reflected in the 10% YoY increase to 2,768 units (January 2022: 2,520).
Commercial Vehicle retails: 82,428 units, up 16.34%
What will bring smiles to India Auto Inc is the return of demand to the commercial vehicle sector, recognised as the barometer of the country's economy. Sustained demand as a result of fleet replacement, increased freight availability and also the government's continued push for infrastructure development across the country is helping the CV sector rise above pre-Covid numbers.
At an overall 82,428 units, January 2023 retail sales are a robust 16% increase over January 2022's 70,853 units. Given the overwhelming demand from logistics companies as well as last-mile operators, it is no surprise that the light CV (LCV) segment with 48,115 units and 16% growth accounts for a 58% share of overall retails. Heavy commercial vehicles (HCVs) with 26,881 units have a 33% share of the CV market and have clocked 25% YoY growth, reflective of the demand for tippers, trailers and other heavy goods carriers. The medium CV category is the only one to see a YoY decline: 4,670 units vs 4,745 units a year ago.
The retail demand naturally gets reflected in the company-wise market share. CV market leader Tata Motors' January 2023 sales of 31,847 units are a 2% growth over January 2022's 31,248 units and the slower rate of growth compared to the competition sees it shed market share to 38.64% from 44.12% a year ago.
Mahindra & Mahindra, with its hardy range of Bolero pickups among other models, has made maximum gains last month – 20,609 units, up 44% YoY which shows in its much-improved market share of 25% compared to 20% in January 2022.
The heightened demand for HCVs, particularly for mining and infrastructure operations, has benefitted Ashok Leyland, VE Commercial Vehicles and Daimler India CV – all three have increased their CV market share to 16.22%, 6.73% and 2.17% in January 2023.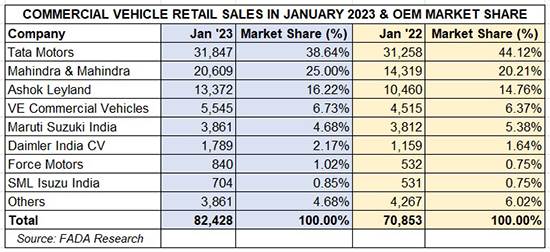 Tractor retails: 73,156 units, up 7.96%
Another indicator of improving growth for India Auto Inc and the country per se is the growing demand for tractors, At 73,156 units, tractor retails were up 8% in January 2023. Market leader Mahindra Tractors and its Swaraj Tractors have both made strong gains and increased their market shre to 23% and 17% respectively. Escorts, John Deere India and CNH Industrial are other tractor OEMs to log growth.
Growth outlook
According to FADA, the passenger vehicle segment will continue its accelerated growth path. As a result of manufacturing activity coming back on track in China, global supplies of parts and semi-conductors will see a recovery, facilitating better vehicle supplies and lower waiting periods in future.
February 1's Budget 2023-24 proposals will help overall growth of automobile retails. Due to the increased income-tax rebate, it is felt that demand for entry level two-wheelers well as entry-level PV is likely to accelerate. Other growth enablers for industry are the allocation for vehicle scrappage and import duty exemption for manufacturing lithium batteries thus reducing EV acquisition cost. A reduction in surcharge at the highest IT slab will also benefit high-end vehicle sales. Apart from this, the massive capital outlay of Rs 10 Lakh crore for Infrastructure spending will help drive CV sales, which are already driving in growth lane.
RELATED ARTICLES