India Auto Inc retails up 10% in June, first-half sales 53% of CY2022
June 2023 sees the three-wheeler, PV and tractor segments notch their best-ever retail numbers for the month; 11.25 million vehicles sold in January-June 2023 are 53% of CY2022's 2,11,20,441 units.
Apex automobile retail body FADA (Federation of Automobile Dealers Associations of India) today released its sales numbers for June 2023, reflecting the real-world market scenario. While the 18,63,868 units sold across five vehicle segments – two- and three-wheelers, passenger vehicles, commercial vehicles and tractors – constitute 9.57% year-on-year growth (June 2022: 17,01,105 units), month-on-month retails are down 7.7% (May 2023: 20,19,414 units) as depicted in the sales data table below.

June 2023 retails, which are a shade above January 2023's 18,26,669 units, reflect the slow growth of the two-wheeler segment which have dragged overall numbers. At 11.25 million units (1,12,52,157 units), cumulative sales for the first six months of this year are up 9.62% over January-June 2022 sales of 1,02,64,461 units. India Auto Inc retails had surpassed the 2 million-mark in two months of the year to date – March 2023 (20,41,847 units) and May 2023 (20,19,414 units). In CY2022, total vehicle retails were 2,11,20,441 units, which means halfway into CY2023, cumulative retails are 53% ofall of last year.
Let's take a closer look at June sales as well as segment-wise performance. What is heartening is that YoY growth last month is seen across all sub-segments of industry – two-wheelers (13,10,186 units, up 6.77%), three-wheelers (86,511 units, up 75.48%), PVs (295,299 units, 4.79%), CVs (73,212 units, 0.44%) and tractors (98,660 units, 41%). It is to be noted that June 2023 saw the three-wheeler, PV and tractor segment notch their best-ever sales numbers for the month of June.
As per FADA, despite a marginal decline of -3% compared to pre-Covid levels, the overall retail figures have relatively improved barring two-wheelers (-14%). Importantly, the critical CV sector has grown out of the shadow of Covid, improving its performance by 1.5% when compared to June 2019 sales.
Two-wheeler retails: 13,10,186 units, up 6.77% YoY
The two-wheeler segment, the largest in terms of volumes and best when it comes to affordability. This vehicle category is in the black with retails of 1.3 million units in June and up 6.77%. The numbers could have been slightly better and according to FADA president Manish Raj Singhania, the sector "wrestled with supply constraints from certain OEMs and a softer demand attributed to economic conditions and higher entry-level bike costs. New model introductions, festive promotions and seasonal factors couldn't markedly boost sales."
When compared to May 2023's 14,93,234 units, June sales were down 12.25%. Put this down also to the fact that sales of electric two-wheelers slumped by 56% in June when compared to May 2023's record sales, mainly as a result of the slashed FAME subsidy and resultant higher EV prices.
The Top 4 OEMs, each with sales in six figures, accounted for 10,98,781 units which translates into 84% of total segment sales. However, the market share dynamics are changing in the segment with both Hero MotoCorp and Honda Motorcycle & Scooter India (HMSI) losing share YoY. Hero MotoCorp (426,601 units) has a 32.56% share, down two percentage points on the 34.66% it had a year ago. Likewise, HMSI (282,493 units) sees its share come down to 21.56% from 23.30% a year ago.
Meanwhile, TVS Motor Co (226,511 units) and Bajaj Auto (163,176 units) have both improved their market share – TVS to 17.29% (from 14.62%) and Bajaj to 12.45% (from 9.43%). Royal Enfield (61,377 units) also sees its share improve to 4.68% (from 3.66%) albeit with new rivals in the form of the Hero X440 and the Bajaj-Triumph 400, it remains to be seen is demand slows down for its midsize bikes in the months to come.
Among the EV OEMs, Ola Electric has expanded its market share to 1.34% by selling 17,579 units in June – a creditable performance given that customers are now buying EVs at higher prices. The company has a huge lead over the competition and has sold over 125,000 units in first-half CY2023.
Three-wheeler retails: 86,511 units, up 75.48%
Three-wheeler OEMs should be happy given the strong and sustained growth this vehicle category has been witnessing over the past 18-odd months. At 86,511 units, sales were up 75.48% YoY (June 2023: 49,299 units), making for the best June numbers yet. What is giving the segment a charge is the surging demand for electric models – combined passenger and goods EV sales at 41,919 units are up 60.51% over June 2022's 26,115 units. Interestingly, demand seems to be back for IC engine models – 36,180 units and 121% YoY growth.
Bajaj Auto maintains its vice-like grip on the segment with total retails of 30,624 units to increase its market share to 35.40% from 26% in June 2022. Piaggio Vehicles sold 5,826 units in June 2023 but has seen its market share reduce to 6.70% from 9.24% a year ago. Third-ranked Mahindra Last Mile Mobility sold 5,318 units, which gives it a 6.10% share, down from 6.65% a year ago. Clearly, Bajaj Auto's 10-percentage basis point increase has seen it eat into rivals' market share.
With the shift to electric mobility growing in the three-wheeler segment, there are as many as 440 companies vying for a slice of the action. Some of the better-performing OEMs are detailed in the table below.
According to the FADA president, June 2023's robust growth is primarily due to the previous year's low base effect and positive market sentiment. The shift towards alternative fuels, predominantly EVs, continues to play a significant role in driving this growth, despite potential supply concerns due to non-availability of OBD2 three-wheelers.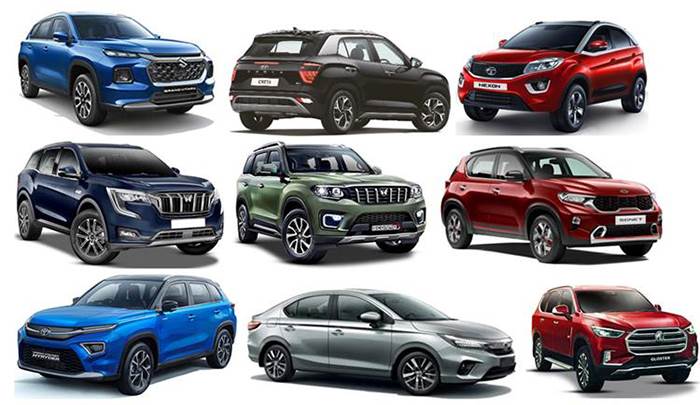 Passenger Vehicle retails: 295,299 units, up 4.79%
The PV segment, which continues to ride a wave of demand for SUVs, saw 295,299 units being sold in June 2023, up 5% YoY (June 2022: 281,811). June retails are down 1.19% on May 2023's 298,873 units. According to FADA president Manish Raj Singhania, "The PV segment navigated through a mixed landscape characterised by variable demand, dynamic product portfolios and oscillating market sentiments. FADA commends Maruti's swift action to facilitate clearance of slow-moving model stockpiles by underwriting dealer interest costs, contributing positively to the segment. With dealers noting sporadic supplies of popular models and aging product concerns of slow-moving variants, the segment still experienced an uptick in demand for new models and anticipates rural sales to pick up further pace."
Market leader Maruti Suzuki's strong showing in recent months as a result of new SUV launches like the Grand Vitara, Fronx and the Jimny are reflected in the 121,341 units retailed, helping it marginally increase share to 41%. This is bound to grow in the coming months. Hyundai (43,079 units) and Tata Motors (39,773 units) are second and third ranked with 14.59% and 13.46% share respectively. Mahindra & Mahindra is the outperformer in terms of market share gains – the 30,053 units give it a share of 10.18% versus 7.43% a year ago. Likewise, Toyota Kirloskar Motor (15,864 units), has upped its share to 5.37% from 4.56% in June 2022. Kia India sold 16,749 units but its market share is down to 5.67% from 6.63% a year ago.
As per FADA, the PV segment faces inventory pressures and demand-supply mismatches, impacting profitability, but the anticipation of a boost from the upcoming festive season beginning, end-August offers a hopeful outlook.
Commercial vehicles: 73,212 units, up 0.44%
At 73,212 units, June 2023 retails were flat compared to June 2022's 72,894 units and down 5% on May 2023's 73,212 units. April sales had crossed the 80,000 mark (85,587 units). Overall numbers have been dragged down by the 4.58% decline in LCV sales to 41,975 units. Medium CV sales (5,988 units) were up 6.53% and HCVs (22,070 units) by 5 percent.
According to FADA, "the CV segment confronted mixed dynamics influenced by inconsistent demand, supply issues, government policies and external market factors. Despite fluctuating demand and vehicle availability issues, the government's infrastructural push and coal mining growth spurred demand for heavy commercial vehicles, counteracted by high-interest rates and rising prices."
A look at the FADA statistics for May 2023 reveals that though Tata Motors continues to lead the CV sector with 26,033 units in June, its market share has reduced to 35.56% from 40% a year ago. In comparison, Mahindra & Mahindra (16,873 units), Ashok Leyland (11,907 units) and VECV (5,886 units) have recorded strong gains.
Tractor retails: 98,660 units, up 41% YoY
Demand for tractors and farm machinery was robust in June with sale of 98,660 units, up 41% (June 2022: 69,952 units). The Mahindra Group, with its Mahindra Tractors and Swaraj Tractors, registered retail sales of 37,633 units, which helps it further increase its grip over the market. M&M's tractor market share now stands at 38%, up from the 33% it had in June 2022.
Second-ranked International Tractors, maker of the Sonalika brand, clocked sales of 12,734 units which gives it a share of 13%, up from 11% a year ago. Chennai-based TAFE with 11,186 units saw flat sales while Escorts (10,210 units), John Deere India (8,307 units)_ and CNH Industrial India (5,571 units) increased their market share (see data table below).
Near-term outlook: cautiously optimistic
FADA has signalled a cautiously optimistic outlook for India Auto Inc in the coming months due to mixed signals. In its statement, the dealers association says its expects the two-wheeler market to witness continued supply challenges and economic pressures, despite new schemes. Also, the cutback in FAME subsidy casts a shadow over EV sales growth. Conversely, the three-wheeler market predicts growth, underpinned by favourable market responses and rising demand.
The passenger vehicle segment faces a dichotomy of factors. While the launch of new models and potential rise in rural sales lend optimism, dealers are having to navigate inventory pressures from OEMs and demand-supply mismatches, thereby impacting their profitability.
The commercial vehicle sector has to contend with a balance of positive market sentiment and potential monsoon impacts, with demand spurred by infrastructural projects and improved financing options.
ALSO READ:
EV sales in India charge past 700,000 units in first six months of 2023
RELATED ARTICLES