India's top five Global NCAP five-star-rated cars sell over 900,000 units
With growing awareness about vehicle safety in India, a strong GNCAP crash rating has become a sales catalyst with car buyers preferring to put their money on a model that walks the safety talk.
These GNCAP five-star-rated, manufactured-in-India cars have cumulatively sold 905,405 units in the Indian market till end-September 2022.
Global NCAP has crash-tested over 50 made-in-India cars since 2014.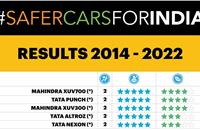 October 14, 2022 will mark a year since the Tata Punch compact SUV aced the Global NCAP crash test with a full five-star rating. A month later, on November 10, 2021, Mahindra & Mahindra's flagship SUV, the XUV700, also achieved the five-star crash test rating. These two SUVs joined three other made-in-India passenger vehicles – the Mahindra XUV300, Tata Altroz and Tata Nexon – which had previously also scored the top five-star rating from the global automotive safety watchdog. These five models are the best-performing of the over 50 models tested between 2014 and 2022 by Global NCAP as part of its #SaferCarsForIndia campaign.
You can, at least in part, credit Global NCAP's crash tests for being the genesis of the automotive safety movement in India. Released in January 2014, the results of the very first crash tests by the agency on five made-in-India and made-for-India cars made headlines nationwide and brought the topic of automotive safety to the fore.
The results were a wake-up call for all stakeholders. And there has been considerable progress since with the introduction of a number of safety initiatives like mandatory rear parking sensors, speed warning alarm, front seatbelt reminders as well as dual front airbags in all cars. In fact, many carmakers incorporated safety features such as driver and front co-passenger airbags well before they were mandated by law.
India's abysmal road crash record, growing safety consciousness in car buyers
The National Crime Record Bureau's report on 'Accidental Deaths in India – 2021' released in August 2022 reports a total of 403,116 road accident cases last year. This is an increase of 13.61% year on year (CY2020: 354,79). While the fatalities in road accidents have increased by 16.83%, from 133,201 in 2020 to 155,622 in 2021, a total of 371,884 people were injured, up 11% on 2020's 335,000. The rate of deaths per thousand vehicles in 2021 has increased from 0.45 in 2020 to 0.53 in 2021. These figures translate, on an average, into 1,104 accidents, 426 fatalities and 1,018 injured every day or 46 accidents, 17 fatalities and 42 injured every hour in the country.
The past few years have seen a growing consciousness amongst car buyers for vehicles that offer safety of a high standard. Buyers simply want safer cars and that is reflected in the sales of models that have scored high on the safety quotient in the Global NCAP tests, particularly these five models which have scored a top five-star rating.
Number-crunching reveals that these five, GNCAP-five-star-rated, made-in-India cars – the Tata Nexon, Tata Altroz, Mahindra XUV300, Tata Punch and the Mahindra XUV700 – have cumulatively sold over 900,000 units in the Indian market.
Here's looking closer at how these five models fared in the GNCAP crash test as well as their cumulative sales in the Indian market till end-September 2022.
Tata Nexon: 399,898 units – 5 stars
The Tata Nexon, currently India's best-selling SUV and also the leader in FY2022, has benefitted hugely from being the first made-in-India car to achieve a full five-star GNCAP rating. The compact SUV has raced past the 400,000-unit sales milestone in India in 61 months, the last 200,000 units coming in just 15 months.

Tested on December 7, 2018, the Nexon scored five stars for Adult Occupant Protection and three for Child Occupant Protection. Following the Nexon's four-star result in August 2018, Tata Motors improved a number of safety features including making a Seat Belt Reminder (SBR) for driver and passenger as standard for all variants. In addition. the Nexon was required to pass a side impact test meeting UN95 side impact protection requirements.
Launched on September 21, 2017, the Nexon has been a game-changing model for the company as well as the industry, forcing the SUV competition as well as other segments to stand up and take a close look.
Five years since launch, on September 17, 2022, Tata Motors rolled out the 400,000th Nexon from its Pune plant, testimony to the sustained demand for the game-changing model, which has only grown with its electric avatar.
Tata Altroz: 162,687 units – 5 stars
On January 15, 2020, Tata Motors' Altroz premium hatchback, which was officially launched in India a week later on January 22, become the company's second – after the Tata Nexon – and India's second five-star rated car. The Altroz, which is the first Tata car to use the ALFA (Agile Light Flexible Advanced) architecture, was the 36th made-in-India car to be crash-tested by Global NCAP.
The Altroz variant, which Global NCAP tested, recorded a strong five-star rating for adult occupant protection and three stars for child occupant protection. The Altroz was the first car to be tested in the new round of #SaferCarsForIndia test.
Proof of the sustained demand for the Altroz lies in the fact that the company rolled out the 100,000th unit of the premium hatchback on September 28, 2021, within 20 months of launch. Despite FY2021 being a pandemic-impacted year, the Altroz sold 60,379 units and has maintained that trajectory both in FY2022 and in the ongoing fiscal.
Mahindra XUV300: 163,357 units – 5 stars
Launched on Valentine's Day in 2019, the Mahindra XUV300 emerged with flying colours in the GNCAP crash test; an overall five-star rating with five stars for adult occupant and four for child occupant.
The XUV300 tested came with two frontal airbags as standard, and ESC and side impact airbags as optional. Its structure and footwell area were rated as stable. Head and neck protection for adult occupants was good. Chest protection for passenger was good and driver chest protection was adequate. Femur and knees showed good protection as well.
Another highlight was that the XUV300 scored the highest combined crash test result of all the cars GNCAP had tested in India till February 2019. The result, coming just a few days after the Tata Altroz, proved that made-in-India passenger vehicles are now achieving global quality standards, an effort worth lauding.
The XUV300's sales statistics (above) reflect the solid growth the model is witnessing in the Indian market.
Tata Punch: 118,767 units – 5 stars
Four days before Tata Motors launched its Punch in the Indian market, the compact SUV aced the GNCAP crash test on October 14, 2021. The Punch achieved a five-star rating for adult occupant protection (16.45 points) and four stars for child occupant protection.
The Tata Punch was tested in the most basic safety specification, fitted with two airbags, ABS brakes and ISOFIX anchorages. In its tester's notes, GNCAP said the Punch can be improved by equipping the model with standard Electronic Stability Control (ESC), side head impact protection systems as standard, and three-point belts in all seating positions. It is important to highlight once again Tata's decision to install both child occupants as rearward facing, demonstrating that this position offers the best safety option as both child dummies received good protection.
David Ward, President of the Towards Zero Foundation said, "We are obviously delighted with Tata's safety result in this voluntary test. Global NCAP encourages manufacturers to participate in our programme on a voluntary basis to help create a market for safety. It is very satisfying to see leading manufacturers like Tata and Mahindra engage so positively with our #SaferCarsforIndia agenda."
The aggressively priced Tata Punch, at Rs 549,000, soon saw demand come its way and the company rolled out the 100,000 unit just 10 months after launch on August 11, 2022. Within months of its launch, the Punch entered the Top-Selling UVs chart and sold 52,716 units in the last six months of FY2022. In the current fiscal, it has already crossed that number and is averaging monthly sales of 11,008 units. Clearly, this is another Tata product punching above its weight amidst strong competition in the booming compact SUV market.
Mahindra XUV700: 60,696 units – 5 stars
The Mahindra flagship SUV is firing on all cylinders and is the model which currently commands the maximum demand, among many of M&M's popular models. Launched on August 14, 2021, the XUV700 took the GNCAP test three months later. On November 10, 2021, the XUV700 became the second Mahindra SUV to notch a five-star rating for adult occupant and four stars for child occupants.
The Mahindra XUV700 was tested in the most basic safety specification, fitted with two airbags, ABS brakes and ISOFIX anchorages. GNCAP says the XUV700 could be improved by making standard its optional equipment such as side body airbags, side head curtain airbags, Electronic Stability Control (ESC), and three-point belts in all seating positions.
Commenting on the XUV700's crash test performance, Alejandro Furas, Secretary General of Global NCAP had said, "Mahindra has achieved a major milestone with this top score for adult protection and by becoming the first Indian made and owned brand to offer Autonomous Emergency Braking (AEB) as a safety option. Making this life saving technology available is an important step in encouraging the widespread fitment of crash avoidance technologies."
David Ward, President of the Towards Zero Foundation said, "It's very satisfying to see Mahindra demonstrating their ongoing commitment to vehicle safety with the five-star performing XUV700. High levels of occupant protection for adults and children as well as the availability of AEB, the potentially life-saving crash avoidance technology. These are important indicators of the Indian automotive market moving towards ever higher level of consumer awareness and demand for safety."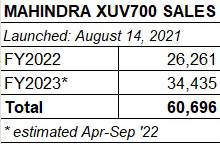 M&M's flagship SUV, which received a record number of bookings at launch in August 2021, has till end-September 2022 sold an estimated 60,696 units. This comprises 26,261 units in the last seven months of FY2022 and 34,435 units in the first six months of FY2023 (April-September 2022).
Paving the way for safer made-in-India cars
Since 2014, when GNCAP commenced crash-testing Indian cars, safety has taken some big strides forward in the country. Over the years, new regulations have come into place making dual airbags and ABS mandatory, with more safety regulations expected to also be introduced in the future. The recent six-airbag mandate, now deferred to October 1, 2023, is one such as is the proposal to mandate ESC and autonomous emergency braking (AEB) system in cars to prevent mishaps from occurring on the vulnerable Indian roads.
Manufactured-in-India cars have considerably improved their safety ratings – from the dismal performance of 2014 through to the first five-star-rated car in 2018 and the number now up to five models.
These top five, five-star made-in-India passenger vehicles, which have together sold over 900,000 units have proven that Indian vehicle manufacturers and India Auto Inc have the capability to roll out models that match global safety standards. Of the total 50-odd cars tested by GNCAP, 15 have scored a four-star rating, which also speaks highly about the growing competence of the industry.
With growing awareness about vehicle safety among car buyers in India, a strong GNCAP crash rating – four and five-star – is becoming a key differentiator in a competitive market. What's more, a strong crash safety rating acts as a sales draw as increasingly safety-conscious car buyers opt to put their money on a model that walks the talk on the safety front.
RELATED ARTICLES