Electric two-wheeler sales charge past 435,000 units in April-November, headed for 700,000 in FY2023
Monthly retail sales race past 75,000 units for the second month in a row; 1,787 units sold each day in the past eight months; Ola Electric in the lead with Okinawa hot on its heels; top six OEMs command 80% of the market.
What was a trickle barely three years ago has now turned into a flowing stream of sales. We're talking about electric two-wheelers, the other low-hanging fruit of the electric vehicle (EV) industry in India, along with its electric three-wheeled siblings.
Clearly, India's electric two-wheeler growth story is getting better, month on month. If overall retail sales crossed the 50,000-unit mark for the first time in a month to 51,405 units in August 2022, then September retails did better with 53,938 units, a 20% improvement over July's 44,844 units. Things just got better in the festive month of October (76,458 units) and November (76,438 units) with e-two-wheeler sales crossing the 75,000-unit mark for the first time in India Auto Inc's history as well as for two months in a row. And, from the looks of it, with the wedding season underway till mid-December, gifting of electric scooters and bikes could charge this segment even more this month.
A deep dive into the e-two-wheeler industry retail sales, using new vehicle registration data from the government of India's Vahan portal enables a comprehensive look into the industry's growth.
A cose look at the retail sales data table (at the bottom of this analysis) shows that a total of 436,069 units were sold in the first eight months of the ongoing fiscal. This translates into 1,787 e-two-wheelers being sold each day over the 244 days in the April-November 2022 period.
Of the 76,438 units sold in November, the top 10 OEMs account for 69,831 units or an overwhelming 91% of total sales. Similarly, on the cumulative April-November 2022 front, the Top 10 – Ola Electric, Okinawa Autotech, Hero Electric, Ampere Vehicles, Ather Energy, TVS Motor Co, Bajaj Auto, Revolt Intellicorp, Pur Energy and Being India Energy – account for 394,781 units or 90% of total retails. Another 20-odd OEMs are engaged also engaged in a fierce fight for a slice of the action of India's booming e-two-wheeler market.


Ola Electric the market leader in April-November
Ola Electric, which has capitalised on the shift to electric mobility, is the industry leader in the April-November 2022 period with a total of 77,753 units, which translates into a 20% market share. Having opened FY2023 with retail sales of 12,707 units in April 2022, the company has topped the monthly sales for three consecutive months – September (9,890 units), October (16,330 units) and November (16,325 units).
The company has hugely benefited from its festive discount of Rs 10,000 on its Ola S1 Pro, which was launched on August 15 at an introductory price of Rs 99,999. Two months later, on October 22, Ola Electric took the EV battle to the mass-market ICE scooter segment its new S1 Air, which bears a sticker price of Rs 79,999.
The company also recorded a production milestone within just 11 months of commencing production – on November 4, Ola rolled out is 100,000th scooter from its all-women-run Futurefactory in Krishnagiri, Tamil Nadu. Meanwhile, Ola has been expanding its D2C footprint and states that it is on track to open 100 outlets by end-December 2022 and 200 by March 2023.
Sales decline in November sees Okinawa lose its No. 1 position
Okinawa Autotech, which has a large portfolio of both high- and low-speed e-scooters and was the e-two-wheeler market leader till October, has lost its crown to Ola Electric in November.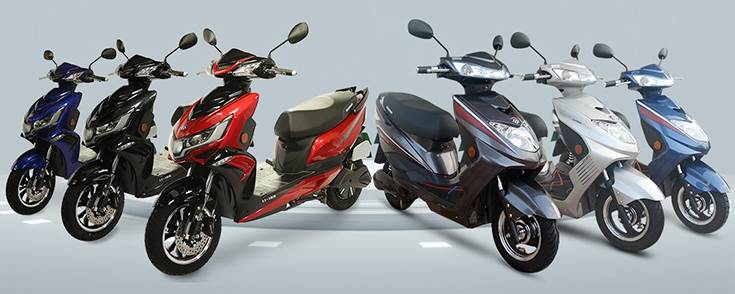 It was the market leader till October (April-October 2022: 67,517 units) compared to Ola's 61,428 units in the first seven months of FY2023. But Ola's market-leading September-October-November performance and Okinawa's sales dropping 39% month on month – from October's 14,941 units to November's 9,061 units, means Ola has raced into the lead, albeit by a small margin. The retail sales difference between the two OEMs at end-November is just 1,175 units. Okinawa's cumulative sales in April-November are 76,578 units.
The company, which is seeing strong demand for its iPraise+ and Praise Pro high-speed models, currently has a network of over 350 dealers in key metro cities and now aims to reach Tier 2-3 cities as well as rural India.


Hero Electric maintains third-place ranking
The industry topper for two consecutive months in July (8,954 units) and August (10,602 units), Hero Electric slipped to the third position in September (8,202), October (8,868) and November (9,015), with the top two OEMs performing better in the monthly stakes.
In the period under review, Hero Electric has 61,573 units to its name, which is a sizeable 16,180 units behind the market leader and 15,005 units less than the No. 2 OEM. The company will have to consistently sell much in excess of 10,000 units a month if it is to move higher in the rankings.
Hero Electric, which is aggressively driving expansion, currently has over 700 sales and service outlets and trained roadside mechanics on EVs. It has also partnered with a various of NBFCs to enable easy finance solutions for EV buyers. Hero is also very actively increasing its EV charging network and has recently tied up with Jio-bp to enable its customers to get access to that widespread charging and swapping network, which is also open to other vehicles.
Ampere Vehicles hits a new high in November
Ampere Vehicles, with cumulative eight-month sales of 60,581 units, has been registering a consistent performance and has averaged monthly sales of 7,572 units. This is an improved performance considering it had averaged 6,376 units for the first six months of the ongoing fiscal. The upward movement is thanks to the company recording a new high and five-figure sales for the first time in October (10,064) and November (12,257).
The Magnus Pro is Ampere Vehicles' best-selling electric scooter.
In October, Greaves Electric Mobility, the e-mobility business of Greaves Cotton, announced the 'Ampere Go Electric Fest', which offered customer benefits such as up to 95% financing on its scooters with a low down payment, 8.25% per annum interest rate, and attractive exchange offers. GEMPL through Ampere is also targeting various customer segments and has announced special employee offers across government departments and corporate partnerships. In July, Ampere inked a partnership with Flipkart, India's homegrown e-commerce marketplace, to accelerate sales of the Ampere Magnus EX electric scooter.
New Hosur plant has expanded Ather Energy's manufacturing capacity to 420,000 units per annum.
Ather sales rise three months in a row, gets future-ready
In fifth position in the India e-two-wheeler rankings is Bengaluru-based smart electric scooter maker Ather Energy. The company, which opened FY2023 on a sedate note and 2,451 units in April 2022, is hitting new sales highs month on month. It crossed 5,000 units for the first time in August (5,377), and went on to notch better monthly sales consistently – September (6,281), October (7,357) and November (7,785). The company's eight-month cumulative retails stack up at 37,708 units. What is helping Ather achieve better numbers is the improved supplies to its showrooms across the country, which has sizeably reduced the waiting period.
On November 23, Ather inaugurated its second manufacturing plant at Hosur in Tamil Nadu, thereby increasing its capacity to 420,000 units per annum, up 250% from the previous 120,000 units.
Ather is also benefitting from its network expansion programme. On the network front, the EV OEM has outlined plans to expand from 68 outlets in over 50 cities at present to 150 Experience Centres in 100 cities by March 2023. The company, which inaugurated two new retail outlets in Delhi-NCR on November 23 to capitalise on the growing demand in the region, has over the past few months opened sales operations in Pondicherry, Jodhpur, Mumbai, Bangalore, Chennai, Vellore, Ludhiana and Madurai.
In October, Ather installed its 580th fast-charging point in India – the Ather Grid – and expanded its EV charging network across 56 cities in India. The company plans to install 820 more grids, taking the count to 1,400 by the end of FY2023. At present, the company has India's largest fast-charging network for two-wheelers with Ather Grids strategically installed across markets, 60% of them in Tier-2 and Tier-3 cities.


TVS also records its best sales in November
Chennai-based TVS Motor Co, with its sole EV – the iQube – is in sixth position with cumulative retails of 32,482 units. The company logged its best monthly retail sales in November with 8,102 units.
Not surprisingly, in terms of factory despatches too, the iQube has recorded its best-ever monthly wholesales. It has clocked cumulative wholesales of 42,528 units in the first eight months of FY2023, with which total wholesale numbers of the e-scooter, which was launched in January 2020, have crossed the 50,000-unit mark.
Bajaj Chetak sales picking up, exclusive showrooms soon
With 958 units short of the 20,000 retail sales mark is Bajaj Auto with its Chetal e-scooter which recorded its highest monthly sales in October: 3,466 units. The company, interestingly, had launched its Chetak in the same month as the TVS iQube: January 2020.
Sales of the Chetak have been restricted due to fewer number of retail outlets compared to the competition, and in some markets like Mumbai the e-scooter displayed and sold from KTM showrooms. However, that's about to change in the near future. Bajaj Auto has announced the setting up of a subsidiary firm called Chetak Technology Ltd (CTL), which will operate the Chetak EV business vertical as a separate entity, focused on design, development and sale of EVs. According to Autocar India, the Bajaj EV will be sold only via a network of exclusive Chetak showrooms across India. These exclusive showrooms will showcase Chetak EVs, facilitate test rides, register bookings and take delivery. The network of Chetak exclusive showrooms will expand by sometime around March or April 2023. In addition, the dealerships will also set up exclusive Chetak service centres to carry out maintenance or repair work on the EVs.
Growth outlook: Headed for 700,000 sales in FY2023?
Two months ago, when sales of e-two-wheelers had raced past the 50,000 mark for two consecutive months and crossed 275,000 units in the first six months of FY2023, we had forecast total FY2023 sales to be in the region of 600,000 units. Now, with OEMs retailing 75,000 units in festive October as well as November, an upward revision seems warranted. Given that the monthly retail average for April-November 2022 is 54,508 units and new products like the Hero Vida have entered the market, overall retail sales in the region of 700,000 units could be achievable.
What is adding tailwinds to sales of the eco-friendly commuters on two wheels is the high price of petrol (Rs 106.29 a litre in Mumbai) and regular price increases of petrol-powered scooters and motorcycles due to rising commodity and input costs.
Following the incidents of e-scooter fires earlier this year with three OEMs, the government as well as the entire EV industry eco-system is hard at work to ensure top-notch battery and cell management. This is imperative because consumer confidence in electric two-wheelers remains strong.
India is targeting EVs to account for 30% of its mobility requirements by 2030, driven by the FAME scheme, state subsidies and much increased availability of models across segments. Given the current pace of buying in the overall two-wheeler arena – 3.3 million two-wheelers sold in FY2022 – that could be still some distance away.
In November 2022, a total of 18,47,208 two-wheelers were retailed across India. Of this, 76.438 units or 4.1% comprised electric two-wheelers. Given the overall positive trend and gradual two-wheeler consumer shift to EVs, e-two-wheeler OEMs will be looking to make the most of demand coming their way. Keep watching this space.
Images for Ola Electric, Okinawa Autotech, Hero Electric, Ampere Vehicles and TVS Motor Co sourced from their respective Twitter handles
ALSO READ:
November auto retails are India's best ever at 2.38 million units
RELATED ARTICLES