Creta leads Top 10 UVs in April-October, Ertiga and Brezza hot on its heels
Maruti, Hyundai, Kia and Mahindra have two models each in the best-sellers chart.
Maruti Suzuki India is on a roll in the booming Utility Vehicle (UV) market. The UV leader in FY2021 with 229,101 units and 21.60% market share, has maintained its lead in the April-October 2021 period. The company clocked sales of 162,160 units, up 58% YoY, to remain ahead of Hyundai Motor India.
Of the total 765,803 UVs sold in India in the first seven months of FY2022, Maruti accounts for 21%, followed by Hyundai with 141,238 units for an 18.83% market share. And the Top 10 UVs – 508,059 units – account for all of 66% of total UV sales, clearly indicating their importance in the ultra-competitive market.
A quick analysis of the Top 10 best-selling UVs in the April-October 2021 period reveals that Maruti Suzuki, Hyundai Motor India, Kia India and Mahindra & Mahindra have two models each and Tata Motors and Toyota Kirloskar Motor, one each. In this list, Maruti Suzuki with 127,363 units between the Ertiga and Vitara Brezza is just 1,197 units ahead of Hyundai's 126,166 units. Kia, with 102,223 units is some way behind.
Creta tops with 70,176 units, Ertiga 5,002 units behind
India's best-selling UV remains the Hyundai Creta which has sold 70,176 units in the April-October 2021 period. This comprises 35,768 petrol and 34,408 diesel variants. However, the Maruti Ertiga and the Vitara Brezza are hot on the leader's heels.
With 65,174 units, the Ertiga is just 5,002 units behind the Creta, and its sibling the Vitara Brezza with 62,189 units, 7,987 units behind. But what's creditable is that Maruti doesn't have diesel power and its petrol and CNG combine is giving the company a new charge. Sales of the Maruti Ertiga comprised 38,391 petrol and 26,783 CNG variants. The other Hyundai in this list is the Venue with 55,990 units, split overwhelmingly in favour of petrol (42,771) compared to diesel (13,219). At fourth position is the Tata Nexon, with an estimated 61,010 units.
Meanwhile, Kia, which together with Korean sibling Hyundai has a 32.12 percent share of the UV market, also has two of its models in the Top 10: the Seltos (56,585) at No. 6 and Sonet (45,638) at No. 8 position. At No. 9 and No. 10 are the Mahindra Bolero (33,242) and the Mahindra XUV300 (28,794).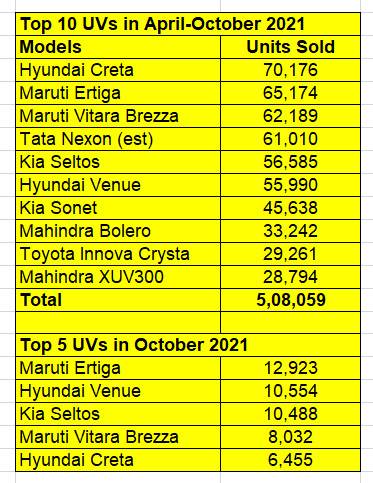 Growth outlook
With four months of FY2022 left and the SUV segment in good nick, other than the vexing problem of shortage of semiconductors, expect good action in this segment. What's more, the rollout of a number of new models like the Mahindra XUV700, the Skoda Kushaq and the Volkswagen Taigun have added some new verve to what already is an exciting vehicle category. '
The coming months and CY2022 should see the launch of a number of new models, which means the UV market will get spicier. Carmakers will go all out to bring in new SUVs next year, ranging from the Maruti Jimny and Mahindra Scorpio, to the Audi Q3 and Maserati Grecale. Stay plugged in for some more number-crunching.
RELATED ARTICLES