Commercial vehicle sales to surpass FY2018's 850,000 units: SIAM president
With 456,199 units in first-half FY2023, India's CV industry is set to clock its second-best annual sales but will not surpass FY2019's record million-plus units, says Vinod Aggarwal.
At 456,199 units and 68% YoY growth, CV sales in April-September 2022 are already 63% of total sales in FY2022.
"Over the last 6 months, LCV sales in FY2023 (300,864 units) have already crossed their earlier peak of FY2019 (252,959 units). We're still lagging behind M&HCVs but there's a lot of pent-up replacement demand as well as investment happening in the mining and infrastructure space."
Demand for M&HCVs is coming from the steel, cement and mining industries as a result of the spend on infrastructure, which is why tipper sales are on the upswing.
Small goods carriers benefitting from e-commerce boom and demand for last-mile mobility in town and country.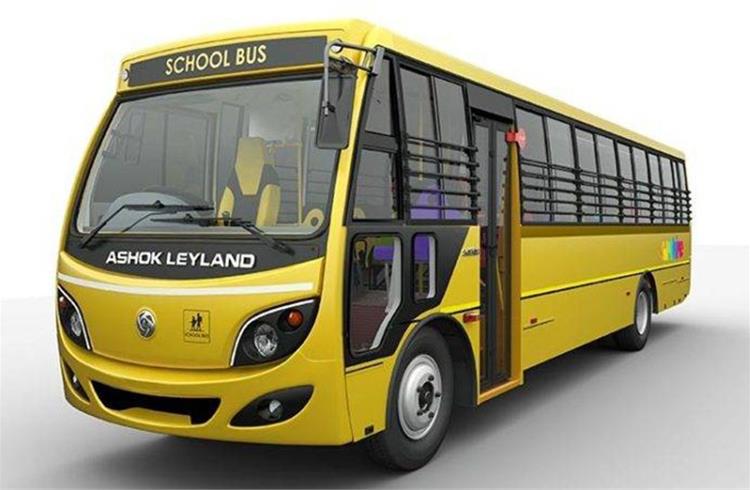 Demand for school buses is on the upswing.
India Auto Inc, which has entered the second half of the ongoing fiscal on a strong note with overall sales of over 11 million units and 32% YoY growth in April-September 2022, is driving towards a big-number-laden FY2023. This comes on the back of the sterling growth of the passenger vehicle segment, which has already logged sales of 1.93 million units (up 40%) and is set to cross a record 3.5 million units in the ongoing fiscal. There's more reason for the bullish growth outlook – the revival of demand in the commercial vehicle industry.
The CV industry, which is judged as the barometer of the country's economy and sees cyclical growth, is back in positive territory after a torrid two years. From a high of over a million units in FY2019 (10,07,219 units), the double whammy of a slowdown and the pandemic ensured that demand slid hugely in FY2020 (717,593 units / -29%) and in FY2021 (568,559 units / -21%). But with the country back on the move in FY2021, demand for CVs improved to 716,566 units, up 26% (see 10-year sales data table below).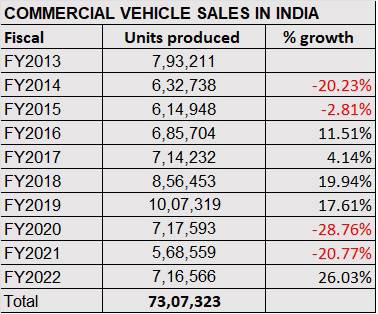 FY2023 clearly is set to better that. At 456,199 units and 68% YoY growth, CV sales in April-September 2022 are already 63% of total sales in FY2022. And it helps that the growth is coming across both the M&HCV and LCV sub-segments, albeit the industry hopes the pace of increase could be better.
A glance at the main SIAM data table for CV sales comprising medium and heavy commercial vehicles (M&HCVs) and light commercial vehicles (LCVs) reveals that 155,335 M&HCV sales make for strong 88% YoY growth while LCVs with 300,864 units have posted a 59% increase.
Demand for M&HCVs, a key growth driver for the industry, is coming from the steel, cement and mining industries as a result of the spend on infrastructure, which is why tipper sales are on the upswing.
Similarly, demand for passenger-transporting buses, which was dormant for over two years, is back with a bang with urban India back in action, re-opening of schools and inter-city travel taking off.
How the OEMs fared in H1 FY2023
Looking at the top four OEMs in the CV market, it's amply clear that all are scrambling to make the most of the revival of demand, particularly in the wake of the huge infrastructure spend by the government translating into sale of M&HCVs as well as the replacement demand for passenger-transporting buses. The LCV segment is also benefiting from the demand for smaller buses but the booming e-commerce business is giving a huge fillip to sale of small CVs engaged in last-mile deliveries.
Tata Motors, with 186,133 units (up 55%) in first-half FY2023, maintains its segment leadership with a 41% market share. Its sales comprise 75,634 M&HCVs – 4,507 buses and 71,127 goods carriers – and 110,499 LCVs (9,835 passenger carriers and 100,664 goods carriers). While the company, like all other OEMs has logged YoY growth albeit on a lower year-ago base, it is coming under pressure from rivals. Year on year, its overall CV market share has declined by three percentage points from 44.26% in H1 FY2022 to 40.80% in H1 FY2023.
Mahindra & Mahindra, with 123,076 units (up 76%), is at No. 2 position. Its sales comprised 2,646 heavy goods carriers, 504 LCV-buses and 119,926 small goods carriers. Its overall performance in H1 FY2023 gives it a near-27% share of the CV market, up 1.24% from a year ago.
Chennai-based Ashok Leyland with 79,639 units clocked 90% YoY growth with the sales coming from 48,215 M&HCVs (3,793 buses and 44,422 goods carriers) and 31,424 LCVs (404 buses and 31,020 small CVs). These numbers see the company expand overall market share by 2% to 17.45% from 15.38% a year ago.
VE Commercial Vehicles (Eicher) saw overall sales of 31,265 units, which are an 88% YoY increase and see it grow its market share to 6.85% from 6.10% a year ago. These sales comprised 25,316 M&HCVs and 5,949 LCVs.
Within the M&HCV segment, Eicher sold 5,269 buses which constitutes 960% growth over the year-ago sales of 497 units and has helped the company double its M&HCV bus share to 34% from 17.58%. This also means Eicher has taken away market share in this sub-segment from Tata Motors and Ashok Leyland, both of whom have seen declines.
SML Isuzu, which is seventh in the CV OEM rankings, sold 6,178 units – 2,815 M&HCVs and 3,363 LCVs) to post 169% YoY growth, which sees its market share grow marginally from 0.84% to 1.35% in H1 FY2023.
Growth outlook: Very good
At half-way stage in FY2023, the growth prospects for the Indian CV industry are looking good.
Speaking at the IAA India Day in Hanover on September 21, Vinod Aggarwal, President, SIAM and Managing Director & CEO, VE Commercial Vehicles, had said: "In 2022, the CV industry's market size was 716,000 units. We are expecting very speedy growth in this sector – a CAGR of 14% to 1.2 million units by 2025. The sectors which are going to boost this industry are infrastructure and real estate, e-commerce is getting stronger and transportation and logistics which are fundamental to the economy. Therefore, the confidence level on this growth is very high."
More recently, after the SIAM H1 FY2023 sales numbers were announced, while speaking to Autocar Professional in New Delhi, Aggarwal said: "Over the last six months, LCV sales in FY2023 (300,864 units – 22,185 buses and 278,679 small CVs) have already crossed their earlier peak of FY2019 (252,959 units – 26,303 buses and 226,656 small CVs) . But we're still lagging behind in the M&HCV category. Having said that, there also the prospects are good with a lot of pent-up replacement demand as well as investment that is happening in the mining and infrastructure space."
Mr Aggarwal added, "While these factors are driving growth in this category, it doesn't look like that the CV industry will cross the FY2019 peak – 10,07,319 units –this year with exports being down and buses too being away from their peak. Having said that, bus sales are picking up on account of schools getting reopened, people having resumed intercity travel as well as tourists coming back to see new places. So, the bus market is coming back on its feet but heavy-duty trucks are still less than their earlier peak sales."
ALSO READ: Indian automakers sell nearly 11 million vehicles in first-half FY2022
Resilient India Auto Inc's production up 23% in H1 FY2023 to 1.36 million vehicles
RELATED ARTICLES