Commercial vehicle sales moderate in October, M&HCV sales slow down
To a segment consistently notching upwards of 35 percent growth, are the October sales numbers a reality check?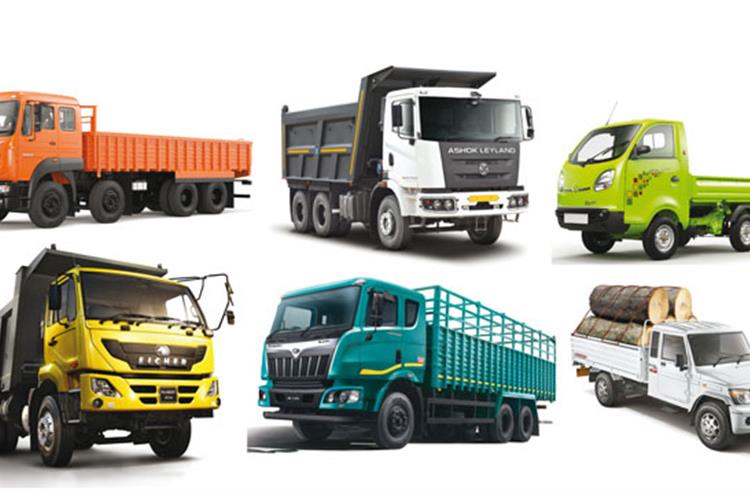 Of all the vehicle segments, the Indian commercial vehicle (CV) industry has been firing on all cylinders for quite some time now. After notching rapid growth of 38 percent in the first six months of FY2019, the sector has recorded lower double-digit growth of 21.63 percent in October 2018 (see detailed sales table below).
While it was known that the robust 38 percent growth was not sustainable for the full fiscal, it was estimated that the growth will moderate; however, October numbers indicate a higher-than-anticipated decline, albeit the growth is still on a higher plane than the other vehicle segments.
While M&HCVs saw 48 percent YoY growth between April-September 2018, they have registered lower growth in October. Comparatively, LCVs, which grew by 32 percent during the same period, maintained their strong number in October, thanks to continuing demand for last-mile connectivity and rural areas driving growth.
CV market leader Tata Motors maintained double-digit growth in the overall segment but saw M&HCV sales slow down considerably. Having grown at nearly 30 percent, M&HCV sales in October declined to 16 percent.
Likewise, Ashok Leyland and Mahindra Truck and Bus have registered double-digit growth in their overall sales but their M&HCV sales declined to 7 percent and -9 percent respectively. This clearly underlines the pressure on heavy truck sales with demand moderating. Sales in H1 FY2019 (April-September 2018) point to stronger sale of multi-axle trucks including 25T, 31T and 37T and 49T tractor-trailers. However, after consistent growth and demand peaking up last year, tipper sales saw some correction of 19 percent in H1.
Nonetheless, the ongoing infrastructure spend by the government, increased level of manufacturing activity, the peak festive season and a rise in consumer spending over Q3 should have a positive impact on cargo offerings. This is likely to enable optimum utilisation of truck fleets in the country, and in turn help OEMs to retain lower double-digit growth in the remaining months of FY2019.
How the OEMs fared in October
Tata Motors sold 39,420 units in October 2018, up by 22 percent YoY (October 2017: 32,411). Its M&HCV truck sales comprised 13,185 units (+16%). The ILCV segment remains strong with sales of 4,841 units and growing 29 percent YoY. Surging demand for its cargo SCVs and pickups together witnessed the sale of 18,209 units (+ 30%). Tata Motors says with the hub-and-spoke model continuously evolving, small commercial vehicles are in demand for last-mile connectivity needs across rural and urban markets. The recently launched Tata Ace Gold has been well received by customers and is seeing strong demand. Meanwhile, the commercial passenger carrier (bus) segment saw sales of 3,185 units (-2%), the sector facing the brunt of slow STU buying and permits for private hiring.
Ashok Leyland sold a total of 15,149 units in October, a YoY growth of 17 percent (October 2017: 12,944). While the company sold 9,797 M&HCVs (+7%), its LCVs recorded healthy 41 percent YoY growth at 5,352 units sold. (October 2017: 3,804). The company's Dost small CV notched its best-ever monthly sales of 5,022 units last month.
Mahindra & Mahindra's overall CV numbers are up by 26 percent to 24,353 units (October 17: 19,281). After sustained growth, the company's M&HCV sales fell by 9 percent to 683 units (October 2017: 750). But bringing in the numbers is the below-3.5T GVW segment with sales of 23,157 units, up 28 percent YoY (October 2017: 18,057). Vehicles in the above-3.5T GVW segment registered growth of 8 percent with sales of 513 units (October 2017: 474).
VE Commercial Vehicles continues to maintains double-digit growth, the company selling 5,121 units in the domestic market last month, which marks growth of 14.7 percent (October 2017: 4,463 units).
Overall though, despite the moderate sales growth in October, CV majors remain bullish on growth this fiscal.
Also read: CV industry firing on all cylinders, Tata Motors leads gains in H1 FY2019
RELATED ARTICLES