Maturing Indian car and bike market recalls 4.97 million vehicles since 2012
OEMs are voluntarily recalling their vehicles from the market to check and rectify possible defects. FY2022 saw 1.3 million recalled, accounting for 26% of the cumulative 4.97 million units recalled in India from July 2012.
In what is an indication of a maturing automobile market, FY2022 saw over 1.3 million vehicles – 13,31,868 units comprising 890,873 two-wheelers and 440,995 passenger vehicles – being voluntarily recalled by their manufacturers (see company-wise data sheet below) in India. These 1.3 million vehicles recalled last fiscal account for 26% of the cumulative 4.97 million two-wheeler and passenger vehicles recalled in India till now.
As per official data, as published by apex industry body Society of Indian Automobile Manufacturers (SIAM), the total number of vehicle recalled in India, after SIAM's Code of Voluntary Recall came into effect in July 2012, is currently at 4,978,490 units – just 210,510 units shy of the five-million-units mark.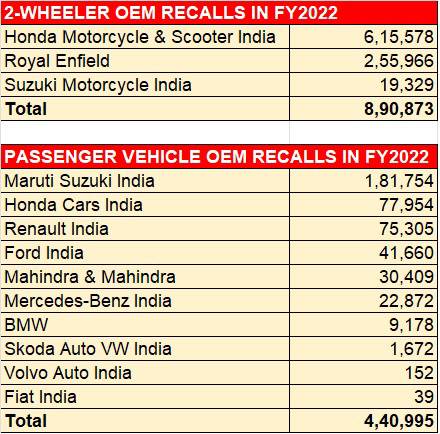 Three 2-wheeler and 10 PV OEMs in FY2022's recalls
At 890,873 units, the two-wheeler segment accounted for 67% of total vehicles recalled in India in FY2022, with PVs making up for the remaining 33% with 440,995 units. Three two-wheeler OEMs – Honda Motorcycle & Scooter India, Royal Enfield and Suzuki Motorcycle India – made two recalls each. HMSI with 615,578 units tops the list – its biggest was on May 29, 2021 for 615,566 units to check and replace the reflex reflector on the Activa 5G/6G/125, CB Shine, CB 300R, H'ness CB350, XBlade and the Hornet.
Royal Enfield, on May 19, 2021, recalled 229,657 units comprising 229,657 units of the Classic 350 EFI and Meteor 350. The reason cited was "a defect in the ignition coil of motorcycles, caused by a minor mix up at our suppliers' end to the manufacturing period between December 2020 and April 2021. This defect could cause probable misfiring, reduced vehicle performance, and in rare cases, an electric short circuit. The issues can occur while motorcycle engine is running." Then, on December 20, 2021, the company recalled 26,309 Bullet Classic 350s to sort out an issue with single-channel ABS, rear drum brake models, manufactured between September 1,2021 and December 5, 2021.
Suzuki Motorcycle India had two recalls: 19,130 Gixxer 150SFs/150Fs (for overheating of the side inner cowl because of catalytic converter for BS VI model in exhaust pipe) and 199 GSX250/SFs (for increased engine vibration).
In September 2021, Maruti Suzuki India voluntarily replaced the ISG unit accompanying the mild-hybrid system in the XL6, Ciaz, Ertiga, Brezza and S-Cross.
Photo: Shashi Shekher Mishra
There were 10 passenger vehicle OEMs which recalled their vehicles last fiscal. Market leader Maruti Suzuki India is also the proactive leader when it came to recalling vehicles in FY2022. On September 3, 2021, the company recalled 181,754 cars comprising the Ciaz, Ertiga, XL6, Brezza and S-Cross. The reason cited: "A possible defect can occur in Motor Generator Unit (MGU), due to water entry in the electrical circuitry which may result into short circuiting and in rare case, may further cause smoke from engine room. Water entry is possible while driving the vehicle in extreme water-logged conditions or engine room washing with high pressure water jet only."
Next up is Honda Cars India with 77,954 PVs recalled on April 16, 2021 – these involved the petrol-engined Amaze, City, WR-V, Jazz, Civic, BR-V and CR-V. The reason: "The engine stops or cannot start while driving due to fuel pump inoperative."
At No. 3 in the recall table is Renault India. On August 24, 2021, the carmaker recalled 73,305 Tribers, manufactured between May 24, 2019 and June 1, 2021, to "modify one of the design elements, causing a risk to the hood opening mechanism."
At fourth place is Ford India, which has now ceased manufacturing operations in India. The American carmaker recalled 41,699 units last fiscal, the biggest being the 31,818 units comprising the 1.5-litre diesel-engined EcoSport, Figo and Figo Aspire models. The issue was that some vehicles, after a certain period of in-use, could emit higher emissions from the exhaust tailpipe when tested during in-service test as per BS VI test procedures.
Mahindra & Mahindra recalled 30,409 vehicles in FY2022. On July 20, 2021, 531 units of the Scorpio2.2 mHawk (140hp), Scorpio2.2 mHawk (120hp), Thar and Marazzo were recalled for premature wear of engine / exhaust after treatment system parts. M&M's bigger recall happened a month later on August 21 – 29,878 Bolero Pik-Ups – because a "fluid pipe in the engine compartment may be routed improperly leading to excessive stretch, resulting in fluid leakage, which will lead to Fluid Level Warning indicator (FLWI) coming ON in the instrument cluster."
Luxury carmaker Mercedes-Benz India had over 20 recalls across various vehicles last fiscal. The biggest of them was on February 1, 2022 for 7,560 units of the C-Class and E-Class as part of the carmaker's global recall exercise as a precautionary measure. This related to specific climatic conditions that could lead to a "chemical change of the propellant in the gas generator of certain Takata airbags."
BMW India had four recalls in FY2022 totalling 9,178 units. The biggest of them was on August 1, 2021 for 7,589 units across the BMW 1/3 Series, BMW X1/3/5/6/ and M3. This was because "the gas generator of the driver's airbag may malfunction if it has been exposed to high humidity and high temperature fluctuations for many years."
Five million recalls coming up, stiff fines a deterrence
SIAM's exhaustive data on the subject of voluntary vehicle recalls makes for good number-crunching. Of the total 23 OEMs listed, 16 are PV manufacturers and seven are two-wheeler makers. While two – GM and Ford – have completely exited India, Harley-Davidson has handed over retail operations to Hero MotoCorp. Of the total 49,78,490 units recalled, 36,58,326 units or 73.48% constitute PVs and the balance 13,20,164 units or 26.51% are two-wheelers. Both the Hondas – Honda Cars India (9634,939 units) and Honda Motorcycle & Scooter India (750,350 units) top the respective segments.

While SIAM's voluntary recall code has paved the way to a structured vehicle recall exercise in India, the operation got another charge in April 2021. The Ministry of Road Transport & Highways (MoRTH) has, effective from April 1, 2021, mandated stiff fines, which go up to Rs 1 crore, on vehicle manufacturers (detailed below).
The policy states that if a certain number/percentage of vehicles is found to have the same defect/issue, the OEM will need to compulsorily recall the vehicles. The decision for vehicle recall is based on two key factors – the number of complaints received for a defect on a vehicle and the annual sales of that particular vehicle. MoRTH has outlined different thresholds for each vehicle categories to ensure that defective products are recalled by the OEMs in due time. The rules define defects as a fault in the vehicle/component/software that poses or may pose undue risk to road safety or environment. The policy is applicable to vehicles that are less than 7 years old.
Nonetheless, even as the quality of Indian vehicles continues to improve year on year, as seen also in growing export numbers, vehicle recalls also reflect Indian OEMs' proactive efforts to address technical issues in their vehicles, as is the industry practice in the west.
In earlier interactions with Autocar Professional regarding vehicle recalls, industry leaders have voiced the importance of being completely transparent about any possible quality or technical defects. Market analysts, however, are of the opinion that while one-off recall events may be perceived positively by customers as a reflection of continued customer care from an OEM, repeated issues from the same maker are likely to shake the confidence of existing customers and prospective buyers.
All in all, the onus is on OEMs and its supplier ecosystem to sharpen the focus on quality and ensure the products going into the market are 'first-time-right', which in turn positively impact both consumer and market sentiment.
Vehicle recall data: courtesy SIAM
RELATED ARTICLES