India surpasses China in passenger car exports
Indian passenger car exports for FY2016 totaled 532,053 units. This was higher than Chinese passenger car exports for the fiscal – 409,800 units.
India surpasses China in passenger car exports
India surpasses China in passenger car exports
India surpasses China in passenger car exports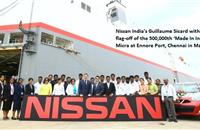 India has beaten China in passenger car exports for the fiscal year 2015-16. According to numbers collated from SIAM statistics, Indian passenger car exports for FY2016 totaled 532,053 units. This was higher than Chinese passenger car exports for the fiscal – 409,800 units – which were recorded by the China Association Of Automobile Manufacturers. Complementing this data is the 2015 Forbes 2000 list of the world's largest car exporting countries which lists India as the 20th largest exporter in the world compared to China, which sits at the 22nd position.
India's position with respect to China may come as a surprise to many but this is not the first time that India has beaten China in terms of car exports. India first overtook China on the export front in 2009 with automotive exports amounting to 201,138 cars (January to July 2009) as compared to China's 164,800.
India's overall fortunes are also on the upswing. With the last quarter, India recorded a GDP growth of 7.9% in 2015 as opposed to China's 6.7%, thereby maintaining its lead as the fastest growing major economy in the world.
The manufacturing sector also grew by 9.3%, an all-time high, as against 6.6% over the same period last fiscal. India's automotive sector also emerged a winner in terms of year-on-year growth in comparison to China's by registering an impressive annual growth rate of 8.68% as opposed to China's 4.3%. Passenger car sales in India rose 10.18% as compared to China's 6.5%.
Slowing down China, bouyant India
With its buoyant economy, a young population and growing foreign direct investment, India is turning out to be the silver lining for global automobile and component manufacturers. China, on the other hand, is slowing down.
Another reason for relatively lower exports from China is that its auto industry has developed extensively through foreign direct investment, which has come in the form of alliances and joint ventures between international automobile manufacturers and local partners. These international automobile manufacturers, who generally dominate the higher end of the Chinese market, have focused on making cars for China's large domestic market. The local Chinese automakers, who occupy the lower end of the market, struggle to improve design and quality to expand sales overseas. China exports and imports relatively few vehicles as most of the cars produced in China stay in the country and its vehicle exports are mostly light trucks and passenger cars shipped to developing markets.
The majority of the Asian automotive giants do not particularly fare well in terms of car exports as can be seen from the table with the exception of Japan and South Korea which are developed economies.
While India contributes a mere 0.8% of the world's car exports, China's contribution is only 0.6% and Thailand's 1.4%. If we compare these three countries' cumulative contribution to the global car export scenario, they might seem to be a small piece of the pie but are becoming important due to the saturation of the European and American markets and the growing consumer demand among the population of these developing economies.
Japan and South Korea are major contributors to the global car exports with total valuations of US$ 86.1 billion and US$ 41.8 billion respectively. With exports of almost 4 million passenger cars in FY2016, Japan has been the second largest exporter in the world, behind Germany and above the US. The major export markets of Japan are the USA and European nations in the West along with Thailand and Indonesia in the ASEAN belt. South Korea also possesses an impressive export portfolio with USA and EU as one of its largest markets.
Quality and government policies to blame
In spite of all the recent improvements in infrastructure, policy making, FDI policy, the standard of living, growth in the automotive as well as auto component industry, developing economies like India, China and Thailand have not made a mark in the export of automobiles.
Even countries such as the Czech Republic and Belgium that do not possess a large automotive industry, as well as the sheer number of skilled manpower, perform much better as compared to them. Some might argue that the quality of the automobiles do not match the globally defined standards set by the EPA or Global NCAP which call for stringent checks with regards to safety and emissions while others say that the government policies with regards to taxation and production are not favorable to investors.
Also among the three Asian giants, Thailand has performed better in terms of measures undertaken to manufacture quality and affordable vehicles meeting global standards. Maruti Suzuki India planned to shift its base for the manufacturing of its Celerio model for exports to European markets to Thailand from India due to logistical and supply disadvantages. Ford Motor Co also decided to shift manufacture of its compact EcoSport SUV for North American markets from India to Thailand. Reports suggest that although India and Thailand possess similar policies related to production, they differ in terms of export logistics and supply chains wherein Thailand performs better than India. China, on the other hand, possesses a large local automobile industry but it fails to contribute at the global stage in terms of passenger car exports as a result of low-quality products. According to the statistics from CAAM, automobile exports were 54,000 units in April 2016, down 5.5% than that of the previous month, and down 12.9% year on year. Among different types, passenger car shipments comprised 34,000 units, down 8.2% on March 2016 but up 5.2% year on year, while commercial vehicle exports were 20,000 units, down 0.5% on March 2016, and down 32.5% year on year.
Lack of independent regulatory agencies
Another key reason for lower exports from the developing countries especially India and China is because a large number of organisations related to the inspection, testing, safety clearance and emission regulations are governed by different ministries and organisations and are under the control of the automotive manufacturers. This has been subject to a lot of criticism in the past as stricter compliance of automotive standards may not be followed diligently. Both Japan and South Korea have separate regulatory bodies governing policies related to testing and certification of automobiles which increases their credibility in the global scenario when it comes to export of automobiles.
India is expected to take corrective measures to drive up automobile exports. The government is making efforts to improve the criteria for setting up joint ventures and improve the transport network to enhance the logistical efficiency which will have a direct impact on exports.
Recommended:
- Chinese auto industry looks to take the lead in global autonomous, EV markets
- Can India's auto industry live up to the AMP export target?
RELATED ARTICLES