India Auto Inc sees 13% higher production at 26 million units in FY2023
Robust domestic market demand for passenger vehicles sees OEMs register best-ever production numbers; CV output crosses a million units but, like the two- and three-wheeler segments, remains below best-yet FY2019.
If India Auto Inc has achieved 20% year-on-year growth in the domestic market with sales of over 21 million units in FY2023, then credit is also due to the sector's much-improved production over the past 12 months. The industry's cumulative output across four vehicle segments – passenger vehicles, commercial vehicles, three and two-wheelers – was 2,59,31,867 units, up 12.55% (FY2022: 230,40,066 units).
Production though is still a tad below FY2020's 26.3 million units and considerably below the best-ever 30 million units in FY2019 (see 10-year production stats below).
In FY2023, all four segments have recorded growth – PVs (4.57 million units / up 25%), CVs (1.03 million units / up 29%), three-wheelers (855,696 units / up 35%) and two-wheelers (19.45 million units / up 9%).
Passenger Vehicles: 45,78,639 units / up 25%
The PV segment, thanks to the surging demand for SUVs, has been firing on all cylinders and this is reflected in its output in FY2023. Over 4.57 million units translates into strong 25% YoY growth (FY2022: 36,50,698), which clearly is a result of much-improved supplies of semiconductors and associated electronic components.
As is known, production for most of the leading PV OEMs was impacted in FY2021 and FY2022 due to supply chain disruptions caused by poor deliveries of chips.
With the UV segment calling the shots in the market, OEMs pushed production of SUVs and MPVs – their total output of 22,53,272 units (up 33%) was 49% of total PV production, compared to 46% in FY2022. Meanwhile, 1.84 million passenger cars (up 18%) also rolled out of 15 OEM factories – 47% of PV production, down from 50.53% in FY2022 which is reflective of the slower pace of demand for hatchbacks and sedans in the country.
The 4.57 million output of PVs is the best-ever for the industry and goes past the previous best of 4 million units FY2019. It also helped that, along with record domestic market sales of 3.89 million units, PV exports rose 15% to 662,891 units. What's more, the PV segment was the only one to register growth, all the other three segments seeing YoY declines due to inclement market conditions in their key export markets as well as a high dollar rate.
As per SIAM's production data for India Auto Inc, each of the top six PV OEMs logged strong YoY growth. Despite production being impacted due to supply chain issues with chips and electronics products, market leader Maruti Suzuki rolled out 18,78,801 units, up 16% YoY (FY2022: 16,22,331), Hyundai Motor India produced 713,273, up 18% (FY2022: 606,100), Tata Motors manufactured 550,025 cars and SUVs, up 47% (FY2022: 373,554), Mahindra & Mahindra had 368,162 units to its production tally, up 57% (FY2022: 234,738), Kia India produced 359,323 units, up 52% (FY2022: 236,036) and Toyota Kirloskar Motor more than doubled its output to 166,690 units, up 123% (FY2022: 74,529).

Commercial Vehicles: 10,35,626 units / up 29%
Growth for the Indian CV sector typically comes in four-year cycles and FY2023 numbers proved that the best is yet to come. The total of 10,35,626 units – 379,259 M&HCVs (up 39%) and 656,367 LCVs (up 23%) – translates into a YoY production increase of 29%.
The big-ticket governmental spend in roadbuilding and infrastructure development as well as burgeoning demand for last-mile mobility operations is reflected in the handsome increase in goods carriers. Combined production of 946,808 M&HCV and LCV goods carriers is a strong YoY increase of 23% on FY2022's 768,033 units.
Also, with India back on the move, demand for passenger transport (buses) has increased by leaps and bounds – the combined 88,818 units are up 137% over FY2022's 37,494 units.
The CV's sector's much-improved fortunes are duly reflected in the production numbers. Nine of the 10 OEMs have reported sizeable YoY growth. While market leader Tata Motors' output is up 13% to 404,236 units, Mahindra & Mahindra, thanks to demand for its hardy Bolero Pik-Up, produced a total of 264,672 units, up 37% on year-ago volumes. Ashok Leyland with 195,140 units saw 52% growth. VE Commercial Vehicles, with 78,189 units, saw numbers improve by 39%.
A glance at the decadal production table of the CV sector reveals that the million-units production milestone has been crossed after four years in FY2023, albeit this is still below the best yet output of 1.11 million units in FY2019 (see 10-year CV production stats below).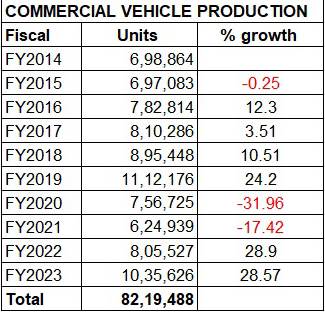 Three-wheelers: 855,696 units / up 13%
With total production of 855,696 units and YoY growth of 13%, the three-wheeler industry has registered its best performance in three years. Nevertheless, it is considerably below the 1.26 million units of FY2019, which was a blockbuster year for India Auto Inc. FY2021, which was hugely impacted by the pandemic and saw countrywide lockdowns, was when the lowest number of three-wheelers were produced in the past decade – 611,171 units.
A total of 7,23,524 ICE passenger-carrying three-wheelers were produced, up 10% and 100,221 goods carriers, up 16%. Growing demand for electric mobility on three wheels for transporting both people and goods meant that OEMs rolled out a total of 31,951 units, up 168% on FY2022's 11,904 units.
Of the seven three-wheeler OEMs who report their numbers, market leader Bajaj Auto produced 483,192 units, up 4.45% (FY2022: 462,568) and accounted for 56% of total three-wheeler industry production. The data also reveals that the company has excelled at inventory management – domestic market sales of 300,009 units and exports of 182,004 units add up to 482,013 units.
While No. 2 player TVS Motor Co rolled out a total of 167,958 units, down 4% (FY2022: 174,647), Piaggio Vehicles, which manufactures both ICE and electric products, saw production increase by 63% to 109,933 units from 62,277 units in FY2022.
The growing demand for electric three-wheelers is reflected in Mahindra & Mahindra's near-100% YoY growth: 60,158 units compared to 30,235 units in FY2022.

Two-wheelers: 1,94,59,009 units / up 9.19%
This is the only segment where the YoY increase in production is in single digits. This is a result of the continuing tepid demand for mass-market commuter motorcycles and scooters, particularly from rural India. While there is an upward movement over the past couple of months, it is somewhat early to state whether a proper revival is in store.

Of the total 1,94,59,009 two-wheelers produced in FY2023, scooters comprised 56,01,501 units (up 26%) and 29% of overall two-wheeler production, while motorcycles accounted for 1,34,21,208 (up 4) and 69% of total industry output. In view of the slowing demand for mopeds, TVS produced 36,872 units less than it did in FY2022.
The two-wheeler segment has the biggest share of industry production when it comes to volumes. Hero MotoCorp, with 52,94,306 units, reported a 9.73% increase in output (FY2022: 48,24,587) while Honda Motorcycle & Scooter India rolled out 43,25,174 bikes and scooters, up 14% (FY2022: 37,88,534). TVS Motor Co, with 34,98,796 units, saw production improve on FY2022's 31,25,217 units by 12%. Bajaj Auto manufactured 34,59,627 units, down 9% (FY2022: 38,03,536), possibly rationalising production before its exports pick up – the company's overseas shipments fell 25% YoY to 16,36,956 units.
A look at 10-year production data for the sector reveals that FY2023's output of 19.45 million units was close to FY2017 levels (19.92 million) but all of 5,04,40,077 or 5 million units less than FY2019's tally of 24.5 million units.

Vehicle production outlook for FY2024
Expect the PV manufacturer assembly lines to be buzzing in FY2024 – that's because the top players between them have a huge combined order backlog of over 750,000 units, most of it for SUVs, and they will be putting their shoulder to the production wheel to ramp up manufacturing levels. Add to that fresh demand from new models to be launched in the coming 12 months. What will be important is to ensure key supply chains do not spoil the plot for OEMs.
The CV industry will be taking off where FY2023 left. Having crossed the million-units mark after four years, will strong and sustained demand for M&HCVs as well as LCVs help lift FY2024 production volumes to beyond the best-yet FY2019's 1.11 million units? The jury is out on that but with an uptick in vehicle replacement sales by fleet operators, demand from the roadbuilding, infrastructure and mining sectors and last-mile logistics is expected to see CV OEMs maintain a strong rate of growth this fiscal.
The two-wheeler sector needs domestic market sales to act as the accelerator for production. Exports, down 18% YoY at 36,52,122 units, are not expected to improve in a hurry but with demand from rural India seeing an uptick, FY2024 should be better for manufacturers of ICE scooters and motorcycles, while also catering to demand for electric vehicles.
RELATED ARTICLES