European automakers do their bit to curb CO2 emissions
Peugeot leads the car brands in Europe with the lowest CO2 emissions in 2015.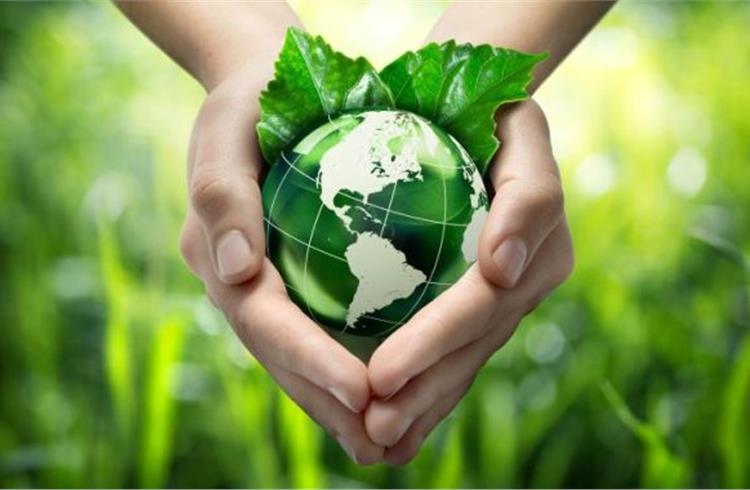 Climate change is a real and present danger and with heightened levels of awareness now, the auto industry is also doing its bit to reduce the emissions of harmful greenhouse gases, especially carbon dioxide (CO2) emissions.
The strong efforts and renewed investments by vehicle manufacturers and suppliers providing solutions to the CO2 reduction challenge in the Euro zone have started yielding results and according to the latest study by JATO Dynamics, Europe's average CO2 emissions from passenger vehicles in 2015 fell by 4.0 g/km to 119.3 g/km.
Transport is responsible for around a quarter of European Union (EU) greenhouse gas emissions making it the second biggest greenhouse gas emitting sector after energy. Road transport alone contributes about one-fifth of the EU's total emissions of CO2, the main greenhouse gas. While emissions from other sectors are generally falling, those from transport have continued to increase until 2008 when transport emissions started to decrease on the back of oil prices, increased efficiency of passenger cars and slower growth in mobility.
A well-defined policy for controlling emissions, clearly stated targets and political will has also helped automakers bring down emission levels significantly. In line with this trend in 2015, the target set for CO2 emissions was 130 g/km, which was well met with average emissions coming in much lower at 119 g/km. This was 4 g/km lower than the total seen in 2014 and 7.5 g/km lower than the figure registered in 2013.
Automakers Going Green
Average CO2 emissions for new cars continued to fall across Europe during 2015, according to the annual CO2 analysis carried out by JATO Dynamics. The analysis, which covered 23 European markets, and 20 European carmakers saw an improvement due to significant reductions coming from small and midsize markets including Norway and Switzerland.
Better results posted by big volume car makers and increasing numbers of electric vehicle registrations also helped cutting emissions. Importantly, the reduction coincided with a 9.3% rise in registrations in the 23 markets studied across the same period, further emphasising the headway being made.
According to Felipe Munoz, global automotive analyst at JATO Dynamics, "There are a number of reasons for the improvements in CO2 emissions in 2015. The introduction of lighter models, more efficient engines, and increased sales of hybrid and electric vehicles, all contributed to a positive outlook for further emissions reductions in the future."
Peugeot was the new emissions leader for 2015, ahead of Citroën and Renault, with an improvement of 5.8 g/km compared to 2014. The French carmaker's total average CO2 emissions decreased from 109.3 g/km in 2014 to 103.5 g/km in 2015. Peugeot posted the second best improvement among the top 20 brands, buoyed by progress from the 1 and 3 cylinder petrol engines that power the Peugeot 108 hatchback. The other Peugeot models that contributed to the overall improvement were the 308 with an average of only 97.8 g/km (vs. 102.3 in 2014), and the Peugeot 208 at 99.3 g/km.
Citroen, the other volume brand within the PSA Group, occupied second place with average emissions of 105.7g/km, down 5.1g/km on 2014. This was driven by the higher volumes achieved by the Citroen C4 Cactus (+173%), the second best-selling Citroen in 2015 and the model that posted the second lowest average emissions for the brand this year.
Renault dropped two places from last year to third in 2015, as the brand sold more SUV/Crossovers with bigger engines. The Captur's registrations increased by 17%, while its average CO2 emissions increased from 105.7 g/km in 2014 to 106.2 g/km in 2015. The new Kadjar compact SUV, introduced in the second half of 2015, counted for 5.1% of Renault registrations with average CO2 emissions of 112.9 g/km. The real progress was made by the Clio (-2.1 g/km) and the Twingo (-6.1 g/km).
Fourth place was claimed by Toyota, which managed to reduce its average emissions by 4.9 g/km to 107.7 g /km in 2015. Last year, Toyota's hybrid vehicles counted for 29% of its registrations, three more percentage points than in 2014. Nissan remained at the fifth spot, posting the highest average increase in CO2 emissions among the top 20. The Japanese brand recorded a rise in the average emissions for its top-seller – the Qashqai - from 115 g/km to 116.3 g/km in 2015, due to higher sales of the 1.2-litre 115 hp and 1.6-litre 120 hp petrol engine models.
Czech carmaker Skoda was the most improved brand in the top 20, reducing its average CO2 emissions by 6.2 g/km thanks to the new generation Fabia. The model included more efficient engines in 2015, allowing this subcompact to reduce its emissions from 121.6 g/km in 2014 to 107.1 g/km. Fabia sales rose 38% in 2015, and counted for 26% of Skoda's registrations.
Interestingly, Volkswagen, which was hit by the emission cheating scandal, posted the third best performance according to the report. Its average emissions dropped by 5.6 g/km from 123.4 g/km in 2014 to 117.8 g/km in 2015. Volkswagen benefitted from the new Passat, which featured improved engines that allowed the model to improve its average emissions from 129.2 g/km in 2014 to 114.1 g/km last year.
Outside the top 20, another carmaker that reported significant improvement was Land Rover, which saw an 11.4 g/km reduction in emissions in 2015 from the last year.
Large Sedans and SUVs among the best improvers
Though they remain among the biggest polluters, MPVs, large sedans and SUVs showed the highest improvements in emissions as well in 2015.
"Despite the average emissions level in the SUV segment remaining high in 2015, the improvements made are promising for the industry and its future strategies for reducing emissions - especially given status of SUVs as the best-selling segment in Europe," commented Munoz.
Big MPVs saw a 10.5 g/km reduction followed by SUVs with a fall of 8.3 g/km and large sedans with a 7.7 g/km decline in emissions.
Overall, average CO2 emissions in 2015 fell for all categories of passenger vehicles. The averages follow the expected patterns according to size, weight and engine type; for example, the city car segment posted the lowest average at 104.1 g/km (-1.6g/km), followed by the subcompacts and compacts at 107.6 g/km and 110.6 g/km respectively. The midsize sedan was fourth with 121.8 g/km and then the small MPV was fifth with 122.6 g/km. The average CO2 emissions recorded by SUVs remained behind the midsize and large sedan segments at 143.7 g/km.
Luxury and sports cars registered the highest CO2 emissions average at 182.6 g/km and 154.8 g/km respectively.
Norway tops the list with least CO2 emissions
Norway overtook the Netherlands to record the lowest average emissions across Europe, with its emissions average falling from 110.5g/km in 2014 to 100.5g/km in 2015. Norway not only ranked first but recorded the highest reduction of all 23 countries. Last year zero-emissions car registrations increased by 42% and counted for 17% of total market. The Netherlands recorded an average of 101.3g/km, with hybrid and electric cars counting for 12% of the market in 2015 against 7.8% in 2014.
France recorded the lowest average CO2 emissions among the 5 largest European markets, but its reduction was only 3.0 g/km. Last year the French market saw a 22% rise in SUVs and 12% in city cars, while the demand for subcompacts and compacts grew by only 1% and 4% respectively.
On the other hand, Germany, the biggest carmaker in the region, recorded 127.3 g/km. It was negatively affected by the big share of midsize sedans (12% of total market) and by the performances of compact cars, the country's largest segment, the report concluded.
The Road Ahead. . . for Europe and India
The European Union has set an average CO2 emission level for new cars at 95 g/km by 2021. This would mean a fuel consumption of around 4.1 litres/100 km of petrol or 3.6 litres/100 km of diesel vehicles. The 2021 target represents a reduction of 40% compared with the 2007 fleet average of 158.7 g/km.
With European automakers committed holistically to the mission of reducing greenhouse gas emissions and increasing popularity of electric and hybrid vehicles in the region, the future targets of 2021 seem realistic and easily achievable.
Closer home in India, the average CO2 emission level target for FY2016-17 has been set at 130 g/km and by FY2021-22 the emissions should come down to 113 g/km.
According to the last reported data on vehicular emissions in 2014, the average new vehicle fleet emissions in India stood at 136.6 g/km in FY2012-13, which was in line with the set targets.
With BS-IV norms set to come in full effect from April 2017, and the country leapfrogging to BS-VI norms by April 2020, India is also on track to meet the future targets for CO2 emissions. However, the slow adoption of hybrid and electric vehicles and infrastructure related hurdles could post some challenges, as we follow our European counterparts on the path of green motoring.
Data courtesy: JATO Dynamics
RELATED ARTICLES