'It is a reasonable target for Tamil Nadu to go fully electric by 2035': Dr TRB Rajaa
The State of Tamil Nadu which is the automotive and EV capital of India is accelerating its EV drive with its pro-industry policies attracting OEMs and making the State the EV manufacturing hub of the country. Tamil Nadu is also aggressively strengthening its EV charging infrastructure with an aim to accelerate EV adoption, electrify its commercialised fleets, and go fully electric by 2035.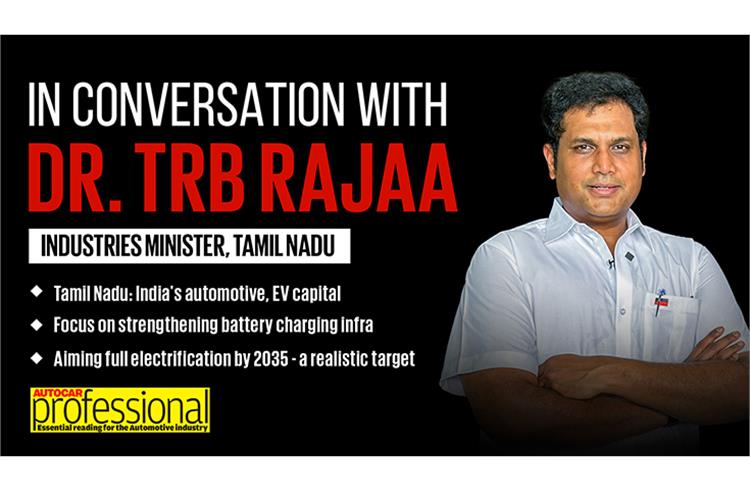 Tamil Nadu, which is India's automotive and EV capital with a flourishing parc of OEMs as well as ancillaries, catering to the domestic as well as export markets, is strengthening its EV gameplan. The State, which already contributes 46 percent of all EVs produced in India with its host of EV OEMs across the two-, three-, and four-wheeler, as well as commercial vehicle categories, is wooing automakers to set up EV-manufacturing infrastructure with its pro-industry policies.
Dr TRB Rajaa, Industries Minister, Tamil Nadu, tells Hormazd Sorabjee, Editor, Autocar India about the State's forward-looking initiatives in terms of ease of doing business, innovation, skilling, battery technology, and charging infrastructure which is growing at an aggressive pace to accelerate EV adoption. Dr Rajaa also conveyed his optimism about Tamil Nadu incentivising the switch to EVs to eye full electrification by 2035 - a target he believes is reasonably achievable.
He further elaborated that the State is vying to invite investments from semiconductor companies to kick off a semiconductor industry in Tamil Nadu, which is already in advanced talks, and is likely to make some crucial announcements in the next 18 months.
RELATED ARTICLES